By Gene Kira, February 23, 2004, as published in Western Outdoor News:

I wound up a great trip to Baja Sur, Mexico, last week with a couple of days of panga fishing out of Ensenada de los Muertos, the small, semi-open bay on the south side of La Paz' Las Arenas peninsula.

In olde tyme Baja days, Los Muertos was a great La Paz spot for winter tin boat fishing because it's sheltered from norte winds and the seemingly endless herds of "sea sheep" marching southwards down the Sea of Cortez like the great wildebeest migrations on the African veldt.

Even when the nortes were howling, you could launch easily into the little caleta in the northeast corner of the bay and fish in the wind shadow of the point for endless snappers, cabrillas, weird species, and lots of break-offs that you never got to see.
Last week, I had a particularly enjoyable visit to this place, in the company of Gerardo Hernandez of La Paz' Tortuga Sportfishing, and his affable captain, Hugo Lucero, of the nearby village of San Pedro Mexico.

Luckily (okay, call me weird), the nortes were blowing hard, so we were forced to fish very tight to the coast, inching our way southward from Los Muertos, down past Boca del Alamo, right past Don Ballentine's house (hey, Don!), and almost to "downtown" San Isidro.

Technically, we were trying for roosterfish, dragging two huge sábalo live baits about 150 feet back, in order to test some stories of them being resident in this area during the winter. Needless to say, we didn't find any evidence to support those roosterfish stories, but I had a great time anyway listening to Gerardo and Hugo tell their stories about the history of this place.

As the beautiful green hills passed slowly by, punctuated by occasional fishermen's shacks, I listened to stories of drug runners, mysterious planes landing at night, enormous fish, men, women, men-and-women, and lately, of local Mexicans quietly being offered millions of pesos to move away and leave the area to land developers.
(Those stories led to an expedition later that afternoon, to take a photograph of La Paz' famous, historic, "Ranchito" men's recreational facility south of La Paz that Ray Cannon called "Mrs. Murphy's Riding Academy," but that's another story.)

Giving up on the roosters, we returned to Los Muertos and saw that some pargo lisa had been caught by two of the other pangas--the first of the year.

I stood on the warm sand and looked around at the new houses being built around the bay, the gates, fences, signs, and the new Giggling Marlin Beach and Yacht Club, sitting right on top of the hallowed ground where I used to visit some strange old railroad tracks, an old wooden cross, and one of Baja's very last dugout canoas, abandoned behind a shack and relegated to the ignominious role of serving as a trash barrel.

An attempt is now being made to rename this place the "Bay of Dreams," which is, I suppose, much better for La Paz real estate sales than Ensenada de los Muertos, or "Bay of the Dead."

Yet somehow, I think perhaps the old name is becoming more appropriate than ever, as the old ways die out, and a new order takes over in this traditional place, a place of "the dead" in the reverberating, literary sense of James Joyce's brilliant short story of that same name.

I'm told the old wooden canoa that used to be here--its bottom rotted quite away--was unceremoniously thrown into the desert. But that canoe is not forgotten, nor are the weathered, sun-beaten souls of those old fishermen who sailed her.

Ensenada de los Muertos, indeed. In July, the roosterfish will be swarming against the beaches at this special La Paz place again. The sea, as always, will be clear and limpid blue...and I'll be back.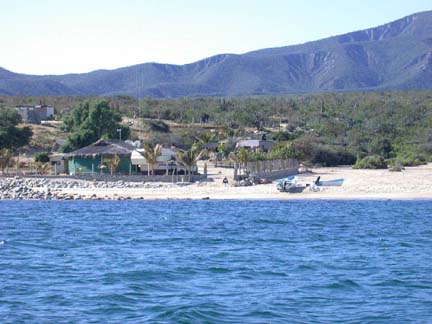 SOUTH OF LOS MUERTOS--Don Ballentine's house at San Isidro. Photo by Gene Kira.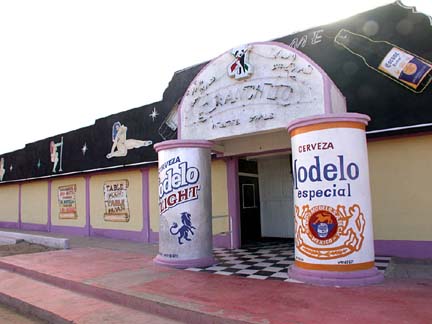 LA PAZ HISTORIC LANDMARK--The famous El Ranchito, on the southern edge of the city, was already a legend in Ray Cannon's day. Photo by Gene Kira.
(Related La Paz articles and reports may be found at Mexfish.com's main La Paz information page. See weekly fishing news, photos, and reports from the major sportfishing vacation areas of Mexico including the La Paz area in "Mexico Fishing News.")