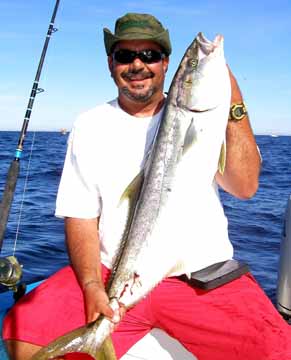 LA REINA KING--Jeff Stephens OF Anaheim had a good day on yellowtail, amberjack, and cabrilla at La Paz' La Reina lighthouse using live caballitos and yo-ho iron with Tail Hunter International. Photo courtesy Jonathan Roldan.
WEEKLY FISHING REPORT FROM JONATHAN ROLDAN
May 31, 2004, Jonathan Roldan, Tail Hunter International, La Paz, Mexico Fishing Report:
(See "Mexico Fishing News" online for current fishing reports, photos, weather, and water temperatures from La Paz and other major Mexican sportfishing areas. Vacation travel articles, fishing maps and seasonal calendars, and fishing related information for La Paz may be found at Mexfish.com's main La Paz page.