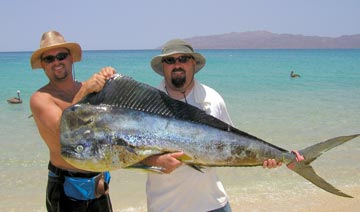 MOST EXCELLENT DORADO--Ryan Molina and fishing buddy, Jim Moran Jr., both from Sierra Madre, assist on a most excellent bull dorado, Jim took off Punta Perico at Las Arenas near La Paz with Tail Hunter International. Photo courtesy Jonathan Roldan.
DORADO NOT COOPERATIVE FOR LOCAL FISHING BOATS
Aug. 8, 2004, Jonathan Roldan, Tail Hunter International, La Paz, Mexico Fishing:
The fishing here seems as variable as the weather lately. One day sunny and flat, next day breezy, cloudy and humid which is typical of August weather.

We continue to get dorado (mahi-mahi) as our most cooperative species, but we're coming out of that full moon phase or something and the fish have been lethargically biting. We're working hard at it. Whether you're fishing the La Paz or the Las Arenas side, there's no consistency. You could troll all day and find nothing then at the very end find a hot spot with a WFO on dorado. Or, you could pick up 1 and 2 all day or even hit some fish early then nothing the rest of the day.

Just no way to predict. One day Las Arenas is better and the next, La Paz fishing is better. I would say that the difference is that there are more marlin on the La Paz side and more wahoo on the Las Arenas side as well as variety with roosterfish and jack crevalle rounding out the bite. Yes...we've had a rather decent week on wahoo around Cerralvo Island.

Trolling rapalas has been the ticket with quite a few fish lost but certainly at least a few taken each day. Also, a few tuna were trolled up as well by the wahoo fishermen.

By the way, increase you chances on the dorado. Catch a few bonito first and troll dead strips behind the boat!

(See "Mexico Fishing News" online for current fishing reports, photos, weather, and water temperatures from La Paz and other major Mexican sportfishing areas. Vacation travel articles, fishing maps and seasonal calendars, and fishing related information for La Paz may be found at Mexfish.com's main La Paz page.