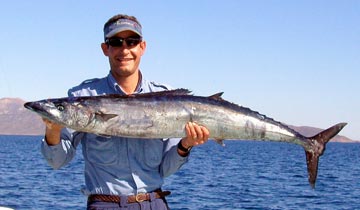 LAS ARENAS WAHOO--Shawn Sullivan of Indiana came out to La Paz for wahoo, and he caught two of them with Tailhunter International, plus dorado, tuna, and other species on light tackle. Photo courtesy Jonathan Roldan.
MAHI-MAHI ACTION SEEMS LIKE SUMMER FISHING
Oct. 23, 2004, Jonathan Roldan, Tailhunter International, La Paz, Mexico Fishing:
We had some incredible weather and conditions all week until the end of the week when it got a little cloudy. However, with water at 85 and air at 85, you really couldn't have asked for better stuff.

Our La Paz fishing fleet continued to find some great mahi-mahi fishing more reminiscent of summer fishing than October bites. Limits of fish from 10-40 pounds were not uncommon fishing off Bonanza Beach on the SE corner of Espiritu Santo Island.

For our Las Arenas boats, still a lot of variety, but catch counts varied from boat-to-boat and day-to-day. There's a scattered school of tuna from 10-20 pounds in front of the lighthouse to Punta Perico and we hooked and lost some 60-80 pounders there midweek. Dorado are scattered, but more concentrated toward the south toward Boca de Alamo with a few sails and striped marlin hooked on the pangas.

Surprisingly, we had a an unusual bite of both pargo lisa and barred pargo and for the last two weeks some schools of smaller roosterfish have popped up in Muertos Bay!

(See "Mexico Fishing News" online for current fishing reports, photos, weather, and water temperatures from La Paz and other major Mexican sportfishing areas. Vacation travel articles, fishing maps and seasonal calendars, and fishing related information for La Paz may be found at Mexfish.com's main La Paz page.