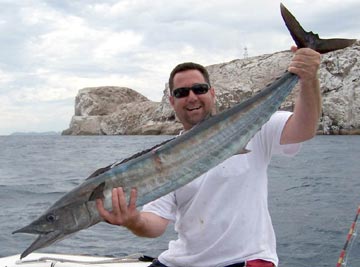 LA PAZ WAHOO--Randy Morales of Newport Beach caught a nice wahoo north of La Paz last week with Black Magic Sportfishing. Photo courtesy Artie Davis.
PANGA FLEET HAMMERS AT MAHI-MAHI OFF ISLA ESPIRITU SANTO
Oct. 30, 2004, Artie Davis, Black Magic Sportfishing, La Paz, Mexico Fishing Report:
Still plenty of late season action in and around the La Paz fishing area. The north winds kicked up a little bit this week; however, with the fish so close to Espiritu Santo Island it doesn't really affect anything except for a bumpy ride out.

Mahi-mahi (also "dorado" in Spanish) continues to be the norm, with just about limits everyday. The La Paz vacation area panga fleet continues to hammer away at the southeast corner of the island, but there are fish scattered all around, in as tight as a few hundred yards from the beach to 2 miles. Ran an overnight trip to Las Animas and had good wahoo and pargo fishing.

Divers saw some tuna, but we had no luck getting them to bite a hook. Have had a few storms pass through La Paz that brought some rain. La Paz water temps are holding just above 80 degrees.

(See "Mexico Fishing News" online for current fishing reports, photos, weather, and water temperatures from La Paz and other major Mexican sportfishing areas. Vacation travel articles, fishing maps and seasonal calendars, and fishing related information for La Paz may be found at Mexfish.com's main La Paz page.