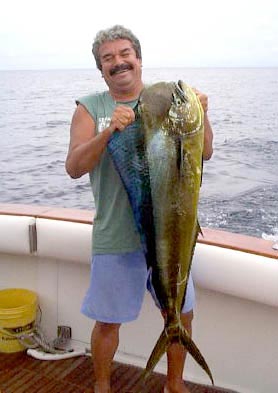 LA PAZ DORADO--Don Anderson fished on the Destiny II north of La Paz for a good catch of dorado, including this nice one held by deckhand Mario. Photo courtesy Don Anderson.
FISHING TRIP OUT OF PALMIRA MARINA
Oct. 27, 2004, Don Anderson, La Paz, Mexico Fishing Trip Report:
Fished out of Palmira Marina in La Paz on a friend's 44 Pacifica "Destiny II," 23-24 Oct. We fished Isla Partida, southeast flats, slow trolled sardinas for 14 Dorado and more Bonito than you'd want. Rain, Rain, Rain, but warm. 82 degree water. Very few boats fishing.

(See "Mexico Fishing News" online for current fishing reports, photos, weather, and water temperatures from La Paz and other major Mexican sportfishing areas. Vacation travel articles, fishing maps and seasonal calendars, and fishing related information for La Paz may be found at Mexfish.com's main La Paz page.