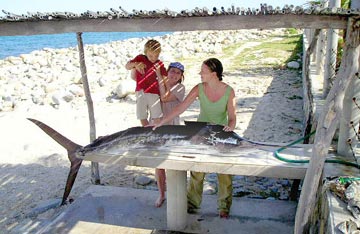 SAN ISIDRO MARLIN--Don Ballentine of San Isidro, south of Ensenada de los Muertos, took his daughter Randi Pewnzer (left) and friend Adda Sherman out in his 15-foot tin boat and they caught a striped marlin that could not be released about 6 miles out. Also looking on is Ballentine's grandson, Jack. Photo courtesy Don Ballentine.
ALUMINUM BOAT MARLIN FISHING OUT OF SAN ISIDRO
Nov. 10, 2004, Don Ballentine, San Isidro, La Paz, Mexico Fishing Report:
We had guests down from Seattle Wash, and I took two of them out Marlin fishing for their first time. The striped marlin was small, but quite a thrill for the two girls. Randi Pewnzer, our daughter, and Adda Sherman. They took turns reeling him in.

They were not sure about bringing him into my 15-foot boat; unfortunately, he was too far gone to release. We were out in front of my place here in San Isidro about 6 miles. There does seem to be a few fish around. Lots of bait. The weather has been a little rough for a small aluminum boat, but hopefully it will lay down.

The local fishermen are getting Mackerel close by, but I am not sure where. I only use lures, so don't have much interest in live bait. The Baja is the greenest we have ever seen it. Rain came in small doses, which is great for the plant life.

I have no idea what the water temp is, but it is cooling off fast as the nights are much cooler. We actually need covers on the bed now.

(See "Mexico Fishing News" online for current fishing reports, photos, weather, and water temperatures from La Paz and other major Mexican sportfishing areas. Vacation travel articles, fishing maps and seasonal calendars, and fishing related information for La Paz may be found at Mexfish.com's main La Paz page.