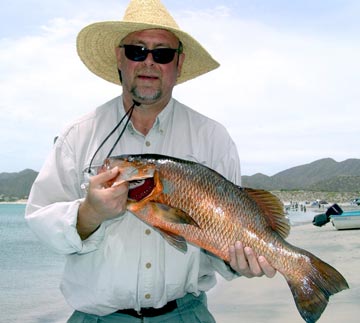 LAS ARENAS PARGO--Jim Anderson of Oregon with a dog snapper typical of Tailhunter International's catch last week out of Las Arenas south of La Paz. Photo courtesy Jonathan Roldan.
WINDS DAMPEN SPORTFISHING ACTION FOR LA PAZ-SIDE BOATS
March 12, 2004, Jonathan Roldan, Tailhunter International, La Paz, Mexico Fishing Report:

Just when we thought fishing might bust loose at Arenas, winds kind of kept a lid on things. Fortunately, there weren't too many fishermen but those who did got a mixed bag of pargo, roosters, dorado, sierra and one wahoo was hooked and lost. Some days are better than others, but it's surprising that some of these species like the dorado and roosters and, to some degree, the wahoo are even here.
On La Paz side sportfishing, the fishing was better and more than just surprising. Dorado were picked up again off the south side of Espiritu Santo Island as well as yellowtail off some of the high spots. Big news were the roosters that ran in the 40-60 pound class around midweek right up on the beaches.

Once again, I cannot believe some of the species we're getting right now. We are a good 2-3 months ahead of our fishing schedule with all kinds of things popping up.

In La Paz, the spectacular new Costa Baja Marina was all set to kick off with a big gala party and buffet last Friday but it was canceled. Not surprisingly...because nothing was ready. I'm sure it's just a matter of time.

On a more serious note, there had been a rumor that La Paz boat owners are very concerned about the Pemex station nearby and it's emissions. Originally, it had been thought that Pemex was going to move the eyesore from in front of the hotel. Well, now it appears that will NOT be the case. Of even bigger issue is that emissions from the power plant stacks have been dropping a dust onto the yachts that has even the local pangueros hesitant to bring their boats around. Apparently, the fallout eats the gelcoat off 100 foot yachts as easily as it does 22 foot pangas. Hopefully, that will be remedied.

(See "Mexico Fishing News" online for current fishing reports, photos, weather, and water temperatures from La Paz and other major Mexican sportfishing areas. Vacation travel articles, fishing maps and seasonal calendars, and fishing related information for La Paz may be found at Mexfish.com's main La Paz page.