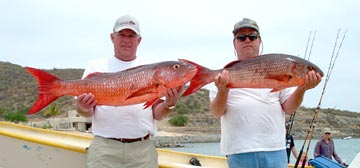 LAS ARENAS SNAPPERS--Dale Tanner and Don Rockefeller fished out of La Paz' Ensenada de los Muertos with Tortuga Sportfishing's Capt. Nufo, and they scored on a mixed catch including these nice pargos. Photo courtesy Dos Hernandez.
FISHING WEATHER VARIABLE FOR PANGAS OUT OF ENSENADA DE LOS MUERTOS
April 23, 2005, Dos Hernandez, Tortuga Sportfishing, Las Arenas, La Paz, Mexico Fishing Report:
Fishing on the Las Arenas side held steady, with action similar to previous weeks and no big changes, although the weather went through some strange changes during the week. Monday through Thursday were very nice, without winds to interfere with fishing, and the sky was sunny. But on Friday morning, the dawn came with strong northeast winds at Las Arenas, making it a little hard for our pangas to run out to Isla Cerralvo for bait.

But we did catch some scattered dorado. Capt. Nufo, fishing with Dale Tanner and Don Rockefeller of the Los Angeles area, decided to go out to the buoys, even though they didn't have bait, and they didn't get any results outside, but they still got some pargo liso, cabrilla, pargo lunarejo, and pargo perro.

On Saturday and Sunday, only two of our pangas went fishing out of Ensenada de los Muertos, and they caught pargo perro, cabrilla, and pompano, fishing with Stanley Chao and Steve.

During the last few days, fishing conditions at Las Arenas are becoming notably better, and we are hoping for very good results next week for our clients.

(See "Mexico Fishing News" online for current fishing reports, photos, weather, and water temperatures from La Paz and other major Mexican sportfishing areas. Vacation travel articles, fishing maps and seasonal calendars, and fishing related information for La Paz may be found at Mexfish.com's main La Paz page.