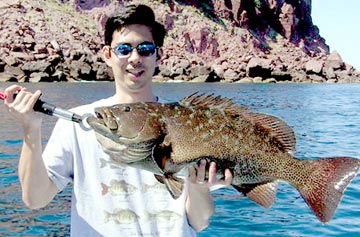 LA PAZ VARIETY FISHING--Dan Smith fished the rocks north of La Paz with Tailhunter International and pulled out a variety of species, including this fat cabrilla. Photo courtesy Jonathan Roldan.
ANGLERS FISHING MAINLY FOR INSHORE SPECIES
May 8, 2005, Jonathan Roldan, Tailhunter International, La Paz, Mexico Fishing:
This was a week of fishing at La Paz where there was some nice pargo around Las Arenas, but it seems a lot of my anglers were getting so frustrated fishing for these tough fish and breaking off so many that many elected to switch to fishing the La Paz side instead.

There were a few dorado and we're sure seeing a lot more marlin, but mostly the billfish still don't seem like they want to go into "chew mode" yet. However, inshore La Paz fishing for the big roosterfish, cabrilla and snapper kept rods bent and most anglers happy.

(See "Mexico Fishing News" online for current fishing reports, photos, weather, and water temperatures from La Paz and other major Mexican sportfishing areas. Vacation travel articles, fishing maps and seasonal calendars, and fishing related information for La Paz may be found at Mexfish.com's main La Paz page.