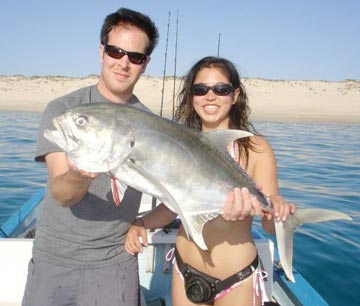 FISHING AT LA PAZ--Jonathan Medrano and his girlfriend Jennifer Sung fished with Tailhunter International at La Paz last week, and they did quite a number on roosterfish and these big jack crevalle. Photo courtesy Jonathan Roldan.
AMBERJACK BITING ON SOUTHEAST SIDE OF ISLA CERRALVO
May 29, 2005, Jonathan Roldan, Tailhunter International, La Paz, Mexico Fishing Report:

The fishing week started out with quite a nice bang off Las Arenas. The La Paz vacation area has been touchy and windy most of the week, but for about the first 4 or 5 days, there was a big bite on amberjack off the southeast side of Cerralvo Island. In fact, I have never seen a bite like this. Fish went 10-30 pounds mostly, and were thick enough that you could see the fish below the boats in the 20 foot depths.
Add to that an unusual run of feisty African pompano and some flurries of huge dog-toothed snapper, or pargo perro, and mullet snapper, or pargo lisa, all in the same area and it was great fun.

At times the fish would sweep in and every panga would be bit with fish crashing all around. Additionally schools of bonito and the occasional big toad yellowtail would also come through. I saw several 30-40 pound yellows put serious bends on anglers. The hot ticket was to go use Lucky Joes at the buoys and catch pilotfish, or zebras, as they were instant candy when you got to the fish zone. If you didn't have them, the fish would still eat the sardines or even a slow trolled CD14 size Rapala. I had two lures taken right to the rocks by fish I could not stop when the bait ran out.

Not so many roosterfish were caught this week around La Paz, and mostly they were smallish 10-15 pounders, but fun if you found them. Several anglers did drag the bigger lisa baits around and got hammered by big critters, but no one landed any.

Several wahoo were taken off the high spot at the south end of the island and marlin and sails seem to be jumping everywhere, but not ready to eat just yet. However, my amigo D.J. Perrine from Washington hooked two from the pangas this week.

We did find some tuna, but they were dinks, 5 pounders almost 50 miles outside and smaller than the bonito. Not worth the gas to chase so few fish that were so small.

Dorado were more prevalent, but not full turbo by any stretch. The largest dorado of the week was 31 pounds by Gordon Day of Utah. La Paz fishing water temperatures are holding at about 79 degrees.

(See "Mexico Fishing News" online for current fishing reports, photos, weather, and water temperatures from La Paz and other major Mexican sportfishing areas. Vacation travel articles, fishing maps and seasonal calendars, and fishing related information for La Paz may be found at Mexfish.com's main La Paz page.