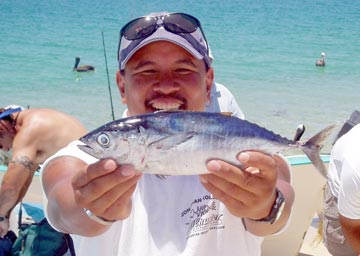 MICRO TUNA!--Even with his arms held straight out, Jonathan Roldan of La Paz' Tailhunter International can't make this yellowfin tuna look any bigger than about half-a-pound. "Fought like hell," Roldan said. "I caught it on a mackerel rig and threw it into the bait well. Didn't realize until much later that it was a tuna!" Photo courtesy Jonathan Roldan.
VERY SLOW FISHING FOR AREA BOATS
June 11, 2005, Jonathan Roldan, Tailhunter International, La Paz, Mexico Fishing Report:

I think if you talked to a lot of people, they'd basically tell you fishing at La Paz sucks right now. And I would have to agree. Water temperatures in the La Paz vacation area are a few degrees off. Air temperatures are a tad cooler than normal.
There are several things you have to look at in the fishing.

First, I think that although La Paz fishing is tough right now, most would agree that there's a lot of fish in the water! There's marlin, wahoo, dorado and half-a-dozen other species here, but most just haven't been willing to chew.

If you look at the actual counts of how many fish are caught, we look pretty piss poor. However, if you walk from boat to boat and count how many fish were hooked and lost; how many lines were broken; how many fish were seen that just didn't eat or how many went to the rocks, the stories would be far different.

We know the fish are there. You can see them! It feels like La Paz is on the verge of a big fish explosion and the fish that do make it to the beach...big wahoo, striped marlin, blue marlin, sailfish, dorado, yellowtail, some tuna, and big pargo, are just teasing the heck out've everyone!

There's a spot south of Isla Cerralvo that's got fish breaking all over. There's sargasso in the channel that has dorado leaping around catching flying fish, but most just aren't ready to chew anything with a hook and it's driving everyone crazy!

Tell ya what...for anyone who subscribes to that full moon/dark moon thing...we had some of our best fishing during the full moon this past month. We had some of our stingiest fishing during the dark moon phases when we had tons of anglers on the water.

(See "Mexico Fishing News" online for current fishing reports, photos, weather, and water temperatures from La Paz and other major Mexican sportfishing areas. Vacation travel articles, fishing maps and seasonal calendars, and fishing related information for La Paz may be found at Mexfish.com's main La Paz page.