June 11, 2005, Dos Hernandez, Tortuga Sportfishing, Las Arenas, La Paz, Mexico Fishing Report:

During the last few days, the weather and the fishing at Las Arenas have changed notably. The weather has been as warm as 86 degrees, down to 61 degrees at night, and the winds have been blowing lightly from the southwest, but without interfering with the fishing. On some days, the fishing weather had been completely calm, and some days we had a little fog in the morning, but still without affecting the fishing.
This week, the fishing has improved, and we caught a big variety of species, including amberjack, yellowtail, pargo lisa, pargo colmilludo, cabrillas, wahoo, and marlin.

Our captains are using both sardina and mackerel bait right now, and also Rapala-type lures for catching wahoo.

At the south point of Isla Cerralvo, we've been catching some wahoo, yellowtail, and amberjack, and you can see a lot of these fish between the pangas as they are fishing in this area.

There are also big schools of mackerel in this area, which are used for bait.

This week we were visited by two groups including our friend "Mako" Matt Potter of Huntington Beach, who caught pargo, wahoo, and marlin, with family members.

Also, Pete and Crissy Teichman of the Los Angeles area fished with Capt. Jorge and caught two nice pargo.

James H. of Los Angeles caught a hammerhead shark with Capt. Adrian.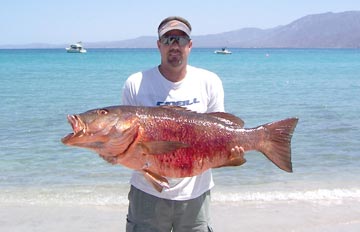 LOTSA LA PAZ PARGO--Jay Britt caught pargo, cabrilla, and roosterfish with La Paz' Tortuga Fleet, but said he blanked on dorado due to heavy squid concentrations. Photo courtesy Jay Britt.
Grant Tomita caught four wahoo to 34 pounds with Capt. Rigo.

Ron T. caught two marlin with Capt. Martin.

Amiga Linda and Tony Ferrell caught a large marlin of 240 pounds with Capt. Hugo, plus a pargo lisa of 38 pounds, and two wahoo.

The main thing is that the fishing is getting better every day, and right now you should fish here with 50 to 80-pound line. We also recommend Rapala CD18 lures in purple and mackerel colors.

(See "Mexico Fishing News" online for current fishing reports, photos, weather, and water temperatures from La Paz and other major Mexican sportfishing areas. Vacation travel articles, fishing maps and seasonal calendars, and fishing related information for La Paz may be found at Mexfish.com's main La Paz page.