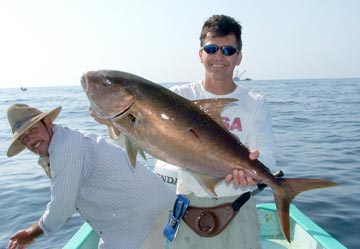 CERRALVO AMBERJACK--Fishing slowed way down for wahoo and pargos at the south end of La Paz' Isla Cerravlo last week, but amberjack hung in there, and Max Lizarraga got this beauty with Capt. Martin of Tortuga Sportfishing. Photo courtesy Gerardo Hernandez.
FISHING GENERALLY SLOW IN ALL DIRECTIONS
July 3, 2005, Gerardo Hernandez, Tortuga Sportfishing, Las Arenas, La Paz, Mexico Fishing Report:
Fishing conditions and weather were variable on the Las Arenas side this past week. There was not too much action for our anglers, and at the famous Punta Sur of Isla Cerralvo, there weren't any wahoos or pargos this week, just some amberjack. Off Punta Perico, we also caught some small dorado.

Our captains also tried their fishing luck at the buoys, but unfortunately, there were no dorado there as before, but just a few sailfish.

Our weather has had warmer temperatures to about 94 degrees, and higher humidity this week. There has been some wind on the sea these past few days, and the water temperature is in the 70s.

There is sufficient sardina bait in our fishing area, but sometimes the wind and waves do not let us get close enough to throw the tarraya cast nets.

We continue to hope that the tuna and dorado will make their appearance soon as the hot summer days approach.

(See "Mexico Fishing News" online for current fishing reports, photos, weather, and water temperatures from La Paz and other major Mexican sportfishing areas. Vacation travel articles, fishing maps and seasonal calendars, and fishing related information for La Paz may be found at Mexfish.com's main La Paz page.