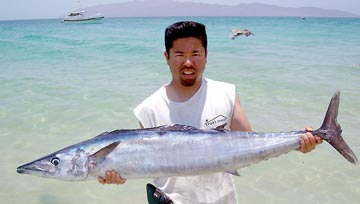 LA PAZ WAHOO--Patrick Herreria of Oxnard works at Sport Chalet and told his coworkers that on his first trip to La Paz he was going to have a banner trip. He got sick on the first day of fsihing with Tailhunter International, but rebounded on his second day to nail this wahoo off the south side of Cerralvo Island. Photo courtesy Jonathan Roldan.
A SCRATCHY FISHING WEEK FOR LA PAZ CHARTER BOATS
July 9, 2005, Jonathan Roldan, Tailhunter International, La Paz, Mexico Fishing Report:
It's sure was not great fishing here at La Paz this past week. There were some highlights, but for the most part it was scratchy fishing brought on by winds that came up and messed up the bait, the bite, the currents and a lot of otherwise good fishing that seemed like it was just about to take off.

There had been a tropical storm off Southern Baja earlier in the week that petered out, but it left its mark on us. The wahoo bite dropped. The dorado and marlin got lockjaw.

They were there to be seen, but gave a cold shoulder to much of the offerings. Even the reliable bonito and pargo went to ground. It was the toughest week so far of the season in the La Paz fishing vacation area.

(See "Mexico Fishing News" online for current fishing reports, photos, weather, and water temperatures from La Paz and other major Mexican sportfishing areas. Vacation travel articles, fishing maps and seasonal calendars, and fishing related information for La Paz may be found at Mexfish.com's main La Paz page.