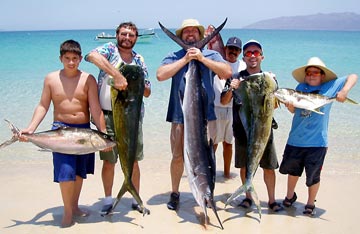 LA PAZ BEACH FUN--Jerry Fucsik's family group from Long Beach fished on the Las Arenas side at La Paz with Tailhunter International and caught all kinds of stuff including dorado, marlin, jack crevalle, pargo, amberjack and a few other species that wouldn't fit in this picture. Photo courtesy Jonathan Roldan.
CRAZY WEATHER PATTERNS SCATTER BAIT FISH
July 16, 2005, Jonathan Roldan, Tailhunter International, La Paz, Mexico Fishing Report:
We had a rough start to the fishing week at La Paz. I'm pretty tired of trying to predict these crazy weather patterns anymore. It seems we get the fishing on a roll, then winds whip up and mess things up blowing every which way and scattering bait, sargasso weeds, currents and bait fish and driving the game fish into lockjaw.

A few of the days early in the week it was like fishing in the winter with bone-slamming chop on the water. There were some fish to be caught in the La Paz vacation area but it was hard work.

Fortunately, by the end of the week things were moving back on track with good dorado bites around Cerralvo Island and on the high spots with marlin again moving in and out of the schools and the occasional wahoo still on the chew.

Air temperatures have been a solid 95 degrees at La Paz, with water temps pretty much in the low 80's although there's still a cooler thermocline not too far beneath the surface where colder water fish such as amberjack and pargo and the occasional yellowtail are still holding.

(See "Mexico Fishing News" online for current fishing reports, photos, weather, and water temperatures from La Paz and other major Mexican sportfishing areas. Vacation travel articles, fishing maps and seasonal calendars, and fishing related information for La Paz may be found at Mexfish.com's main La Paz page.