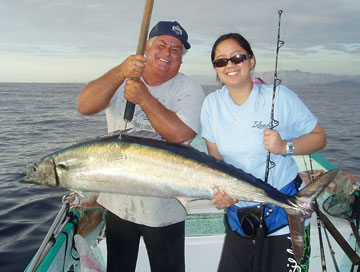 GOOD WAHOO FISHING--Christine Rico did some early morning trolling with Rapalas at the south side of Cerralvo Island off Las Arenas and went two for three on the wahoo with Capt. Archangel of La Paz' Tailhunter International. Photo courtesy Jonathan Roldan.
MAHI-MAHI FOUND IN CONCENTRATIONS NORTH OF TOWN
July 31, 2005, Jonathan Roldan, Tailhunter International, La Paz, Mexico Fishing Report:

La Paz had a really nice fishing week with a combination of good weather, good water, and good bait, and that all added up to some really solid fishing. Dorado continue to be the flavor-of-the-month with a good range of fish north of La Paz.
There are still a lot of schoolie sized mahi-mahi (also "dorado" in Spanish) in the punk-sized 5-10 pound class, marlin candy, but larger fish starting to show up with more regularity in the 15-30 pound class.

There are still more marlin around than I have ever seen in any season. Lots of smaller fish in the 50-120 pound class, but we've had a season of some real monsters that came early.

Steve Dougherty of Santa Ana battled one black marlin on the panga estimated at over 800 pounds for more than 4 hours. At about the halfway point, the single speed reel and rod broke in half at the reel seat, leaving Steve holding two pieces and holding on for life. Quick work by Capt. Cesar got another rod spliced on, this time with a two-speed reel, and 2 hours later they got the fish close to the boat for the gaff. When they stuck it, the fish exploded and straightened the gaff and eventually got off, which was fine as Steve said they would have released the fish.

By the way, fishing on the Las Arenas has been on the slow side, but things are looking up. Wahoo bit again and a lot more dorado are showing up now as well.

(See "Mexico Fishing News" online for current fishing reports, photos, weather, and water temperatures from La Paz and other major Mexican sportfishing areas. Vacation travel articles, fishing maps and seasonal calendars, and fishing related information for La Paz may be found at Mexfish.com's main La Paz page.