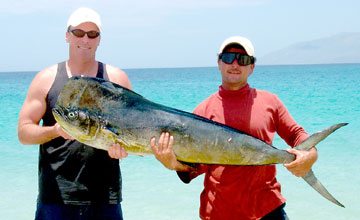 LAS ARENAS DORADO--Thomas Teichmann (left) fished on La Paz' Las Arenas side last week and scored on a nice 40-pound dorado with Capt. Rigo. Photo courtesy Dos Hernandez.
FISHING IS FOR MAHI-MAHI OF 10 TO 45 POUNDS OFF ISLA CERRALVO
Aug. 20, 2005, Dos Hernandez, Tortuga Sportfishing, Las Arenas, La Paz, Mexico Fishing Report:

Fishing weather at Las Arenas has been plenty hot the last few days, with air temperatures up to 105 degrees during the days, although we've had a cooling west breeze during the nights.
This week, some days at La Paz have been sunny and others a bit cloudy, but without any problems for the fishing caused by distant tropical storms since the beginning of the month.

Right now, we're catching mahi-mahi (also "dorado" in Spanish) of different sizes from 10 to 45 pounds, and the fishing is at the north point of Isla Cerralvo, toward Las Cruces, where there are a lot of buoys. We are using sardina bait these last few days, and also agujita azul, or ballyhoo, also called halfbeaks.

For anglers who like a good fight, we also have a big school of giant squid at Punta Perico, and also outside Los Muertos bay, with some to 25 pounds. They give you an exciting day, and we are also using them for dorado bait.

Today, on Saturday, our Capt. Rigo caught nine dorado of 20 to 30 pounds at Las Cruces. With this kind of good fishing, we recommend line of at least 25 to 30 pounds weight, because we are seeing fish to about 50 pounds, but we have caught very few of them.

For fishing with Tortuga Sportfishing, you can contact us at gerardo_tortuga@hotmail.com, or call direct to La Paz from the U.S. 011-52-612-122-5112.

(See "Mexico Fishing News" online for current fishing reports, photos, weather, and water temperatures from La Paz and other major Mexican sportfishing areas. Vacation travel articles, fishing maps and seasonal calendars, and fishing related information for La Paz may be found at Mexfish.com's main La Paz page.