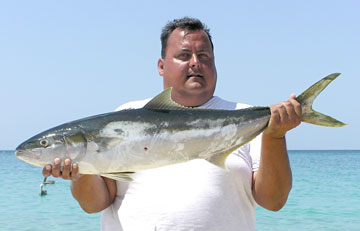 WARM WATER YELLOWTAIL--Stephen Grey of Redondo Beach decided to target yellowtail at La Paz in September, and he scored this one on the Las Arenas side with Capt. Rigo Lucero of Tortuga Sportfishing. Photo courtesy Gerardo Hernandez.
SPORTFISHING CHARTER BOATS FIND GOOD MIXED SPECIES ACTION
Sept. 10, 2005, Dos Hernandez, Tortuga Sportfishing, Las Arenas, La Paz, Mexico Fishing Report:
We have great fishing news for La Paz anglers. During these past few days, the fishing at Las Arenas has been reliable and constant, and we've caught dorado, tuna, yellowtail, marlin, and huachinango or red snapper.

The fishing weather at La Paz has been quite favorable and has given us no problems, although we've had some light showers in the afternoons.

John Barrios of California, fishing together with Steve Longraron, caught dorados of 10 to 20 pounds, while fishing around El Sargento, in a spot called Punta Bola, where there are a lot of buoys. They also caught tuna of 20 pounds, with Capt. Rigo, around the area of Punta Perico, near the Hotel las Arenas. They also caught a marlin of about 60 pounds in the same area.

Today, Saturday, Sept. 10, 2005, they went fishing for yellowtail, and they caught a good one of 20 pounds, and also some huachinango. In this same area, we are seeing some large tuna of about 100 pounds. We haven't been able to catch them because of sea lions, and although we've watched for an hour and half in amazement as commercial fishermen caught these tunas, without using rods, but only with handlines.

All this means that the fishing at La Paz is getting better daily, and we hope it will keep improving in the days ahead. Information, gerardo_tortuga@hotmail.com.

(See "Mexico Fishing News" online for current fishing reports, photos, weather, and water temperatures from La Paz and other major Mexican sportfishing areas. Vacation travel articles, fishing maps and seasonal calendars, and fishing related information for La Paz may be found at Mexfish.com's main La Paz page.