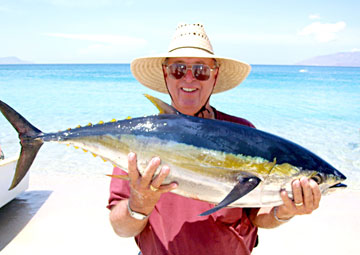 LAS ARENAS TUNA--Jess Reid of Temecula fished at Las Arenas south of La Paz with Tailhunter International last week, and caught his first yellowfin tuna, a 35 pounder landed after a 45-minute fight. Photo courtesy Jonathan Roldan.
BAIT SCARCE FOR BOATS FISHING FOR TUNA AT LAS ARENAS
Sept. 11, 2005, Jonathan Roldan, Tailhunter International, La Paz, Mexico Fishing Report:
The good fishing news is yellowfin tuna at Las Arenas. The bad news is, tough to get bait!

However, it's been a long time since I've had fishing clients say, "I don't want to catch anymore tuna! No mas!"

That's a good thing to hear. I have no idea how long they will stay, but I'm just glad it turned out because earlier in the week our fishing boats on the La Paz side really hit a dip in the bite so we moved a lot of our clients over to fish Las Arenas instead.

Bait isn't impossible, but you have to work at it.

Dorado were also a nice icing as well. La Paz fishing did pick up as the week went on with better dorado and marlin fishing, but the bite is scattered.

(See "Mexico Fishing News" online for current fishing reports, photos, weather, and water temperatures from La Paz and other major Mexican sportfishing areas. Vacation travel articles, fishing maps and seasonal calendars, and fishing related information for La Paz may be found at Mexfish.com's main La Paz page.