By Gene Kira, Jan. 7, 2002, as published in Western Outdoor News:

I love remote Baja fish camping spots, and here's one that so remote, if you go half-and-inch past it, you'll be coming out the other side.

This attractive little bay north of the town of Loreto is called "Saquicismunde," and if you happen to know the meaning of that name, put it in an email and Western Outdoor News will send you fifty bucks (just kidding).

Jack Williams, author of the Baja Boater's Guide books, says he gave Saquicismunde Cove it's name because of a similarly-named arroyo just to its south. However, nobody seems to know what the name itself means, or even what language it comes from, so I guess it will have to remain another unsolved Baja mystery, at least for the present.
I first heard about Saquicismunde one balmy afternoon while shooting the bull with Arturo Susarrey, proprietor of Arturo's Sportfishing in Loreto. We were talking about the recent trend in Loreto of offering all kinds of tourist activities instead of just straight fishing, and Arturo mentioned the super-remote yellowtail camping trips he has going to this place, about 30 miles north of town.

The first time he mentioned its name, I thought he said "She-kisses-Mandy."

"What did you say?"

"Say-kicksy-moomby."

"What?!"

At this point, Arturo got out a piece of paper, and after a lot of thought, he wrote down: "S-A-X-I-S-M-A-N-D-O." Then his eyebrows furrowed, he crossed it out, and wrote something like: "S-E-X-I-M-U-N-D-O."

I felt a little better. Arturo didn't know how to spell it either.

Anyway, Saquicismunde is a completely roadless little cove, a couple of hundred yards across, that sits on the Baja coast about 2.5 miles south of Punta Pulpito, which is the first big point north of Loreto. To get there, you first drive 30 miles north from Loreto on Mex 1. Then you turn off onto a 10-mile dirt road through a tight arroyo and a big goat ranch leading to the remote fish camp that the AAA map calls "San Juanico." From the fish camp, you must then travel by boat, another five miles north to the cove itself.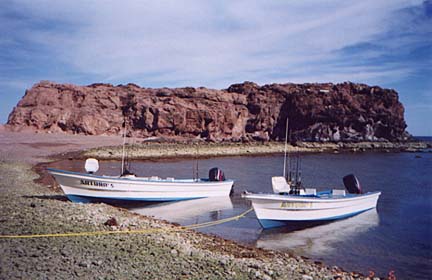 Arturo Susarrey's well-equipped pangas at the remote bay of Saquicismunde, about 30 miles north of Loreto.
This place is so remote it's one of the few that Neil Kelly and I never got to during the years we were "researching" all the fishing spots described in The Baja Catch. Just south of it is another beautiful place that I've never seen close-up, the Vagabundos "Secret Cove" that Ray Cannon seemed so obsessed with during the last few years of his life.
Anyway, Arturo Susarrey's pangas are doing deluxe "old tyme Baja" five-day fish camping trips from this very beautiful piece of coast. You won't see many other boats around, because it's usually a tough run north from Loreto in the winter. However, once you are in camp, you can fish in the shelter of the coast and Punta Pulpito, even when the winds are blowing outside.

The deep winter yellowtail fishing is excellent around the points and nearby Isla Ildefonso, and everything that sounds like "work" is done for you out of a complete, full-service camp fully equipped with two-person tents, guides, showers, sleeping bags, a dining area, and five pangas for ten anglers. All transportation, services, and meals are provided.

All you have to do is fish and enjoy the beauty of Baja like it was in the old days. On these trips, you are driven north from Loreto by van, while the pangas run to meet you with supplies, even including live bait for the first couple of days, and they stay with you throughout the trip. On the last day, everybody runs back to town by panga for a final night in a hotel.

These innovative trips are carefully designed, managed, and booked by John and Shari Mestrin's Blue Water Tours. Of the six trips offered this winter, three are sold out, but there is space available for the last three weeks of February.

By the way, if you call, you need to ask for information on what they are listing as their "Campo San Nicolas" trips. Saquicismunde was just too danged hard to spell, I guess.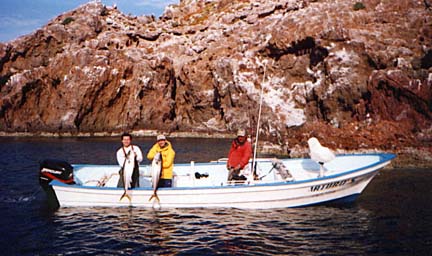 Pete Gray of Let's Talk Hookup, center, and John Mestrin of Blue Water Tours show off some nice yellowtail at Isla Ildefonso, north of Loreto, only about 15 minutes from camp.