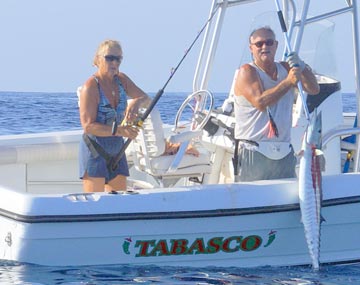 LATE AUGUST WAHOO ON THETIS BANK -- Rosey and Mike Sheffer from Loreto and Puerto Lopez Mateos, B.C.S., Mexico, with one of nine wahoo caught in nonstop action at the Thetis Bank off Magdalena Bay on August 29, 2009. PHOTO COURTESY OF BILL ERHARDT.
THETIS BANK BOATS SCORE BIG JUST BEFORE HURRICANE JIMENA
MAGDALENA BAY, MEXICO, BILL ERHARDT, Sept. 15, 2009 -- For the second year in a row, wahoo have made an early appearance on the Thetis Bank off Magdalena Bay on Baja's southern Pacific coast in late August, and they have provided great action for the few lucky fishermen who were around for it.
In recent years, and before last year's early season, it was closer to the first of October when the "skinnies" first made an appearance outside Magdalena Bay.
Among the first to cash in on this year's early bite was Los Barriles fishing guide Lance Peterson who was on a busman's holiday, fishing with Mag Bay Outfitters out of their casitas on Isla Magdalena near Puerto Lopez Mateos.
Lance fished the Thetis Bank on 2 days between August 24th and August 27th in a panga from the island for action including 4 wahoo caught and several more lost between the run-out and the boat.
Fishing the bank along with Lance on August 25th were Mike Sheffer and Randy Hamman from Loreto on Mike's boat, Tabasco, guided by Capt. Ruben Duran from Lopez Mateos.
Capt. Ruben and crew brought an incredible 16 'hoos to the boat.
I joined the party on August 29th on my boat, Soledad, launching in Puerto Lopez Mateos along with Mike and Rosy Sheffer on the boat, Tabasco, and Randy Hamman and Don Lindeleaf on Randy's boat Jig's Up.
I had my Mexican sportfishing limit of 5 wahoo before 9:30 a.m. and then stuck around for a while taking pictures of the others in action before heading off in search of yellowfin tuna.
Mike and Rosey ended up the day with 9 wahoo, and Randy and Don had 6.
I returned to Magdalena Bay alone 2 days later, and 2 days before Hurricane Jimena hit Puerto Lopez Mateos. Again, I had my Mexican limit by mid-morning.
That's 45 wahoo caught in 7 boat outings during the last week in August, and I limited out before 10:00 a.m. on both days that I fished.
There may have been other sportfishing boats that partook of this early bite on the Thetis Bank off Magdalena Bay, but I don't think so.
The surface sea temperature on the Thetis Bank during this torrid wahoo bite was 85 degrees and the weather was calm as Hurricane Jimena was still working its way north.
I returned to the Thetis Bank again on September 7, five days after Jimena passed through, and it was like the Dead Sea, with no birds or sea life in sight.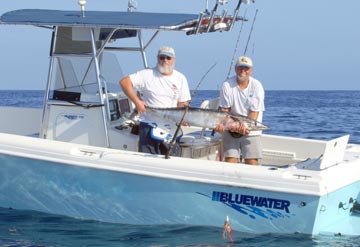 BIG 'HOO ON JIG'S UP -- Don Lindeleaf, left, and Randy Hamman from Loreto with a 46 pounder that was the biggest wahoo caught during the torrid bite on the Thetis Bank during the last week in August, 2009. PHOTO COURTESY OF BILL ERHARDT.
The surface sea temperature after the passage of the storm had dropped to 80 degrees.
During another trip to Magdalena Bay on September 13th, the sea temperature was a degree cooler at 79 degrees.
I again found no wahoo, but there was bait breaking the surface, so if anything should come by this area, there will be something to hold them.
In my experience during fishing off Baja, it usually takes a couple of weeks or so for fishing to rebound after a serious storm.
As a consolation prize for the lack of wahoo, on both trips after the storm I found yellowfin tuna.
On Sunday, we caught 11 tuna that averaged around 25 pounds.I left the fish with Capt. Ruben to spread around a fished starved Lopez Mateos, where local fishermen were still ashore cleaning up and putting the town back together.