By Gene Kira, Dec. 2, 2002, as published in Western Outdoor News:

Every couple of months, Gary Graham of Baja On The Fly takes a break from guiding saltwater fly fishing clients at East Cape and Magdalena Bay, and he comes up to San Diego for a few weeks. I know when this happens, because I get a cryptic phone message or email that goes something like: "Onami 11:30?"

What this means, of course, is that we're meeting for lunch at Escondido's fantastic all-you-can-eat Onami sushi bar, and we're going to swap Baja "mentiras" (that's Spanish for "lies") while we stuff our faces with some of the best sushi around. It's a satisfying and worthwhile ritual. I always come away stuffed with plenty of good column material, and neither one of us has to eat again for about two weeks.
Anyway, this last time, Gary had me slightly confused, when he asked me to bring him four of my favorite Jointed Rebel Fastrac fishing lures.

Not that there's anything wrong with the lures themselves; in fact, after decades of trial and error, the Jointed Rebel Fastrac is still one of the best lures I've ever discovered. The confusing part was that Gary is a very hardcore and sophisticated type of fly guy, IGFA rep and all that stuff, and I couldn't imagine what the heck he was going to do with my dumb old Jointed Rebels. Had Master Gary given up his High Falutin' Fly Principles?

Well, as it turned out, a couple of years ago, I had forgotten one of my Jointed Rebels at Gary's house in East Cape, and "somehow," it had "accidentally" found it's way into one of his tackle boxes, and it got taken to the fish-laden mangrove channels of Magdalena Bay on the Pacific coast of Baja.

I say "accidentally" because, for Gary, allowing a lure armed with three treble hooks (supremely illegal for fly folk) to sit in his tackle box would be something akin to carrying around a rotten baloney sandwich. There's no way Gary would ever resort to using such an "unfair," Neanderthal weapon.

Anyway, on Gary's last Magdalena Bay fishing trip, one of his clients found my old Jointed Rebel and decided to try it in the esteros at Bahía Santa María. Suddenly, they were snagging about 12 fish per hour of leopard groupers, spotted bay bass, halibut, and corvina. Everybody was amazed there were so many fish there.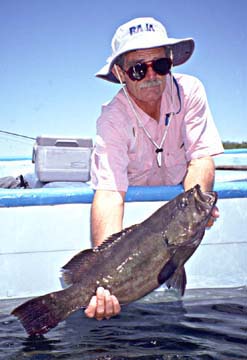 Master fly fishing guide, Gary Graham, of Baja On The Fly, with a broomtail grouper at Magdalena Bay, Baja California Sur, Mexico.
The only problem was that the danged Rebel's nine hook points (remember, three trebles) were actually catching all those fish, when all Gary wanted to do was locate the hot spots so they could fly cast to them. The stupid Rebel was messing up the whole operation.
So, what Gary intended to do was remove all the Rebels' hooks and troll the bare lures around as teasers. Once the rod tips started bouncing, they would know where the fish were, and they would start fly casting.

But as I explained to Gary, even the tiniest change to the Rebel's hooks would destroy its perfect balance and action. I discovered this years ago when I used to try different types of hooks, including single hooks, in an effort to make the super-prickly Rebels less of a hassle in the tackle box or when trying to release fish.

Then I remembered an old trick. Since about 80 percent of the fish will hit the Rebel's middle treble hook only, I would sometimes bend the six tines of the other two hooks inwards until the points were touching the center shank. This cost you a few fish, but when there are lots of them hitting, who cares? It's a lot easier to release fish this way.

For Gary's next Baja fishing trip to Magdalena Bay, coming up in January, he can simply bend all nine tines into the shanks, and he'll have a perfectly-balanced Rebel that will attract hits like crazy, but won't actually catch fish. That's legal, even for a hardcore fly guy like him, and the Rebel will definitely find fish for his clients. Neat!

By the way, for fishing at Magdalena Bay, or any other area, the orange-gold and blue-silver Rebels, in that order, are the two best colors.

(Related Magdalena Bay (Bahia Magdalena) articles and reports may be found at Mexfish.com's main Magdalena Bay (Bahia Magdalena) information page. See weekly fishing news, photos, and reports from the major sportfishing vacation areas of Mexico including the Magdalena Bay (Bahia Magdalena) area in "Mexico Fishing News.")