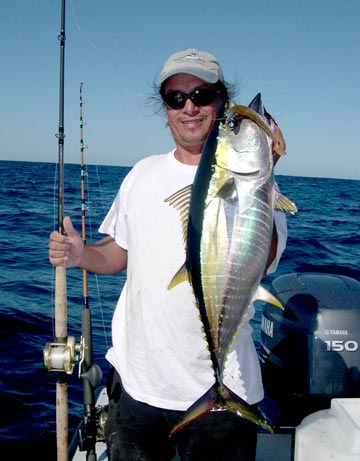 THETIS BANK TUNA--Mike Kanzler with a school-size yellowfin caught on the Thetis Bank with a Mondo Plastic. Photo courtesy Mike Kanzler.
Oct. 30, 2004, Mike Kanzler, Magdalena Bay, Baja California Sur, Mexico Fishing Trip Report:

I'm back from one of the most insane fishing trips that I won't soon forget or stop talking about for quite sometime! We went through the whole experience, from adverse weather, high seas, full moon with full eclipse, to a wide-open wahoo bite! And we had the best camping conditions one would ever want, thanks to Mag Bay Tours.

The Magdalena Bay fishing weather which was not the best to say the least, cold, windy, and rainy. We only had one day of sun to speak of, not very October-ish, and from what we where told by the camp hosts and local fishermen, the whole month saw pretty much the same pattern. Morning lows were in the 60s, with low 70s during the day, wind of 20-plus knots on some days, with breezes no less than 8 knots on others. Magdalena Bay water temperatures were 72 degrees inshore and 74 to 75 degrees offshore. The water was clean and clear, with 30 to 60 feet of visibility.
Here's a daily journal, starting with the drive down from Santa Rosalia on the Sea of Cortez coast of Baja California, and including the day-to-day fishing.

--Oct. 24, 2004: At 0600 my trusty Baja side kick Danny "Pig Loco" Chiquete showed up at my door ready to roll. After a quick double check of our gear, we loaded up the boat and made for San Lucas Cove, where Alan Lewis was waiting with my boat trailer. With the boat out of the water we headed south for San Carlos, Magdalena Bay, finding pretty uneventful drive except for a deer that jumped across the road a little north of Constitution, first one I've ever seen in Baja.

In San Carlos, we searched for the launch ramp which was south of town next to the old Flying Sportsman Lodge, just to check it out before dark, for the tide wouldn't be high till 0830 the next morning.

With that done, we gassed up the boat and the extra jerry cans and went to contact Esteban Warren, Operation Manager for Mag Bay Tours. After a brief chat on where the car would be kept, and ice and extra gas were ordered for the camp, we discussed sleeping arrangements. Alan opted for a hotel while Danny and I slept in the back of the SUV near the boat ramp.

--Oct. 25, 2004: The next morning Steve (Esteban) met us at the ramp and put the boat in the water. With the GPS on, I started to plot a route out to Magdalena Bay's Punta Entrada, which is about 20 or so miles south in the bay. Nice ride, but downhill with the wind blowing at least 15 knots already. The whole time I'm thinking what's the ride going to be like going the other way on the Pacific side?

Outside the bay, things started getting interesting. Swells to 4 feet, winds steady at 15 knots, and a boat overloaded by about 350 pounds made for one long wet trip. Nearly turned around three different times! About 2 miles from the camp, we called on Channel 18 for instructions on where to anchor up and to send a panga for pickup of our gear.

Once at the Baja fishing camp, it took me about 5 minutes to figure out that the $75 a day cost for camping was worth twice the price, not having to set up tents, cook food or do anything of the likes, after taking a beating getting there. The food! I'll get to that later, fit for the five kings of Baja it was.

About 2 hours of unwinding, we saw the return of my buddy Kurt Lundqusit and his two friends. After an exchange of greetings, we where informed that they where unable to make the run up to the Thetis bank on any of the days they'd been at the camp. They did however catch a few dorado and one small yellowfin a few miles out along, with some yellowtail on the reef in front of camp, not the report I wanted to hear. Maybe tomorrow.

Around 4 p.m., we took a little run up to the point to fish some plastic for grouper or whatever wanted to bite. Have to get the lines wet, right? We proceeded to cast inside and out of the point, and then I got my first fish for the trip, a four-pound yellowtail. I got another one a bit later, then hooked something different bass or small grouper? Once I saw what it was, couldn't believe it, a 5-pound calico bass! I thought those didn't live any farther south than Punta Abreojos! Of course, I released him. At the end of our trip, I was told by Steve that it was the third, and largest, calico caught in the past 15 years.

With that out of the way, we sat down to our first of many great meals cooked by Inazuchilt Mendoza and her novio Cruz Torres, our camp hosts, with the wind whipping the tarp and all of us wondering what tomorrow had in store. With dinner finished, we where asked what time coffee, breakfast, and departure would be for the groups; 0530 was the call.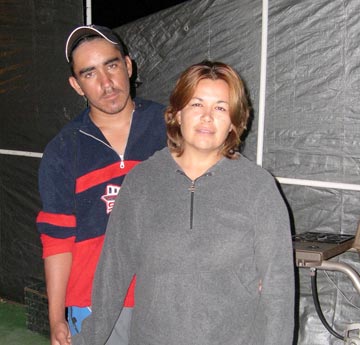 DELUXE MEALS--Cruz Torres and Inazuchilt Mendoza keep the gourmet meals coming at Mag Bay Tours' Punta Hughes camp. Photo courtesy Mike Kanzler.
--Oct. 25, 2004: Alarm clock blaring...all up and ready to go. However, the clock wasn't the only thing blaring. Winds where already at 20 knots! Alan said, "think I'll sit today out," and he did. The other boat and mine decided to give it a go.

We took a heading for an area just south of the Thetis, while the others took a more southerly route downhill. Danny and I took the hard road uphill, never breaking 10 miles an hour. How could you? The seas were up to 6 feet, wet with waves crashing over the bow the whole way.

About 15 minutes out, the other boat called us on the radio to tell us they where heading back (their boat is a cat and is about 4 feet longer than mine. None of the yachts, some over 90 feet made the run.) We continued to motor out.

We got to within 8 miles of Thetis which took nearly two hours! And we said forget it!

I put the lures out and started to troll down swell. Not knowing what was out there, I tried a combination of lures, black-and-purple marlin jig (all dark colors; it was overcast and raining too). Tony-the-Tiger Marauder, dark-blue tuna jet, and a Yo-zuri hydro magnum.

Thirty minutes on the troll I saw the marlin jig rod twitch, then heard the clicker on the other side of the boat scream. It was the Marauder rod, smoking line off the reel. I yelled for Danny to get on it while I cleared the other lines, only to find out I no longer had a marlin jig! Clipped.

After a very tough battle, with waves crashing in the boat from all directions, we had color on a six-foot, 50-pound class wahoo! I gaffed the fish, then high-fived Danny on our first ever skinny.

We trolled back to camp picking up one more smaller 'hoo and a large football yellowfin.

Once back at camp Kurt and his buddies where packing up to leave. They had had enough. No one thought we did anything out there except get hammered, until we opened my fish bag. Someone had to do it. Sometimes you got to just COWBOY UP!

Later that evening we sat down to fresh yellowfin sashimi, which the gal had Japanese plates, wasabi, real sushi knife and even Yamasa soy sauce! The main meal was grilled wahoo steaks with pasta and fresh vegetables. Day one in the books. After seeing the fish, Alan said he'd give it a go the next morning.

--Oct. 26, 2004: Same time. Coffee, sandwiches eaten, off to the boat. The wind seemed to let up a bit and I could now make 15 to 17 miles-an-hour. Seven miles short of the bank, Danny pointed out lights at that distance...yachts. Within 2 miles we put the jigs out: two Marauders and two tuna jets. Not until we passed the first yacht, which stopped on a jig bite, did we get bit. One of the tuna feathers went off, Alan grabbed it and started to work the fish, Danny cleared the lines, and then got bit on the retrieve; a wahoo slammed it right behind the transom.

Alan's fish turned out to be a dorado. I made a comment, since it was close to Halloween that was a Charlie Brown fish, "all I got was a rock." We trolled until 1 p.m., and ended up with five wahoo 30 to 40 pounds, 10 small yellowfin tuna to 15 pounds, three dorado to 20 pounds, and some I don't know what. While fishing big iron over the reef, we lost every hooked fish! Additionally, we unbuttoned quite a few 'hoos.

Back at camp, we spent the next few hours cleaning fish. Then a little rest and another great meal! Curry vegetables with dorado, lobster over rice. With the full moon out and the sun setting at the same time we where treated to a full lunar eclipse.

--Oct. 26, 2004: We woke up to the best weather of the whole trip! This time I knew getting to the bank before sunrise was in the cards, and we did. On the very first pass over the high spot, we got a double hookup on wahoo! After the first hour, we had seven 'hoos in the fish bag, and we had unbuttoned nearly as many...wide open!

At one-half hour after sunrise, a yacht showed up. They gave me a shout over the radio, asking how we where doing and if we'd like any thing to drink. So I pulled alongside a real nice Bertram, The Chaser, making my little boat seem even smaller. We found out we had a mutual friend, Captain P-Bod. I noted they had a tank full of bait, so I asked if they could spare a few, and they did.

I put the boat right on top of the sea mount where we lost those mystery fish the day before, and I sent some bait and iron down. This time getting down was as hard as getting back up. Wahoo where clipping bait and iron, and other stuff was rocking us down below!

We did catch three nice yellowtail to 30 pounds, and lost bigger ones. At this point we where releasing all the fish. No place to put them. Taking the hooks out of wahoo ain't a whole lot of fun, real scary! Damn thing snapping those razor sharp teeth.

Since it was the last day, the plan was to leave the Thetis Bank by noon, and while sitting there we watched packs of three or four wahoo swim alongside the boat looking for the next meal. Just an unbelievable bite. And for those who still think it's no good during the full moon, the moon was setting on the horizon every morning! Happy Halloween!

For the last night's dinner, I was told it was carne asada Mexicana with all the fixings, a great way to finish an awesome trip. Right before dinner another group of fishermen show up on a 26-foot boat, and we all sat down to a great meal and fishing stories.

--Oct. 28, 2004: We said our good-byes and thank-you's, and left for San Carlos, still buzzing from the week of high seas, hot wahoo bites, and greatest hospitality anywhere in Baja. In front of the ramp, one of Steven's family members was waiting with the SUV and trailer already in the water. What service! After a drive of six hours north, I could see Isla San Marcos. I was home.

I would like to thank the following of Mag Bay Tours, Esteban Warren, Inazuchilt Mendoza and Cruz Torres, for making this trip the most memorial ever. I've already booked Magdalena Bay for the same time next year! I would recommend anyone wanting to fish this area to do the same.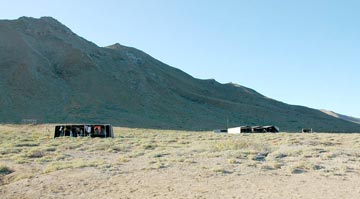 REMOTE PACIFIC CAMP--The Mag Bay Tours island campsite at Punta Hughes outside Magdalena Bay. Photo courtesy Mike Kanzler.
(See "Mexico Fishing News" online for current fishing reports, photos, weather, and water temperatures from Magdalena Bay and other major Mexican sportfishing areas. Vacation travel articles, fishing maps and seasonal calendars, and fishing related information for Magdalena Bay may be found at Mexfish.com's main Magdalena Bay page.