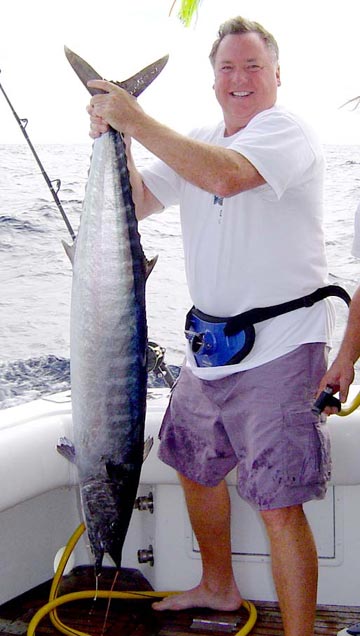 DONE DEAL WAHOO--John Garner with a nice wahoo caught on his boat Done Deal during a 1,350-mile fishing cruise out of San Diego. Photo courtesy Dave Plutner.
Nov. 16, 2004, Dave Plutner, Done Deal, Magdalena Bay, Mexico Offshore Fishing Cruise Report:

We just got back yesterday from a 1,350 mile yacht adventure from San Diego to Magdalena Bay, near Cabo San Lucas, and back to San Diego over 11 days.

It was truly the trip of a lifetime, with a great five man crew, on John Garner's 43 foot Mikelson Sportfisher, aptly named "Done Deal". Mark Evitts, Donny Robinson, Bob Penny, John Garner, and I left Shelter Island on the evening of Thursday November 4th, full of fuel, bait, water, provisions and expectations of catching great fish. We had our friends' boats nearby, "Corsario" and "La Dulce Vida," making the trip with us to share in this great Baja expedition.
Nov. 5, 2004: We were still in some colder water, 66.4 degrees, just south of San Quintin, when we had our first jig strike around 4:00 p.m., with smaller grade Yellow Fin Tuna. Shortly thereafter, we got a double jig strike of Yellow Fin Tuna. Seas were a little lumpy this day...but going downhill made it easier.

Nov. 6, 2004: We made it to Turtle Bay for fuel at sunrise...not stopping at Cedros or any of the other nearby islands, with anxiety to get to Mag Bay in short order, which was another 240 miles. As we turned the corner at Turtle Bay on the Baja coast, we saw lots of life, with birds, whales, and turtles in the scenery around us. With a bait tank full of sardines, we thought it would be fun to stop on our first kelp paddy that we saw, 20 miles south of Turtle Bay.

As Donny and I grab our 20-pound set-ups for a little Yellowtail fun, we pin on sardines and let them soak for about 5 minutes. Just as we are about to wind them in....WHAM...Donny's sardine gets hit. The fish runs for about 10 more seconds, then it jumps. We yell "MARLIN". As the action started around the boat, Donny moves to the bow to fight his fish. He fought the fish for 45 minutes, bringing it to the boat 4 times, before he finally lands it and releases it to fight another day. We spot another Marlin that morning, but with no mackerel bait, he sinks out.

At 1:00 p.m. we get a Triple jig strike, with a Yellow Tail (10lb), Skip Jack, and a Yellow Fin Tuna (12lb). That's a first...getting three species to simultaneously hit our jigs. Landed all three, and releasing just the skipjack. With the water warming up to 73 degrees, we get 1 more Yellow Tail, 3 more Yellow Fin Tuna, and a baby dorado released. With the afternoon in full swing, our large red Marauder goes off. Garner grabs the buzzing rod, and 5 minutes later, our first Wahoo (38lb) hits the deck.

Nov. 7, 2004: As 4:00 a.m. hits the clock in the dark of the night, we travel across spot called the "Uncle Sam's Bank". Donny and Dave are on night watch, and the Sonar begins to glow Red. We look at each other and wonder what lies beneath. The sonar would stay lit-up for 4 miles as we ponder stopping there for as couple hours until the sunrises. We get the signal to keep heading south, so that we can fish the infamous "Thetis Bank" at daybreak.

At 8:00 a.m., I soak a bait after one of the trolling rigs goes off. The troller brings in a 15-pound dorado, while I fight and land a nice 25-pound female dorado, both "babies" in this neck of the woods.

By 8:45 a.m., in 75-degree water, we get a Marlin to surface behind our lures...take a quick hit...then sink out before we could bait it. As we fished hard the rest of the day, we didn't see any other Marlin, and caught just one other Dorado. The word on the radio was the "Uncle Sam Bank" was the hot spot...but we were just too far south to back-track, and wanted to get into Mag Bay (Bahia Santa Maria) by sunset to meet up with our friends "Corsario" and "La Dulce Vida". Unfortunately, "La Dulce Vida" decided to keep heading south to Cabo, where they heard the water was warmer, seas were calmer, and half of her crew were sea sick in the building swell. Nonetheless, we had a great time with Steve Campbell and his friends on the 63 foot Hatteras named "Corsario". We would side-tie the yachts together and have cocktails and lobster all night, as the wind continued to blow stronger and swells increased.

Nov. 8, 2004: We decided to take a day-off, as the 5 to 6-foot seas and 20-knot winds didn't sound that inviting, especially since we just traveled 60 hours at sea with very little sleep. With multiple Bloody Mary's and my famous Citrus Twisters, we lounged around the Yacht, soaking in the sun, and swimming about.

By 2:00 pm, with 3 sheets to the wind (literally), our generator quits due to a broken belt. We decided that to deal with the 3-hour boat ride to San Carlos for a new belt this late in the afternoon wasn't a good idea, especially knowing that the Magdalena Bay Entrada to San Carlos is dangerously shallow, and we preferred to navigate in the daylight. We used the satellite phone to have a friend "Tim" bring down a generator belt with him the next day, which was convenient, as he was already coming here to change crews aboard Corsario. To our surprise, much later that night, we had 3 other friends come stumbling into our yacht via Zodiac, who knew how to make a belt out of rope. This was quite comical, as "Dave Reed" with 20 cocktails in him, unbraided a 3 strand rope and tied a 1 strand piece into a never ending loop the exact size of our Generator belt. The thing actually worked! It was not an emergency so we decided that it may do more harm (if it shreds) than good, so we stuck to our game plan of San Carlos in the morning.

Nov. 9, 2004: Fuel at San Carlos, Magdalena Bay, and stocked up on provisions. Found a hardware store that sold "belts", so we bought five assorted sizes. Met up with "Tim", who brought us a factory belt from San Diego. Customs, lunch, tequila, and provisions took the normal Mexican 5 hours. Away we went at dusk to set the hook at Punta Belchers. It was a necessary day off of fishing to repair and replenish as the high seas and wind persisted.

Nov. 10, 2004: Fished from sunrise to the afternoon all around the Petrel Bank up to the Thetis Bank, 23's, for nada. Overall, the Marlin fishing was "off" for most everyone in Mag Bay. In fact, there was a Riviera Marlin Tournament with about 12 Riviera Sportfisher's all having little to no luck with the Marlin. The boat "Knot for Rent", managed to catch 7 Marlin the day before, but the eleven others were lucky if they got 1.

We figured Turtle Bay was a better bet as we saw more life and had better luck on our way down, so we made the executive decision to fish our way back north and spend a couple days in Turtle Bay. Around 3:00 p.m. just below the 23's, Bob Penny (on our boat) baited a small Marlin who jumped and spit the hook after 10 second fight. We dropped the lures back in the water and immediately spotted another Marlin who surfaced behind the lures. Penny dropped back another bait...but not soon enough...because the Marlin hit the jig on the right back corner. The reel screams...as Garner speeds up the boat. The drag is moved completely to strike and the hook was set. Donny yells "Plutner...this one is yours". I grab the reel and the fight is on. The Marlin takes a big 4 foot leap out the water as he tries to spit the hook. The hook stays set and the Marlin takes a second run. As he runs, he takes all of the Mono out and 2/3rds of the Spectra backing. I make my way to the bow of the boat for the beginning of a grueling fight. I make small winds with reel for every inch I can get on the fish. As this was my first Marlin, "from start to finish", I was not going to let this fish beat me. After 38 minutes...and my forearms sore and my lower back stiffing...I was so happy to see the giant fish finally next to boat, with Donny and Bob releasing the hook, and the fish swimming off. The Marlin was estimated to be 85 inches and 125 pounds.

Nov. 11, 2004: Back up in the waters south of Turtle Bay, near Abreojos, we put the trollers in at dawn. At 7:20 a.m., 2.5 miles south of the "45'spot" the Marauder troller goes off. Mark Evitts lands a nice 35-pound Wahoo in some blue and clear 72.4 degree water. We soak some mackerel baits with wire leader for no more biters. At 9:35 a.m., we get a double Yellow Fin Tuna hookup, landing one of 15 pounds, while the other spit the hook at gaff. A 15-pound dorado is later caught as well.

As the weather reports come in over the radio, the 5 to 6 foot seas that we have been experiencing over the past week will quickly turn into 8 to 12-foot seas by morning. We decide to take shelter in the most protected bay of Baja, Turtle Bay, for the next few days until the seas let up. More cocktails and sunshine in the tranquil bay are on the menu for the rest of the afternoon.

Nov. 12, 2004: Forced to fish close to shore, we find some nice structure in 80 to 100 feet of water just outside (north) of the entrance to Turtle Bay. We caught some nice 18 to 23-pound Yellowtail that would swim directly into the rocks after you hooked them. We lost twice as many as we landed. We finally traded up to 50-pound test, with 2 speed reels to keep these bruisers out of the rocks once you hook them. Amongst the 4 yellowtail landed, we caught about 20 massive Calico Bass, some as large as 5.8 pounds.

Nov. 13, 2004: Fished the same area as the day before, drifting over structure for more Yellowtail and Calico action. With another 4 yellowtail, 15 Calicos, and a couple Sheepshead we had all of our freezers filled to the rim with fresh fillets that would keep us stocked for the winter months.

Nov. 14, 2004: Seas had let up a bit and we headed for San Diego. Cruising at 18 knots we would make it home in 28 hours. Didn't fish.

Nov. 15, 2004: Shelter Island by 9:00 a.m.

So, in nutshell, we caught 13 different species over the 11 days including 2 Marlin, 2 Wahoo, 15 YT, 10 Yellowfin Tuna, 7 Dorado, and lots of big Calicos. Not the fishing you expect traveling 600 miles south, but considering the weather conditions, we did better than most of the boats. Fittingly, I logged all my notes onto the back pages of Gene Kira's "The Baja Catch" which we all perused throughout the trip as we passed the various bays and locations both north and south.

Overall, it was an incredible adventure of being at sea, with four great people that I got to know very well. I hope to make this an annual "November" trip, as I am convinced that when Magdalena and Turtle Bay are "Red Hot", the stories of catching 20 Marlin in one day, will someday become a reality.

(See "Mexico Fishing News" online for current fishing reports, photos, weather, and water temperatures from Magdalena Bay and other major Mexican sportfishing areas. Vacation travel articles, fishing maps and seasonal calendars, and fishing related information for Magdalena Bay may be found at Mexfish.com's main Magdalena Bay page.