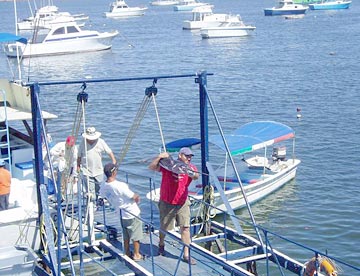 Raul Inzunza and his family caught this 64-pound sailfish on the Paty C.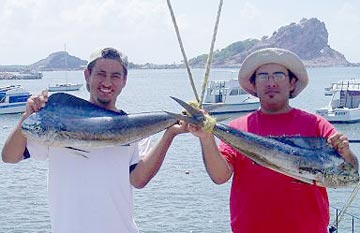 Aurelio and Victor Ojeda from Los Angeles holding a pair of dorado caught on a half-day panga trip aboard the Erika.
FLOTA BIBI FLEET FISHING REPORT
Aug. 1, 2004, Tadeo Hernandez, Flota Bibi Fleet, Mazatlan, Mexico Fishing:
Fishing with Flota Bibi Fleet out of Mazatlan this week.

(See "Mexico Fishing News" online for current fishing reports, photos, weather, and water temperatures from Mazatlan and other major Mexican sportfishing areas. Vacation travel articles, fishing maps and seasonal calendars, and fishing related information for Mazatlan may be found at Mexfish.com's main Mazatlan page.