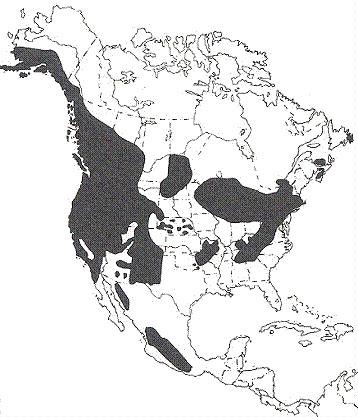 RAINBOW TROUT IN MEXICO--The distribution of the rainbow trout in North America. U.S. DEPARTMENT OF AGRICULTURE MAP.
By Ed Kunze -- Zihuatanejo, Guerrero, Mexico
Some day, I am going fly fishing in the Sierras for rainbow trout. This secret location I have is virgin water and has never, to my knowledge, been fished with a rod and reel. Impossible you say? You must be thinking of the Sierra Nevada of California. I am thinking of the Sierra Madre Sur in the state of Guerrero, Mexico. If I do catch a trout there, it will be the most southerly known point in the northern hemisphere for native trout in their habitat.
The area is truly isolated; however there are dirt roads to get there and people live in small scattered villages in the region. In fact, my wife's family comes from one of those small villages. Her Mom is the one who told me the trout are in the small rivers in the area. Getting there is not the problem; it is the getting back part I am worried about, but more about that later.
The historic range for rainbow trout extends from Alaska to Mexico, and always west of the continental divide mountain ranges. They only existed in watersheds which eventually would find its way to the Pacific Ocean. The current most southerly known northern habitat for native trout is in the state of Durango, Mexico, about 600 miles to the north of my secret spot; the Rio Acaponeta watershed is the accepted southern boundary for the northern hemisphere.
However, well below the Rio Acaponeta, and only a few hours to the north of my secret spot is the Cupatitzio River. The origin of the Cupatitzio is an underground stream; rising up into a crystal clear pool named Los Rodillas de los Diablos (the devils knees). From the river's headwater, it flows through the National Park and on through the town of Uruapan, Michoacán. Being the water of the Cupatitzio River is a perfect habitat for trout, within the confines of the park is a trout hatchery, which sells trout to the park visitors and restaurants. With its 5,000 foot (plus) elevation, and ideal temperate and flow conditions, the river could well have had native trout in years past.
Due to the region's isolation of my secret spot, the trout there are probably a subspecies of the rainbow, having evolved with slightly different colorations and markings than our more common rainbow north of the border. They are a one of a kind fish in the world of trout.
How did I find about their existence? My wife's mother is from the region, and her grandmother is still living there. And, besides her grandmother, my wife (Rebecca) also has several cousins, aunts and uncles there also. One day we were talking about the difficulty of life in this part of very rural Mexico. Being I like seeing new things, areas, and people I was interested in the region. Talking to my wife and her mother, Rebecca told me she had only visited her relatives a couple of times several years ago. It is so tough and primitive; she never wants to go back. Well, that only got me more interested. They were talking about the women putting a corn meal paste in their hair to make it beautiful, how bathing is not done on any kind of a regular basis, and the different foods the people eat. They do raise some cattle, pigs, chickens, corn and beans, but a lot of the meat is provided by the land. They hunt or trap javelina, deer, badgers, iguana, raccoons and possum. They also eat fish and shrimp from the river, but not too often the smaller trucha.
"Uhhh…. just a minute. Back up a bit. Did you say TRUCHA?"
"Si…trucha"
Trucha are trout! And now I was really interested.
When I was young, I learned to fish trout back in the early to mid-sixties by spending my summers with my grandparents on their homestead along the Blackfoot River in Montana. On the Blackfoot, as with most of the Western United States and Canada, the trout is king. And, all through my adult life I fished for trout. However, 11 years ago I moved to Ixtapa / Zihuatanejo in the state of Guerrero, Mexico. I have spent the last 11 years guiding fly fishing clients for saltwater game fish. Other than the hatchery trout in Uruapan, I have not seen a trout for a lot of years.
At first I was a bit skeptical with her comment on "trucha", but I have a large fish identification book, and I put it in front of Rebecca's mother. I first opened it to the catfish, and she knew what they were, but "they are not trucha". Then a largemouth and smallmouth bass, but she had never seen them in her life. She started turning the pages and came upon a steelhead. Staring at the steelhead, she said it was similar and turned the page. Her finger came down emphatically, and landed right on a rainbow trout, exclaiming "trucha". She made a believer out of me.
Sustained year round native trout habitat in northern Mexico is generally 4,500 feet in elevation and higher. Down here in the tropics, I would think that would be a minimum elevation, and even then the trout would need a bit of a "cooling" boost like the river in Uruapan, being it starts out as an underground river, which comes from even higher up in the Sierras. Uruapan is mostly noted for its main industry -- it is the largest avocado growing region in the world. Other than for just a couple of hours, avocados cannot survive in any kind of freezing weather. Here in Mexico, if the water is going to have enough oxygen and be cold enough to sustain trout, it has to have a year round flow and be up high in elevation, or have a year round underground booster.
So why haven't I gone to my secret spot? Instead of writing about how there may be trout in virgin waters, untouched by a rod and reel, would it not be best to actually show a few photos in an article proclaiming the new southern boundary for trout? Well, even though a few trout with photos may give me my 15 minutes of fame, as I am typing this, there are several reasons I am not there right now.
1) It is late May of 2009, and the rain season for the coastal low areas will be starting in a couple of weeks. The rains generally start first in the higher elevations, and as the heavy clouds try to rise up over the Sierra Madres, they have to get rid of the heavy stuff which is holding them down. The heavy stuff is water, so the higher you go in elevation, the more precipitation you get.
The region is dissected with an incredible number of hills, valleys, small streams and larger rivers. There are only dirt roads, which are washed out regularly, and no bridges. The villages of the region are essentially isolated 6 months of the year. The rain season is more than just a 4-wheel drive and winch adventure. It is almost a helicopter expedition.
It would be far better to go during the dry season and long enough after the end of the wet season for the washed out roads to be repaired.
2) Depending on the road conditions, it is not just the 6 to 8 hours it takes to get where Rebecca's relatives live. The houses are too small to handle guests, there are no hotels, and generally no place to sleep. I realize I can sleep in a tent, but if I ever do convince my wife to go, her resentment of bathing in leach filled cold water will have to be overcome. I am sure it will have to be a decent portable shower at the very minimum. She calls the leaches "cho-chos" (bugs). And believe me; she is more efficient about killing bugs than Raid.
Don't get me wrong about my wife. She is no city girl. She was raised in the country and had never cooked on a gas stove or used a micro wave oven, or used an electric toaster or an electric can opener until she met me. In fact when she first used the electric can opener, the can turned in her hand, and the motor growled, and she screamed. She uses one now, but she would not touch "that thing" for over two years. She just does not like "cho-chos".
3) Now we come to the main reason I have not been there earlier. My secret spot is right in the middle of one of the drug growing regions you have all read about. With my mother-in-law being my pass, I can get there, at least as long as they don't shoot first and ask questions later. But, what if I get there and a representative for one of the cartels shows up? Will the family ties be enough to allay suspicion, or worse? With the current situation here in Mexico, I am not sure I want to find out.
Another thing I would love to do is guide clients into the region. I am sure I can locate a local pilot here in Zihuatanejo. It would only be about a 20 minute flight in a small plane, and the guided trip could easily be made in a day. To be able to catch a one of a kind sub-species of rainbow trout, which is only located at this one spot on the earth; at the most southern point of the trout species' habitat, does have its appeal. And, if I get known by the locals and accepted, I may well do that. But, I do not need the DEA planting a "client" on me, nor do I need a cartel thinking my clients are in fact DEA. It is just another one of those daily problems a fly fishing guide is faced with, and eventually I will sort it out.
Being the first person to catch this new subspecies of rainbow trout with a sport fishing rod and reel may also give me the right to help name the fish. And, I am really curious how the locals, who hunt and fish for subsistence living are going to react when, for my clients, I start a catch and release, flies only program on the river.
Anyway, until I do get it sorted out, I still have my secret spot where someday I can catch rainbow trout in the Sierras.