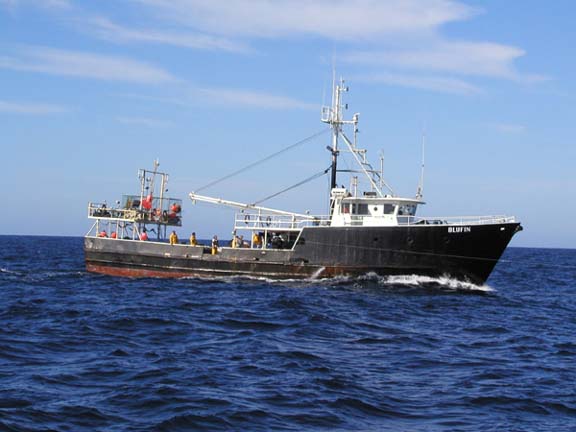 The longliner, Blufin, caught fishing illegally, 1.9 miles off the north end of Isla San Benedicto, Revillagigedo Islands, off Mexico's Pacific coast, on March 10, with 69 miles of longline out, according to Mike McGettigan of Seawatch. The incident inside the Revillagigedo Islands Biosphere Reserve Nucleus Zone was reported to Mexican Secretario del Gobernación Santiago Creel, who was present at the islands. On March 18, Mexico's natural resources protection agency, PROFEPA, closed the Revillagigedos to all sport and commercial fishing. Photo, courtesy Seawatch.
POLICY CHANGE BRINGS SURPRISE ENFORCEMENT OF MEXICO'S EXISTING LAWS
PROTECTING THE REMOTE ISLANDS OF THE REVILLAGIGEDO BIOSPHERE RESERVE
By Gene Kira, April 5, 2002, as published in Western Outdoor News:

SAN DIEGO-- The Revillagigedo Islands are closed for fishing business, at least for now.

On March 18, the San Diego long-range sport fishing fleet was dealt a hammer blow by Mexico's natural resources protection agency, Procuraduría Federal de Protección al Ambiente (PROFEPA), when agents closed the Revillagigedo Islands Biosphere Reserve, two-hundred miles south of Cabo San Lucas on Mexico's Pacific coast, to all sport fishing. As expected, few of the key players on either side of the border wished to be quoted in Western Outdoor News concerning this super-charged development, however all were anxious to provide background information on this critical issue affecting Mexico's sportfishing and tourism industries.

The surprise reversal of a working relationship dating back to at least 1997 came as two PROFEPA agents from La Paz were transported to Roca Partida by the Solmar V dive boat from Cabo San Lucas. They boarded the San Diego sport fishing boats, Red Rooster III and Shogun, which were cited for fishing inside the Revillagigedo Biosphere Reserve, established on June 6, 1994 by Mexican President Carlos Salinas de Gortari. The American boats proceeded to Cabo San Lucas and were released after brief delays without paying fines, but under orders to respond to the citations within five days. A third boat, the Royal Star, was also observed fishing in the area, and Mexican authorities said that it too would be required to respond to charges of violating the 1994 decree that created the Biosphere Reserve.
The boardings followed closely upon a series of events that began months ago, when Miguel Sanchez Navarro of the influential Mexican conservation group, PRONATURA, invited Mexican Secretario de Gobernación, Santiago Creel, for a trip to review the condition of the islands' flora and fauna. On March 9, Secretary Creel flew to the islands and began a tour, with support from the Mexican Navy, Sanchez Navarro, and American conservation activist Mike McGettigan. Creel witnessed several sport fishing boats inside the Biosphere Reserve, including the San Felipe panga mothership Captain Villegas, and he was also informed that the commercial longline boat, Blufin, had been seen working in the area.

A letter denouncing the lack of regulations enforcement at the islands was sent to Creel's office in Mexico City, from the Revillagigedo Islands, with a date of March 9, over signatures by: Mike McGettigan, Miguel Sánchez Navaro Redo, Bárbara Gómez Morin, Armando Figaredo, Eustaquio Escandón Cusi, Manuel de Yturbe, Bruno Paglai, Carlos Aragón, Joaquin Gribay, Alejandra Cue, Lucero Escandón, Howard Hall, Terry Mass, Sherry Shaffer, Jeff Jacobsen, and Michele Hall.

Secretary Creel, whose portfolio includes responsibility for all uninhabited Mexican islands, left the following day, and he returned to Mexico City requesting full information on the legal condition and protection of the Revillagigedos. On that day, March 10, San Jose del Cabo television producer, Armando Figaredo filmed the Blufin fishing inside the Biosphere Reserve from McGettigan's boat the Ambar III.

The Solmar V dive boat, which had also been in the area and had left for Cabo San Lucas on March 9, later returned to the islands with two PROFEPA inspectors, Francisco Davis and one other agent, and it was these agents who cited the Red Rooster III and Shogun on March 18 at Roca Partida.

For the present, those citations and the threat of further boardings have ended all sport fishing close to the Revillagigedo Islands. The ban affects the four major islands of the group: Isla Socorro, Isla Clarion, Isla San Benedicto, and Roca Partida. With the exception of one final trip now under way, which will be completed by the Royal Star, no further sport fishing of any kind will be permitted at these islands, Mexican authorities said.

Technically, commercial fishing is also included in the ban, although the immediate effect on commercial fishing boats would probably be minimal, since they enter the Biosphere Reserve surreptitiously, not openly as in the case of the long-range sport fishing boats.

Mexican opponents to fishing at the islands were committed to applying as much pressure as possible to clear the Revillagigedos of both sport and commercial fishing, a source close to the group said. On March 6, a response, with official government docket number DB-RN-0575-2202, was received from Mexico City regarding a denuncia, or complaint, that was filed May 28, 2001 against commercial and sport fishing activities at the Revillagigedos. This complaint was filed by Guillermo Alvarez Aguilar, of the Mexican Billfish Foundation, and was backed by most of the tourist industry of the Los Cabos Corridor, national tourism representatives, and congressman Roberto Preciado of the Mexican State of Colima, which has administrative control over the Revillagigedo archipelago.

The wide support for this complaint, the stonewall attitude by PROFEPA's Mexico City administrators, and current political pressure from influential government ministers such as Secretary Creel, seem to indicate that the current crisis was not caused by local PROFEPA officials going on an isolated campaign, but by policy changes higher up in the government, a much more serious problem.

At noon on March 26, a closed-door meeting was called by the newly-formed Mexican government advisory council, Consejo Nacional de Pesca y Acuacultura (CONAPESCA), at Cabo San Lucas' Hotel Solmar, attended by Victor Manuel Martinez de Escobar Cobela and Julio Cesar Peralta Gallegos of PROFEPA; a representative of the Sportfishing Association of California (SAC); International Game Fish Association (IGFA) representative, Gary Graham; Mike McGettigan, John Riffe, and Bárbara Gómez Morin, of the conservation activist group, Seawatch; Hotel Solmar owner, Luis Bulnes Molleda, and Guillermo Alvarez Aguilar, representing the Mexican Billfish Foundation (Fundación para la Conservación de Picudos); and Armando Figaredo C., of the television production company, Comunicabos. Sources contacted by Western Outdoor News indicated that the overall tenor of this meeting was strongly negative for the future of sport fishing at the Revillagigedos, and the session ended with a confirmation of PROFEPA's closure of the islands.

Simultaneously, a series of meetings was being held in Mexico City between SAC representative, Barnard R. Thompson of MIRA Associates, SAC's Mexican attorney Jose Medina, and Diana Ponce, head of PROFEPA's subagency for natural resources. Sources close to these meetings indicated that on March 29, the final result reached was the same as that of the meeting in Cabo San Lucas: no more fishing at the islands.

Sources close to both meetings said that in some ways, the perception by Mexican authorities of what they saw as an aggressive attitude from SAC may have worsened the outcome. Amid a flurry of claims and counter-claims by both sides, several documents obtained by Western Outdoor News support some preliminary conclusions:

--The original 1994 decree that established the Revillagigedos Biophere Reserve defined protected areas extending roughly 12 nautical miles out from each island. Each protected area is divided into two zones: a Nucleus Zone extending out about 6 miles, and a Buffer Zone extending from 6 to 12 miles out.

--The 1994 decree cites as its foundation, another law dealing with general regulations on the environment and natural resources: Ley General del Equilibrio Ecológico y la Protección al Ambiente. Article 49, Paragraph III of this law states that within the Nucleus Zone (up to 6 miles out), the exploitation and utilization of wild flora and fauna species is "expressly prohibited."

These two laws, taken together and alone, seem to make it clear that fishing cannot take place within 6 miles of any of the Revillagigedo Islands. Since the highest concentrations of fish are within this Nucleus Zone, such a prohibition would make fishing around the islands unprofitable, and there would be little reason for sport fishing boats to make the long run there.

However, representatives of the San Diego long-range fleet have another argument, based on Article 13 of the original establishing decree, which states (in unofficial translation) that: "In the Biosphere Reserve both sport and commercial fishing will be permitted for fish and shellfish species in the areas, times, and within the limits of equipment and methods to be established by a management plan..." (emphasis added).

Further, this law decrees that the specified management plan governing such fishing activities be completed within one calendar year of the establishment of the Biosphere Reserve itself, i.e., no later than June 6, 1995.

In fact, no management plan has ever been implemented for the Revillagigedos, meaning that fishing is still expressly prohibited within 6 miles of any island, according to letter of the existing 1994 law.

However, in 1997, a preliminary management plan was drafted by the Mexican government, and although it was never approved or entered on the books, it is upon this unpublished document that the San Diego long-range fleet has based its claim to being able to fish inside the Biosphere Reserve's Nucleus Zones, U.S. and Mexican sources said.

Western Outdoor News has obtained a copy of this draft management plan, and found it to be self-contradictory. Its unofficial title was "Programa de Manejo de la Reserva de la Biosfera 'Archipelago de Revillagigedo', Mexico," and it was created under the auspices of the old Secretaria del Medio Ambiente, Recursos Naturales y Pesca (SEMARNAP), which has since been reorganized.

A key feature of this plan was that it divided the marine Nucleus Zones into three sub-zones: 1) some small prohibited areas subject to dangerous volcanic activity. 2) a special species reproduction and protection area extending 500 meters out from the islands, where no fishing is allowed. 3) and, an area of limited use, extending from 500 meters to the outer edge of the Nucleus Zone (6 miles), where controlled sport and commercial fishing might be allowed (emphasis added). If allowed, all fishing activities would still be subject to fishing and environmental regulations and controls.

Regardless of what this draft management plan said, Article 49 of the underlying law, still states that no exploitation or use can be made of wildlife anywhere inside the Nucleus Zone. The draft management plan did not address the critical question of how its conflict with the underlying law would be resolved.

This draft management plan, if it had been implemented despite its contradiction of underlying law, at least would have opened the door to sport fishing inside the Nucleus Zone, subject to presumably very strict regulations.

However, since the draft was shelved in 1997, there is at present no known written legal basis for fishing within the 6-mile Nucleus Zone surrounding each island. Apparently, neither sport fishing nor commercial fishing is legal inside these zones, according to the letter of the presently applicable Mexican laws.

The Sportfishing Association of California (SAC), U.S. and Mexican sources said, argues that it long ago obtained an unwritten, verbal agreement from the Mexican Department of Fisheries (PESCA) now headed by Geronimo Ramos, which allowed its boats to fish within the Nucleus Zones and to within 500 meters of the islands. This agreement, SAC says, was based upon the provisions of the old draft management plan that was never published.

Opponents of fishing at the Revillagigedos point out that if any such agreement, verbal or written, was ever issued by PESCA it would have been an illegal action, contrary to the written law of Mexico. Even if such an agreement were to be brought forth in written form today, they say, it would be immediately declared illegal and invalid, and they threaten legal action against whatever agency of the Mexican government might have allowed it.

Sport fishing boats entering the Revillagigedo Biosphere Reserve have carried two types of permits: 1) simple boat permits allowing them to be present and fish in Mexican waters. 2) special permits issued by the Department of Natural Resources (SEMARNAT) allowing them to enter the Biosphere Reserve.
Although it has been commonly thought by some sport fishing captains that the SEMARNAT Biosphere Reserve entry permit allows them to fish legally to within 500 meters of the islands, in fact, the text of at least one permit used this season does not say so. A copy of this permit obtained by Western Outdoor News says, on the contrary, that (in unofficial translation): "The present authorization [to enter the biosphere reserve] does not provide for sport fishing activities, because this must be done, on a case-by-case basis, with the permission of the Department of Agriculture [SAGARPA]..."

Yacht permitting agent, Chris Phillips, of Naviera Turistica del Pacifico, in La Paz and Cabo San Lucas, said he recalled that in the past at least some SAC permits may have referenced the 500-meter limit specified in the unpublished management plan, but he could not confirm it. Another source asking not to be named said at press time on Monday that the original permits signed by PESCA did in fact contain the 500-meter reference. The significance of the signature on the permit is that it looks to be the only written documentation of the 500-meter agreement that SAC has been fishing under.

At present, the San Diego sport fishing fleet is pressing forward its legal argument in Mexico City that it be allowed to fish at the islands, based on its claim of a longstanding verbal agreement from PESCA. Mexican opponents say that argument is irrelevant, and would be illegal in any case. Barring other agreements that may be reached through political channels, potentially at the Presidential level, the fleet has been stopped from fishing the Revillagigedos Islands for the present, and as unofficial sources on the U.S. side said, the best hope for a resolution may lie in the prompt completion and promulgation of the old "500-meter" island management plan that has been tabled since 1997.

With the present stoppage of sport fishing at the islands, another immediate problem has been created. The commercial longline fleets, which fish illegally inside the Biosphere Reserve at every opportunity, now have virtually no other boats present to monitor their activities. Mexican sources said that plans are being discussed for Navy or private patrolling of the Revillagigedo Islands in order to prevent a massive encroachment by these illegal commercial boats. However, no agreements have been reached, and it was unknown how or when the islands would be protected in the future.

This group of islands, discovered in 1533, and named in 1793 by Capt. James Colnett for the Spanish Conde de Revillagigedo, Juan Francisco Güemes y Horcasistas, now requires the immediate attention of the Mexican government in order to prevent severe damage by commercial fishing interests.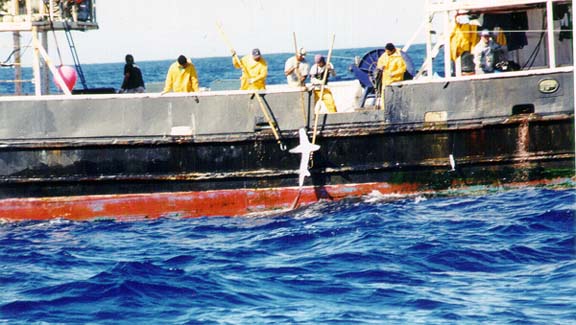 Shark being brought aboard the Blufin at the Revillagigedo Islands off the Pacific coast of Mexico. According to Seawatch's Mike McGettigan, the boat had 69 miles of longline out, and was averaging 5 sharks per mile. Photo, courtesy Seawatch.
(Related Mexico articles and reports may be found at Mexfish.com's main Mexico information page. See weekly fishing news, photos, and reports from the major sportfishing vacation areas of Mexico including the Mexico area in "Mexico Fishing News.")