By Gene Kira, April 16, 2002, as published in Western Outdoors Magazine:

Along with killing sea turtles, about the most illegal thing you can do as an angler in Mexico is catch a totoaba. Nevertheless, if you are dying to add this exotic species to your lifetime list--and do it legally--you may soon have your chance.

Not only that, but you may be permitted, even urged, to catch totoaba until your arms fall off, after being guided to them by marine biologists and the world's most experienced totuaba fisherman--Tony Reyes Sr. of San Felipe.

It's all in the name of science and conservation. Next year, a series of one-week research cruises are needed to survey the totoaba population of the Sea of Cortez, and there's a good chance that sport anglers will be allowed to participate in this opportunity to catch, tag, and release an endangered species, with the full blessing of the Mexican government.

If this happens, it will be one of the most important conservation events ever on the Sea of Cortez, and you can believe it--I'll be on every one of these trips.

But, what, exactly, is a totoaba?

Way back in "olden times," this enormous fish lived in the northern one-third of Mexico's fabulous fishery in the Sea of Cortez, from the Colorado River Delta, south to about Bahía de los Angeles on the Baja side, and down at least as far as Guaymas on the mainland side.

This gigantic croaker, Cynoscion macdonaldi, was a very close relative of the white seabass, but much bigger, at well over 200 pounds in size. In fact, American biologist John Fitch is said to have recorded at least one specimen over 300 pounds, and there are several other records of fish that size.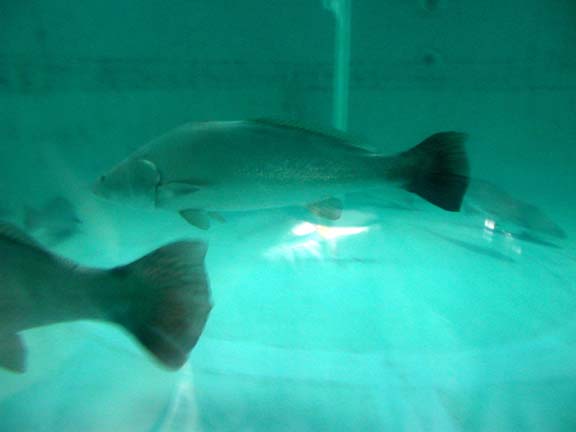 Four-foot-long spawning totoaba in tanks at the Universidad Autónoma de Baja California at Ensenada, Baja California, Mexico.
About 1920, it was discovered in Guaymas that the totoaba's enormous air bladder could be dried and sold at an enormous profit on the Chinese market, to be used in a kind of soup called "seen kow." One thing led to another, and by about 1930, there were very few totoaba left around Guaymas.

Then, it was discovered that Guaymas was only at the very southern fringe of the totoaba's natural range. The real mother lode was located hundreds of miles north around the mouth of the Colorado River, where the semi-anadromous totoaba entered very shallow, brackish water to spawn each spring. Here, these immense, thrashing fish crowded in shoals so thick, they could literally be harpooned from shore with ones eyes held closed.

As soon was that discovery was made, there was a migration of fishermen and their families to the north end of the Sea of Cortez. In fact, that's how the town of San Felipe got its start. I once met an old fisherman there who had walked along the beach with his family all the way from Guaymas, while his father paddled their canoe beside them.
Once again, one thing led to another. By 1940, the totoaba stock was declining, but you could still catch them from shore with a baited handline. By 1942, over 4 million pounds of delicious fresh totoaba was exported to the United States. Additionally, huge piles of them were left on the beach to rot after their air bladders were cut out for the Chinese market.

By 1965, a very promising sport fishery (Ray Cannon wrote of 10,000 anglers descending on San Felipe each spring) was nipped in the bud, as gill nets, dynamite, and the damming of the Colorado River took their toll.

In 1975, Mexico finally published Norma Official Mexicana NOM-ECOL-059-94, which granted the totoaba official protection.

In 1976, international trade of the air bladders was banned by the Convention on International Trade in Endangered Species (CITES).

And, in 1978, totoaba were listed under the U.S. Endangered Species Act.

But by then, this once almost unlimited fish was nearly extinct.

Well, as Steven Spielberg said in Jurassic Park, "Life will find a way."

All on their own, these magnificent fish have been making a steady, quiet comeback, year after year. I have a report from a reliable source about an illegal, seven-ton load being put into a truck at Puertecitos, and another report of hundreds of 50 to 60-pound fish being dumped into the sea by a shrimp boat last year when the Mexican Navy got too close for comfort.

As repugnant as these stories are, they are actually good news, for they mean that the totoaba is doing its darnest to survive, and it's doing an amazingly good job of it, despite being hammered constantly by poachers. This is a tough fish that refuses to die.

One theory is that totoaba have learned to spawn in areas other than the Colorado River Delta, which is now basically just a mud flat, but the fact is that, even though all the world's totuaba live inside a tiny circle roughly 300 miles across, nobody knows much about their habits.

Now, serious help is on the way. Conal David True, the totuaba guru of the Universidad Autónoma de Baja California in Ensenada, Mexico, has been spawning and raising totoaba successfully for the past seven years, and he's been releasing about 10,000 young ones into the Cortez each year.
This year, he is being invited to Mexico City by the Secretariat of Natural Resources, specifically to present a proposal for funding that will ensure the future of the totoaba through the building of a major hatchery on the Sea of Cortez, similar to the Hubbs-Sea World white seabass facility in Carlsbad, California.

To establish a baseline for his grant proposal, True must determine how many totoaba there are, how big they are, where they live, what their migratory patterns are, and where they actually spawn today.

The only way to get this information is to fish for totoaba all over the northern Sea of Cortez, tag them with sophisticated recording tags, and track their movements. Plankton surveys are also need to determine if totoaba larvae can be located in spawning areas other than the Colorado River Delta.

So, amigos, we're planning to go fishing.

We'll do it with a series of limited take, one-week research cruises aboard Tony Reyes' 85-foot panga mothership, the Jose Andres. Accompanied by marine biologists, Don Tony himself, and special federal permits, we'll survey not only totoaba, but all deep water species down to about 2,000 feet, and it will be the first survey of its kind ever done. We'll do crazy things like put baited Lucky Joes w-a-a-a-a-y down there, with three-pound sinkers, and we'll see what comes up.

As we "fish for science," like Steinbeck and Rickets, of course, a few delicious yellowtail, dorado, cabrilla or other fillets may accidentally be caught, and a limited quantity of these will be vacuum packed and frozen, so they can be taken home in absolutely pristine, "sushi-quality" condition. There will also be kayaks aboard for foolin' around the islands, and we'll have lectures every night explaining the history and natural history of what we're seeing.

These relaxed panga mothership cruises will cost the same as regular fishing trips, plus a modest donation toward the purchase of special tackle and laboratory equipment critical to the program. For information, or to reserve a spot on these unique research cruises to benefit Mexico fisheries conservation.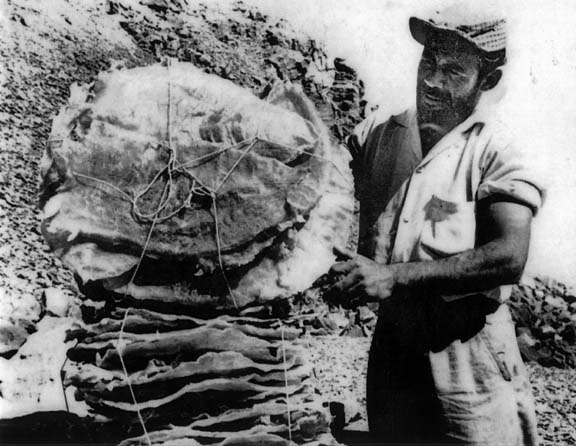 From about 1920 to about 1960, dried totuaba air bladders brought big profits on the Chinese market. They are used in a soup called "seen kow."