By Gene Kira, April 29, 2002, as published in Western Outdoor News:

Acapulco might seem like a strange place for Western Outdoor New's "Baja Editor" to be gathering information about Mexico's enormous sport fishing and tourism industries, but last week there was a certain logic to it (plus a whole lot of fun).

For starters, I visited the 27th Annual TIANGUIS, which is Latin America's largest travel industry convention. This is a gigantic trade show, where hundreds of millions of dollars are committed every year, as travel packagers come in from about 20 foreign countries.

The opening ceremonies were simply amazing. About 5,000 elegantly-dressed people were packed into a large outdoor courtyard at the Acapulco Convention Center, on a steamy, incredibly hot tropical night. The Corona beer was flowing like rivers from several dispensing centers reminiscent of what they must have had for the best Roman orgies.
On stage, an endless phalanx of beautiful women in wildly colored traditional costumes swirled and danced to the deafening music. Each woman carried a fresh pineapple which she whipped around in a sort of shamanistic ritual that was both mesmerizing--and to tell you the truth--a little disturbing.

Then came the fireworks.

You know, for a true Mexican, the best way to enjoy a really good fireworks show is to actually be inside it. I've seen some small local fireworks displays where rockets went shooting between people's legs and right past baby strollers, and nobody seemed to think anything unusual was going on. But last night was almost too much! Right over our sweaty heads, the big explosions rained sparks and embers on us, and left us choking in smoke.

As I gnawed on a plate of flame-hot Oaxaca chorizo, it dawned on me that in all that enormous, sweaty, jumping crowd there were only a couple of dozen people connected with Baja California. Compared to the rest of Mexico, amigos, we're just a fly speck.

It has always been a working principle for me that the economic power of tourism will be what eventually saves the Sea of Cortez, but until last week's visit to TIANGUIS, I never appreciated how much of that power will come from the mainland.

Which brings me to the real reason for my visit to Acapulco.
His name is Monserrate Carlos Padilla Nicolin, and he was born in Mexico City in 1928. Everyone knows him as "Monty Padilla," and he will soon become Mexico's most influential sport fishing official.

Monty is soft-voiced and patrician in appearance and manner, and his family fortune comes from pharmaceuticals, medical equipment, and auto dealerships. As an IGFA representative and a founder and former commodore of the famed Acapulco Yacht Club (Mexico's oldest), Monty's sport fishing credentials are as impeccable as one might imagine, and he has been selected to be the first president of the new Mexican Sport Fishing Federation.

This organization will be comparable to an Olympic committee in its influence over all aspects of sport fishing in Mexico, and it will be linked directly to the federal government through the new Consejo National de Pesca y Aquacultura. It will oversee tournaments, levy fees, establish regulations, and have representatives from every sport fishing location in Mexico, including many in Baja California.

I had come to Acapulco specifically to see Monty Padilla, and we met at the gracious Acapulco Yacht Club, which is located just a short cannon shot across Bahia Santa Lucia from the 16th Century stone fort of San Diego, where the famed Manila treasure galleons once landed, and pirates waited for them in the nearby cove of Pichilingüe. (Yup, the same name as our place near La Paz, same reason too. The name is said to be a corruption of Vlissingen, a city in Holland known for its pirates).

As we cruised the gorgeous bay on Monty's boat and watched the famous cliff divers of La Quebrada plunge into the sea, I could almost see the great, lumbering Manila Galleons coming to this very place from their tremendous voyages of discovery across the Pacific, like giant sea turtles.

And across the bay, somewhere inside the vibrant city of Acapulco, was the Convention Center, and TIANGUIS, where, perhaps, the fate of the Sea of Cortez was being decided.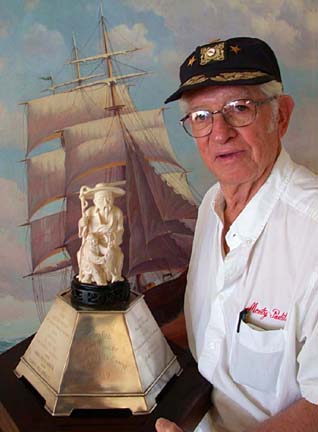 Monty Padilla, president-designee of the new Mexican Sport Fishing Federation, at the historic Acapulco Yacht Club. He holds a special trophy for young anglers, initiated at the yacht club by his father, Mario Padilla Campiz, in 1969.