For the panga fleets it was a tough time trying to replace the action on the Gordo Banks for yellowfin tuna, that had been so consistent for months on end, but the damage has been done and we will have to hope that the tuna will once again return in similar number, as to when this happens, that is hard to predict. In the meantime the pangeros have mainly been working the various rock piles from Palmilla to San Luis, finding a good mix of amberjack, yellowtail, pargo, bonita, cabrilla and grouper. Not in big quantity, anywhere from 3 to 10 fish per boat, with almost all of these bottomfish being taken on yo-yo style iron jigs. The largest fish caught were amberjack in the 30 to 40 pound class, but most of the fish averaged 10 to 15 pounds. Schools of bolito are moving onto the fishing grounds and this is a favored bait and should attract more dorado and tuna.
Before the sardina supplies ran dry anglers were able to catch sierra, pompano and roosterfish close to shore, but with there only being larger mullet available it was tough to entice the smaller inshore fish, since they were not that interested in artificial lures either. It is the time of year when roosterfish activity increases and everyone is patiently waiting for that to happen. Schools of mullet are now migrating into local waters but the sardina situation could drag on.
In other mainland Mexico and Baja fishing action this week:
ENSENADA FISHING REPORTS
ALL ARTICLES, REPORTS AND FISHING INFORMATION FOR ENSENADA
ENSENADA, MEXICO: LILY FLEET, Ensenada, May 17, 2001, Sammy Susarrey, Reservations Tel/Fax, 5 to 9 p.m., 011-52-617-46747; Cell 011-52-618-67485. Today fishing was slow at Todos Santos reef, so we moved to the channel and caught some barracuda in the morning. Also 18 lingcod 5-7 lbs on live anchovies and some on yo-yo scrambled egg color. Water temperature 66 degrees. Nice anchovies for bait today, greenbacks.
May 19, 2001-- Today we fished off El Sauzal two miles north of Marina Coral and we found yellowtail breaking, chaasing small anchovies. We caught nine trolling Rapala CD 14 and Yo Zuri in brown color. Yellowtail 12-15 pounds. Water temperature 66 degrees. Clean water. Also, at the reef today we got limits of medium barracudas and close to the kelp we caught limits of lingcod on sardine live bait. Seas were flat like glass, with overcast.
May 21, 2001-- The Tamara fished with five anglers today only 2.5 miles out of Marina Coral. Water temperature 68 degrees. It was a wonderful day. We left at 6:30 a.m. and were back at the marina at 11:45 a.m., catching 12 yellowtail 15-18 pounds, all trolling Rapala and Yo Zuri in brown color. At every stop we also caught calico bass, 4-6 pounds, on Scampis. Today's live bait was small anchovies.
May 22, 2001-- Yesterday, two pangas from Ensenada fishing in front of Punta Banda limited on yellowtail using only jigs and Rapalas, Tadys in scrambled egg and green-yellow. They said the water temperature was 68 degrees.
SAN QUINTIN FISHING REPORTS
ALL ARTICLES, REPORTS AND FISHING INFORMATION FOR SAN QUINTIN
SAN QUINTIN, MEXICO: PEDRO'S PANGAS, San Quintin, May 20, 2001, Pete Hillis, Reservations 888-568-2252. Weather has been great this past week. Air temperatures were in the high 70s with water temperatures in the low 60s.
Fishing with us this weekend were Terry Ballard (Huntington Beach, CA), Monty Kotar (San Clemente, CA) John Kaitangian, aka Gator (Carlsbad, CA), George Leon (Colton, CA), and Robert Michalowich, aka Mongo (Colton, CA). These guys all had limits of reds and whites, and 6 ling cod (biggest one was 15 lbs.)
Dennis Primrose (Tustin, CA) and Matt Rumsey (Covina, CA) also brought in limits of reds, but also hooked 20-lb. halibut and a 90-lb. ray. Husband and wife team Patrick and Sharon Muldown took in limits of large rock cod.
No yellowtail were brought in this weekend. And all fish were caught in and around the 240 spot. Halibut are starting to spawn inside the bay. With a little patience, anglers have a chance for a nice catch using live bait or scampi with cut squid.
Reports are circulating as to the albacore. I will be making a scouting trip 20 to 30 miles off the point to check for albacore, either Tuesday or Wednesday this week. Hopefully, I will have some good news and will report back to you so you can let everyone know what I find. Thanks. --Pete
SAN QUINTIN, MEXICO: SAN QUINTIN SPORTFISHING, San Quintin, May 22, 2001, Gene Allshouse, Reservations 011-526-165-9229. Hola Amigos y Amigas The water temperature is up to 62 degrees with some water at 63 so, we went out about 25 miles looking for the Albacore. We trolled for 4 hours with no success. I know they will be here any day so we will continue to scout for them and keep you advised. However, the Yellowtail are not letting us down. They are still biting good just outside San Martin Island. The average size is about 15 pounds with that occasional 30 plus pounder being caught. The Calico Bass are still wide open and nice big fish. One of my fisherman reported that everyone he pulled up, had another one chasing it to the surface. The Rock Cod, White fish, Sand Bass and Ling Cod are still hitting good as well, so the guys are still getting a nice mixed bag of good eating fish to take home. And lots of them. I will keep you updated on the Albacore and as always, I hope to see you here.
MAGDALENA BAY FISHING REPORTS
ALL ARTICLES, REPORTS AND FISHING INFORMATION FOR MAGDALENA BAY
MAGDALENA BAY, MEXICO: BAJA ON THE FLY, San Carlos, May 23, 2001, Gary Graham, Reservations Tel 800-919-2252; Fax 760-746-7260. Temperatures: 78-degree high; low in the mid 60s. Fair skies with strong wind in the afternoon. TUNA--No catches reported. YELLOWTAIL--Pretty slow. CORVINA--A few being found on the deep sides of the esteros. SNOOK--Not much to report. HALIBUT--A few here and there. QUICK COMMENT--Wind, wind and more wind this week slowed the action down to a standstill.
CABO SAN LUCAS FISHING REPORTS
ALL ARTICLES, REPORTS AND FISHING INFORMATION FOR CABO SAN LUCAS
CABO SAN LUCAS, MEXICO: PICANTE FLEET, Cabo San Lucas, May 23, 2001, Sergio Cortes, Reservations Tel 011-52-114-32474; Fax 011-52-114-35969. Fish available: Striped Marlin, Yellowfin Tuna, Dorado & Wahoo. Water temperature: 69-75. Air temperature: 94/69. Humidity: 39%. Wind: 8-10 Knots (Pacific), 10-12 Knots (Sea of Cortes). Fleet production (4 boats): 2 Striped Marlin, 8 Tuna, 10 Dorado & 1 Wahoo. Hot spots: Cerro Colorado (Sea of Cortes). Luckiest boat: Salsa (35' CABO). Captain: Rigoberto Cesena. Angler: John Pickett. Production: 2 Striped Marlin 130 and 150 lbs. (both released), 3 Dorado 60-80 lbs., 4 Yellowfin Tuna to 40 lbs.
CABO SAN LUCAS, MEXICO: FLY HOOKER SPORT FISHING, Cabo San Lucas, May 20, 2001, Capt. George & Mary Landrum, Reservations Tel 011-52-117-01271; 011-52-114-87452. All week long we have been enjoying warm weather in the mid to high 80s. We had sunny weather for the most part with the middle of the week also supplying some high clouds.
Water conditions on the Pacific side have been choppy to rough with prevailing cold water, down to the low 60s in some areas. With the winds shifting from southwest to northwest there has been no way to get any kind of smooth water on the Pacific. On the Sea of Cortez side the conditions have been a bit better on average.
BAIT: The usual here, large baits available at $2 each with a fair mix of Caballito and Mackerel. Some Sardinas were available early in the week but none that I know of later on. Large concentrations of squid were found in some areas offshore and it was possible to get live squid with bait scoops or buckets when the squid were found balled on the surface.
BILLFISH: Striped Marlin were the fish of the week but it took a bit of a run to get to them. Those boats that were willing to cruise for an hour and a half or more were able to get to the area off the outer Gordo Bank where the temperature break was. Marlin were spotted free jumping everyday, at times in every direction. The reason was the availability of bait. Lots of bait, lots of Marlin! Of course, that also meant that the majority of the fish spotted were not interested in eating any offering. Hey, that is not a problem because if there are enough fish the odds of finding one that will eat your offering naturally increases. Most boats were seeing at least a dozen fish tailing and tossing bait to them. With a 15% hookup ratio that meant that most boats were getting at least a fish or two, sometimes more. The best bite was on live bait but amazingly enough, quite a few fish were striking lures also.
YELLOWFIN TUNA: Sad news, the Purse Seiners that came in and worked the waters last week seem to have either driven off or caught all the nice sized Yellowfin that were congregated on Gordo Banks, plus the porpoise that the open water fish were associated with have been driven off by the same boats. When the Purse Seiners set on Gordo Bank they stripped the area, even the bottom fishermen in the Pangas are not finding any snapper there. Some Yellowfin were found 27 miles south of the cape in the current collision zone, but these fish were not associated with any porpoise and it was difficult to find their exact position.
DORADO: A few more are being caught every day! This should take off sometime soon with a bit of luck. I have seen the average size increase a bit from 10 pounds to 15 pounds over the last month as the catch increased. Many of these are being found along shore on the Sea of Cortez, this area has had warm water and plenty of bait. Tuna feathers find the fish and chunks keep them in the area. No large schools yet but they should start showing up soon.
WAHOO: It has to be the moon! No Wahoo this week but perhaps on the next full we will get a few more. This time I am ready, I finally got the gear I needed to target them when the time is right!
INSHORE: Bonita, Skipjack, some Roosterfish, a few Dorado, an occasional large Snapper have kept the Pangas occupied. Not to forget the fact that there have been some very nice Sierra being caught by boats in the right place at the right time. 9mm Rapalas for the Sierra, 6" feathers for the Dorado and tunas, live Caballito for the Snapper and Roosterfish. Never mind the Pacific side, heavy winds and large swells have made it dangerous to fish the beach there.
CABO SAN LUCAS, MEXICO: READER REPORT FROM MERLE ERICKSON, CABO SAN LUCAS, May 14-16, 2001.
April 7-- I call my 75 year old father and ask him if he wants to go to Cabo with me for 3 days of striped marlin fishing in May. He declines because he has some previous engagements in Minnesota that prevents him from joining me.
April 8-- 8:00 a.m. My dad calls me and says "I'm going!"
May 13-- I arrive Cabo via American Airlines and get to the Mar De Cortez about 9:00 p.m. where my dad is waiting for me. The wind is blowing 30-40 mph and my dad is concerned that he may get sick if he goes fishing tomorrow. The guys at the Mar De Cortez front desk tell me the wind has been calm during the day for the last few days and then picks up in late afternoon.
May 14--We arrive at the Pisces Fleet office at 5:45 a.m. and grab a cup of coffee and chat with Mario the fleet manager. Fishing had been good the prior few days with some boats getting up to 3 marlin per day with some tuna and dorado mixed in. I'd contacted Tracy Ehrenberg, owner of the fleet, several days earlier asking her to arrange for us to get sardines this morning so we could try the tuna bite that had been going on at the Gordo Banks. Unfortunately, I found out from Eric Bricston before I flew to Cabo that some commercial tuna boats had wrapped all the tuna at the Gordo Banks and that bite was over.
We boarded the Rebecca (31 foot Bertram) with Captain Roberto Sanchez and co-captain Julio Castro. Julio is the regular captain on the Andrea of the Pisces Fleet and joins us today at my special request. We head to Palmilla to get sardines and Julio tells me that the bait vendor tells him that the seiners have taken the tuna that were at the Gordo Banks, but decide to "try" it anyway. At the banks, the water is green and cold and there are only a few pangas working the area. We chum a few sardines and see that nobody is getting any action. I tell Julio that I think we should bag the tuna and try for striped marlin. He says "Si" and we take off another 10 miles east and south of the inner Gordo bank before we start trolling for marlin. We also have 10 marlin baits in the tank.
We see several marlin in the first few hours of trolling, but can't get any of them to eat. We see a free jumping striped marlin ahead of the boat and Roberto chases it down. Julio casts off the starboard side of the boat as the marlin is jumping away from us. Suddenly, it turns and jumps straight at the boat--twice. On the second jump, the fish lands 15 feet from the transom and is coming right at Julio and I fast. I made eye contact with the fish on the final jump and he was head high when our eyes met. Julio and I watch the 150 pound class striper hit the water and we both step back. We see the fish change directions under water and it jumps away from the boat and disappears. My dad thinks it is remarkable that even Julio took a big step back as if the marlin might take one more jump right into the cockpit. Back to trolling. At about 11:15 I am able to bait a striped marlin and get hooked up on my 40 pound live bait marlin rod (Calstar 700M with a Penn 113HLW). I hand off to my dad and he battles the 150 pound class striper for 55 minutes before bringing it boatside where Julio releases the fish. The fish made a nice account of itself jumping half a dozen times.
We go back to trolling and see several more marlin that will not chase our live baits (big mackerel and small/medium caballitos). Finally, about 1:15, we get a tailer to come in behind our baits (Julio has a bait in the water as do I). The fish pursues my caballito slowly and then "turns on" slashing at the small jack with its bill. I thought the fish had my bait but all I had was slack line. The marlin had knocked the bait off the hook somehow without killing it. At this point, the striper was kicking up a huge commotion thrashing the water behind the boat with its dorsal and tail exposed. I asked Julio "what is he chasing" and Julio says to me disgustedly "your bait." Ouch. We watched the marlin catch the free-swimming caballito and he vanishes. We don't get another bite the rest of the day and head in with one marlin released. If I'd have done the "hook and hand" with Julio, we'd have had two marlin released almost surely. On the way back to the marina, we stop on a pod of squid and Julio catches two squid that are 14-18 inches long-- I've never seen this in Baja before. Good day and Roberto and Julio were terrific as usual. The Karina of the Pisces Fleet got over a dozen tuna fishing in the Pacific, with other boats getting one or maybe two striped marlin.
May 15--We are fishing aboard the Tracy Ann today with Captain Benito Agundez and mate Edgar Renteria. We get 15 baits at 6:00 a.m. and head for waters east of the Gordo Banks. After an hour and a half run, we slow to trolling speed in 69-degree green/blue water. We troll for about a few minutes before becoming surrounded by porpoises--dark colored and not the kind that tuna associate with. Before long, we spot our first marlin (I saw it actually). We bait this fish and several others with no luck. At about 9:45, I toss a mackerel to a pair of tailers and one of the fish shows interest. He grabs the bait after swimming around it 2-3 times and takes off with the mackerel. I let the fish run for about 3 seconds when the marlin comes flying out of the water 40 feet behind the boat and shakes his head sending the mackerel flying from his mouth right back at us. He's gone. I ask Benito what I did wrong and he says "I don't know." Edgar suggests setting the hook when the fish takes off with the bait, and that waiting too long results in lost fish. Who knows?
Back to fishing and we see a pod of 3-4 marlin swimming near by and I throw a bait to them. I get a follow on my mackerel and the marlin inhales the bait with its dorsal protruding from the surface lit up purple. I give him line and drive the hook home-- the fish takes off heading left to right away from us. Within moments, Benito hollers to Edgar that there is another marlin behind the jig dangling off the back left corner. Edgar grabs my other live bait marlin rod and drops a caballito 10 feet off the transom. The stripers comes slashing after the bait only 15 feet or so from us and grabs the helpless jack right in front of us. Edgar counts to about "one-thousand one" and drives the hook home. The 160-180 pound class striper goes airborne 25 feet directly behind the boat exploding completely out of the water. I am standing right behind Edgar as this transpires and I can honestly say that I haven't seen anything on ESPN as good as that 10 seconds of action. A double header! My dad and I are shouting and suddenly, my fish is charging the boat. It comes right at us in a series of three jumps and I try to keep the slack out of the line as best as I can. Benito spins the boat from left to right to avoid the fish, but it keeps coming right at us before veering away when it is within 15-20 feet of us. My fish then takes off in a series of 8-10 greyhounding jumps heading away from us. This is the kind of thing that we came to Cabo for-- long hours of waiting, but when it happens, it is magical.
My dad and I settle in to fight the two fish, me on 30 pound gear (Penn 113H with a 7' custom-built Seeker live bait marlin rod from Badfish.com) and my dad with 40 pound gear. After about 30 minutes, my dad is nearly spooled and we start trying to chase his fish down. Edgar takes over from my dad to tries to regain some line quickly and I try to avoid breaking off my fish as we run towards the one my dad is fighting. I turned away for a few seconds and when I look back, Edgar is reeling in a slack line. I ask what happened and learn that the line broke somehow. I've never broken off a marlin in Cabo and don't know what caused the problem, but I guess it happens sometimes. My dad is a bit disappointed, and I don't blame him. We get my fish to the boat in about 10 more minutes where it is released.
Just as my fish is coming along side the boat, Benito points off the stern about 50 yards and says "School of 5 or 6 marlin-- see them?" I look up and can see several fish in the distance. We quickly release my fish and slowly move toward the group of tailing marlin. Actually, there are 8 marlin lined up along side each other tailing. Talk about a sight-- wish I had a picture of that. Edgar re-tied my 40-pound outfit while I finished fighting the other marlin and handed it to me when we released my fish. He then tied a new hook on the 30-pound combo. When we got close to the fish, we both cast a mackerel to the pack of marlin. I got bit instantly and let the fish take the bait for a second or two before setting the hook-- back comes the hook with no bait and no marlin. AHHH! Edgar hands me the 30-pound rod and a marlin is running with this bait as well. I count to five this time before putting the reel in gear and setting the hook. The rod gets a nice deep bend in it indicating the hook has found its mark, but then the line goes slack. AHHH! The line broke near the leader/main line connection. I can't believe it, but of course I shouldn't have been surprised that my haste cost me another fish. We tried to get another of the eight marlin to take a bait on the 40-pound outfit, but to no avail.
By this point, all our bait is dead. We started with mostly mackerel this morning and they were excellent baits, but they don't withstand lots of casting. We start trolling and see many more marlin, which are not interested in dead mackerel. I usually get 15 baits and have never run out of live bait before. Running out of bait when there are many marlins around and some are feeding is infuriating. We get a marlin to hit a lure and drop back a dead bait but again, can't get the fish to eat the lifeless mackerel. Edgar casts dead baits to several more marlin before finally getting one to eat, but he is unable to get the hook to stick in spite of the marlin grabbing the bait three times.
At 1:30 we head for Cabo with one marlin released, one broke off after 30 minutes, one "jumped off'" and three live bait bites that didn't turn into hook ups. We saw at least 40 marlin today and cast to all of them. If things had gone right, we could have had a 4-6 marlin release day. Benito and Edgar were superb, but I made too many mistakes. Benito asks me on the ride back to the marina if I'm going to buy 25 baits tomorrow. The Adriana of the Pisces Fleet released three striped marlin today (fishing near us) as did the Laurita (Garza Fleet). I also notice that the "Archer" is flying wahoo and tuna flags in numbers today.
May 16-- My dad and I are fishing on Rebecca again today with Roberto and Julio. We head into the Sea of Cortez about 6:15 a.m. and start fishing shortly after 8:00. We have 20 live baits in the well as we start fishing. Julio and I cast to 15 marlin this morning before Julio hooks one off the bow on a caballito hooked through the back (to swim deep). The fish is hooked at about 11:30 a.m. and my dad has the fish near the boat at about 12:05. I ask Julio if I can leader and release the fish and he says okay. I get the leader three times before I'm able to bring the 150 pound marlin alongside the boat and grab his bill. The fish is hooked in the corner of the mouth and I work the hook free with my left hand as I hold the bill with my right. After freeing the fish, I shove him away and he swims off. Great fun!
Back to fishing and we cast to another 20 or so fish (several times in groups of 2-3 fish). Nothing wants to bite. Each time we see a fish, Julio comes down from the bridge and says "One more time." Finally, at about 1:30, we get a fish to come behind our live baits. He zeros in on my caballito and the marlin performs its standard routine of stalking the live bait and then swatting at it with its bill. The caballito is stunned and the marlin circles and grabs the small jack. I give him line as he swims off with the bait. Julio tells me to put the reel in gear and set the hook "slowly" after the line comes tight. I do so and am hooked up. The marlin swims lazily behind the boat for about 3 minutes without doing anything and I believe the fish doesn't know it is hooked. I tell Julio that the fish is acting strange and he agrees. I'm not sure what makes the fish realize he's hooked, but finally he takes off. By now the wind is blowing fairly hard and it is choppy. Roberto chases the fish and backs down when appropriate. A couple of good size waves come over the back end and drench me. Roberto says "sorry" but I just laugh and say it's okay. This 140-160 pound marlin puts up a good battle on 30 pound, but I'm able to bring him boatside in about 35 minutes where Julio releases him. Julio looks at me at a little after 2:00 p.m. and says "Vamanos." Total for the day is two marlin released with somewhere between 25 and 40 marlin spotted and baited. It is shortly after 4:00 p.m. when we get back to the marina-- we were about 10 miles east and south of La Playita when the 2nd marlin was released. I thank Roberto and Julio for staying after it until we got the second marlin. These guys too were outstanding. The marlin just were not hungry today. Back at the marina, we learn that Tracy Ann "jumped off" a 450-500 pound blue marlin south and east of where we were fishing.
Total for the trip was 4 marlin released although we easily could have 6-8 for our three days of fishing. All in all, a great trip. There are incredible numbers of marlin near the temperature break in the Sea of Cortez. Getting them to bite is another matter.
As always, thanks to Tracy Ehrenberg at the Pisces Fleet. She runs a great operation and her guys know how to find the fish.
CABO SAN LUCAS, MEXICO: PISCES FLEET, Cabo San Lucas, May 22, 2001, Tracy Ehrenberg, Reservations Tel 011-52-114-31288; Fax 011-52-114-30588. BILLFISH: I feel that it's just a question of time with the striped marlin, maybe a week or so, before it opens wide up. The trouble is, it already should have by now. We expect great catches of striped marlin in May and here we are almost in June and it still hasn't happened. The fish continue to tease anglers, with many being spotted in a day--albeit less than last week, but getting the ones sighted to bite, was a little difficult. They are taking live bait almost exclusively with the odd fish attacking a lure, mostly red/black coloring. We are hearing reports of marlin further up into the Sea of Cortez, which should be migrating this way soon. Bridget Trichter, from Houston Tx, drew a blank her first day out fishing, but giving it another try, she was able to release two striped marlin and a hammerhead shark aboard, "Tracy Ann" on May 17th. Several other anglers were lucky to release two in one day throughout the week, such as Merle Erickson, from Chicago, fishing with his father Palmer, aboard "Rebecca" on May 16th Pisces anglers caught a total of twenty-one striped marlin this week--all were released.
Dorado catches are still creeping up, this week outnumbering tuna by four to one. The dorado are still being caught in one's and two's with weights averaging 15 to 20 lbs and the odd one here and there up to 55 lbs.
Very few yellowfin tuna this week, with those caught taken the complete opposite direction to all the other fish--namely at the Old Lighthouse, 23 miles out. We did have quite a lot of sharks this week, especially on May 17th; they were in the Gordo area and almost half of our boats hooked up to hammerheads, in the 40 to 60 lb class. Not what most people are looking for, but fun when nothing else is going on. Also a few makos, later in the week. Just one 40 lb wahoo for us this week, taken whilst trolling for marlin. Inshore pangas have done pretty well on skipjack and bonito, as have the larger boats. Some roosterfish, some yellowtail.
A very impressive catch was left on the dock by an unknowing angler. On May 20th, a panga off loaded a beautiful snook, that weighed 40 lbs, which had been taken by a lady angler on 50 lb test. This fish surpasses the current ladies record by over 8 lbs.another lost record that nobody recognized, passes onto the dinner tablesigh!
LOCATION: Punta Gorda, Destiladeres, 9 to 35 miles out. WEATHER CONDITONS: Still not as warm as it should be, some days partly overcast, seas good. AVERAGE WATER TEMP: 71 F.BEST LURES: Live bait.
EAST CAPE FISHING REPORTS
ALL ARTICLES, REPORTS AND FISHING INFORMATION FOR EAST CAPE
EAST CAPE, MEXICO: BAJA ON THE FLY, Buena Vista, May 23, 2001, Gary Graham, Reservations Tel 800-919-2252; Fax 760-746-7260. TEMPERATURES: High of 88 with a low of 74 with some wind on Mon., but back to little on Tues. STRIPED MARLIN--Plenty on the Eighty Eight as well as in front of La Ribera. A few blues and lots of sailfish. YELLOWFIN TUNA--Cabo Pulmo producing fair catches, but mostly down deep and not good for the fly-fisher. DORADO--Most of the sargasso has drifted away and now the dorado are predominantly singles. The Eighty-Eight is producing some of the larger variety, up to 50 pounds. ROOSTERFISH--Some quality fish in front of both hotels early morning. JACK CREVALLE--Good catches continue from both the pontoon boat and the shore. BARRILLETE OR MEXICAN SKIPJACK--A few scattered everywhere. PARGO AND CABRILLA--Found a decent bite at Las Frailes near the rocks several days ago.. OFFSHORE: Plenty of fish, but still not as aggressive as they should be. While it is a long boat ride, the Eighty Eight is the hot spot for the moment. INSHORE: Early morning in front of the Buena Vista Beach Hotel continues to be good, but the pressure from the boats has slowed things down a bit. BEACH: La Ribera continues to hold lots of sardinia and the afternoons have been great.
QUICK COMMENT--The inshore has definitely slowed down in the last few days. Lots of off-color water probably has something to do with it. We,re still catching roosters, jacks, ladyfish and a few sierra in front of the Buena Vista Beach Hotel early in the morning. Offshore, the billfish have been the big news and Ray Barker Smith on his last day before departing for his home on England's shores managed to land a striped marlin on the fly using one of our blue and white Billfish Babies that he helped develop at Magdalena Bay.
EAST CAPE, MEXICO: READER REPORT FROM RICH LEWIS, RANCHO LEONERO, April, 2001. Hi Gene. I took my wife CJ and 9 year old daughter Cathy down to Rancho Leonero this past April and we had great fun. My wife "landed" her first fish; a nice Yellow Fin that was an eye opener for her considering her experience to date was battling and loosing a 9 inch trout in Bishop! Young Cathy, who is a seasoned kayak angler, landed 5 roosters, but could not handle the Tuna on the big trolling rods.
So here are a few shots we took that you may like. BTW-The surf fly fishing along the beach each evening was outstandingly fun. I look forward to your "Hot Bites" weekly. What a resource. Thank you Gene! --Rich Lewis, El Segundo, CA
EAST CAPE, MEXICO: RANCHO LEONERO, Bahia de Palmas, May 19, 2001, John Ireland and Roy Baldwin, Reservations 800-646-2252; Hotel 011-52-114-10216. More pleasant weather, with daytime highs about 90, nice evenings in the mid 60s, mostly sunny skies, flat clear seas with warming water temp to 77 deg. Jumping and tailing striped marlin and sailfish are thick throughout the East Cape, with the fish biting more aggressively than in weeks past, taking mostly live caballitos and dark colored trolled lures. Blue marlin have shown up early, with 2 fish over 500 lbs taken this week. The yellowfin tuna bite is getting even better, with fish concentrated about 3-4 miles off Cabo Pulmo, in the same hole that produced a steady bite for months on end last season, with larger fish to 97lbs outside under porpoise, with live sardinas, hoochies and cedar plugs all working well. Big bull dorado to 62 lbs were taken daily this week, with many boats limiting out on schooling dorado in the 10 lb range, spread throughout the bay, with the area off Cabo Pulmo producing best, with fish taking live sardinas and green/black trolled lures. The inshore bite for big roosterfish is hot, with a 62 lb fish taken Saturday, with many more in the 50 lb range taken off all south beaches, with live sardinas and mullet working best.
EAST CAPE, MEXICO: EAST CAPE SPORT FISHING, Los Barriles, May 18, 2001, Dave Dixon and Gil Mendiaz, Reservations 800-837-1556; Fax 805-493-5446. The major temperature break we've been tracking on the SST maps has, as expected, yielded some great fishing. Tuna to 80 pounds are being found with the cochis about 15 miles SE of Cabo Los Frailes. And, of course, Mother Nature has provided another one of those special East Cape presents: one of the most prized game (and commercial) fish, who loves to cruise the cold side of those temperature breaks. That's right, pez espada, the swordfish. The Connolly party, fishing on the Victor Antonio, nailed a 250-lb. swordfish in this area, along with four dorado and tuna to 70 pounds. Hats off to angler and crew--a swordfish is one of the toughest gamefish to land. They are seriously mean, and they just don't get tired (you may remember the story last season of a group of anglers hooked up on a swordy for 25 hours before it broke off). At 250-lbs. it must have been a major battle, requiring both skill and endurance from all involved.
Things are breaking loose at the East Cape--literally. The recent degree of water activity has broken loose large quantities of sargasso seaweed, which is now floating free in the Sea of Cortez. And you know what floating debris means--that's right, the dorado are back, both in numbers and size. Many, MANY dorado are being taken under floating sargasso, in all sizes from chicken to big bulls of 50+ pounds.
Also associated with the sargasso are large barrilete (to 15 lbs.) along with another special treat: white skipjack. Known also as kawa kawa, and locally as jumbo (pronounced "Yoombo"). These tasty tuna are an occasional visitor to the East Cape, and have meat very similar to albacore. Reports are that they are so fat from gorging on squid, that the belly meat is almost pure white. Throw some of this on the grill, watch the fireworks as the fat burns off, and you've got a real treat! This fatty belly meat also makes great sashimi. Before clouds obscured the view earlier this week, SST maps were showing warm water (77F-80F) throughout the region, with a major break down to 73F pushing up from the south. The abundance of warm water has lead to a similar abundance in bait, specifically sardinas and caballitos. Squid remains in the area, but numbers continue to decrease, and the gamefish are eating the live baits aggressively. The bite on striped marlin continues to be excellent. Reports are that yellowfin are also in the area, though numbers are down as anglers target the resurgent dorado.
EAST CAPE, MEXICO: HOTELS PALMAS DE CORTEZ, PLAYA DEL SOL, PUNTA COLORADA, East Cape, May 20, 2001, reported by Dave "Smokey" Manuel, East Cape Smokehouse, Hotel Reservations, 800-368-4334. No question the best fishing of this season the past three days on Sailfish and Striped Marlin. Water color off shore has been good clear blue water, running in some spots as high as 81 degrees and the weather this weekend has been excellent for fishing. We're starting to get into that period of warm nights, not hot yet, but most of us are dusting of the air conditioners.
With the exception of a few Striped Marlin being taken off the Lighthouse and Punta Colorada area, nearly all the hot action has been to the North and Northeast of Los Barriles anywhere from just off Punta Pescadero out to the ocho-ocho and the South tip of Cerralvo Island.
Striped Marlin continue to be a bit finicky, but the Sailfish bite has been hot. 87 were caught on Sunday alone on 32 charters and of those 32 charters nearly a dozen fished down South in search of Tuna, so figure about 4 per boat average and some had as many as 10. I talked to several of the skippers on Sunday and most had the best success on Sails with Sardines on light line. They are rigging large Sardines using number 2, 3 and 4 hooks on 50 lb and 60 lb leaders with 20 lb to 40 lb test and having a ball.
Many reported seeing Marlin at the same time, but having more difficulty getting the Stripers to go. The big bait that's been available is Lisa, which you call Mullet, and is considered a good choice for baiting Marlin, but the Stripers remain choosy and are hitting it with reservation.
Dorado numbers were only a fraction of those earlier in the week, most a lone fish taken while trolling. Those that came in ran anywhere from the 20s to the 50s and were taken either from off Punta Colorada and the Lighthouse area or from up North on the charters hitting the Sailfish and Striped Marlin spots.
The Tuna bite that began developing off of Cabo Pulmo last Thursday continued throughout the weekend on nice sized fish in the 30 to 60 lb range. The spot is just a few miles off Cabo Pulmo and a little to the North in waters running under 200 ft in depth. I fished it on Friday along with about 50 other boats and our catch ran from 45 lbs to 60 lbs. The bite has never gotten red hot, it's a patience game, but they are there if you stick with it. Most are being taken on live Sardines on light line either on top or with weight, but I did see a few charter skippers hooking fish on iron being jigged up from the bottom. Saturday and Sunday not as many fish were taken there, however those coming in remained of good size.
EAST CAPE, MEXICO: MARTIN VERDUGO'S BEACH RESORT, Los Barriles, May 18, 2001, Alma Rosa Cota, Reservations 011-52-114-10054. Hi Gene. The boats during this week caught dorado one of them 45#, they realesed 3 stripped marlin and caught one. and today they found tuna!! So this are the news for today. Best Regards, Marisol.
LA PAZ FISHING REPORTS
ALL ARTICLES, REPORTS AND FISHING INFORMATION FOR LA PAZ
LA PAZ, MEXICO: JONATHAN ROLDAN'S TAILHUNTER ADVENTURE SERVICES, La Paz, May 22, 2001, Jonathan Roldan, Tel 626-333-3355; Fax 626-333-0115; Pager 323-349-8111; Message Pager 877-310-7734. Well, just after a few dumper days late last week (and so many of my people had just jumped on airplanes to return home)... the fish bit LARGE!!!!
We kinda suspected that there was something going on at the south side of Cerralvo and after things seemed to have dried up on the north side, the few boats early in the week that were still in town fired up the 65's and dropped into the Rock Highway south of the light house. Shure 'nuff, the tuna came to play!!!! Oh hell.. they came running! No make that LEAPING! It was unreal. Throwing bait and the waters came to boil! No, it didn't just boil. Tuna were grabbing serious air time and were literally charging the pangas! I think there were only 7 or 8 pangas around and it was like Custer's Last Stand, amigos! The only reason the fish stopped biting was that the boats either limited out or simply ran out of bait and had to pull off! I have not seen the tuna go off like this all year! I was working a boat with Roy Morita and his uncle Chooch from Modesto, California. They put 7 tuna to 45 pound aboard (not to mention about 4 or 5 others that tore loose!). Rudy Taa and his wife, Myrna, had 10 tuna in two hours to 50 pounds and simply ran out've bait!
On top of it, dorado also stepped up to the plate in the same area. First real dorado bite that's rocked us in awhile. Fish running 20-30 pounds plus smaller ones in the counts as well, but all good healthy fish. Outside also broke out. The buoys...the 88 also showed some final signs of life with dorado free swimmers as well as marlin and sailfish poking around. Jumpers anywhere anytime surprising more than a few anglers! Not many biters, but seeing so many billfish sure gets the adrenaline running! Keep an eye peeled too because I'm seeing so dang much Sargasso starting to build up between Cerralvo and the peninsula as well as off the east side of Espiritu Santo and the north side of Cerralvo Island. Several boats rocking through the area have run into some hard time dorado. They're on and they're off, but hey...you gotta believe that it's just a matter of time! Saddle up, amigos! We got yer fish on the way! Jonathan
LA PAZ, MEXICO: HOTEL LAS ARENAS, Punta Arena de la Ventana, May 23, 2001, Linda Glassman-Davis, Reservations 888-644-7376. Captain's: Manuel Salvador, Zapata, Cachora, Guicho, Loreto, Luciano, Buho, Ramon, Daniel, Efren, Ramon Lucero, Roman, Alejandro, Meme, Chuy, Israel, Fidel, Beto, Chimango and Ramiro, report this week's catch: 159 Tuna to 45 pounds; 121-Dorado to 42 pounds; 36-Cabrilla to 25 pounds; 49 Pargo to 15 pounds; 8 Yellowtail to 22 pounds; 1 Marlin 85 pounds; 9 amberjack to 15 pounds; 3 sierra to 7 pounds; 2-sailfish to 65 pounds. Saludos, Linda
LA PAZ, MEXICO: FISHERMEN'S FLEET, La Paz, May 23, 2001, David Jones, Hotel los Arcos, Reservations 011-52-112-21313; Fax 011-52-112-57334. Really a very good week. The improvements noted last week have continued improving, with some slight plot changes but an ever increasing cast of characters. Weather had continued to be very good, with southerly breezes in the morning, backing off by 11 or so, and calm seas.
The squid related bite for Amberjack and Tuna has shut down at La Reyna, but what Capt. Pepe described as "milliones" of Tuna have shown up at the south end of Cerralvo. Ranging from 20-60 pounds, these guys are hitting Sardines with a vengence and in most cases the Tuna lined up wanting to enter the freezers of our customers have exceeded the freezer space available.
In with the Tuna at the south point have been good amounts of Cabrilla, to 25 pounds, which are hitting Rapala's, Sardines, and last week the "magic" lure was a Bang-0-Bee, made by Baglet, which kinda looks like a pregnant Rapala. These are a deep diving plug, and ChuppaCabra discovered that the green mackerel pattern was Sr. Cabrilla's favorite. Rooster fish abound, with every day being different, but Sr. Rooster, aka Bill Mathias of Tucson, took a fish conservatively estimated at 115 pounds last week, as well as a bunch in the 40-60 pound range. Pargo continue to hold forth at Las Pilis, with a few more 40+ pound fish coming in the last few days. I think that the Cubera (Dog) Snapper are due and plan on an exploratory trip for one of my most favorite fishes this coming week. Dorado are starting to come in now, just a trickle to begin with, with the biggest so far a 35 pound Bull, but within a couple of weeks we should be solidly Doradoized. When outside looking for the Dorado our boats are seeing an awful lot of Billfish. Striped Marlin to 200 pounds and Sails to 100 are everywhere, some days they feel like biting, other days not, but the folks that have gone out to score their first, or at least most recent, Billfish have not been dissappointed.
LORETO FISHING REPORTS
ALL ARTICLES, REPORTS AND FISHING INFORMATION FOR LORETO
LORETO, MEXICO: EL FUERTE SPORT FISHING, Puerto Escondido, May 17, 2001, Ty Miller, Reservations Tel 714-775-6658; Fax: 714-755-3501; Loreto 011-52-113-30863. Hola Pescadores. This past week has been some trying times out on the water. Water clarity has been poor--even the water outside off of Isla Catalan is still a little green. As I have said in past reports, we are going through a transition at this time. I have been reflecting on years back and remembering how I hate these times and how difficult it can be. But as I have said, the Sea of Cortez can change down here overnight and that change came today!
We blew down to the south today and spanked the yellowtail, sizes up to 35 pounds, with both double and triple hook ups! Boy that felt good for a change. So, now we know were they have been hiding. The water color was a lot better, so that means the good water is still holding a little south for the time being.
After the workout on the yellows we decided to go outside and look for the cobalt blue warmer water. After heading out another 15 miles we found gold! We came upon a Sargasso paddy loaded with Dorado- oh what a site for sore eyes! The fish were in the 18 to 25 pound class and we had a ball! It looks like the dodos are making their way into our area, so it's time to start thinking about making your plans. The fish we found today were about 50 miles out, which sounds far but not considering how things move around here. So, El Fuerte draws first blood on the Dorado and we are excited!
Bait all last week was a son of a gun, but the last two days have been improving. Best shot at bait is at the Punta Baja spot with green and Spanish macks holding around 200 feet. Make sure to be there before sunrise- let's say 6:30!
Looks like we may be in for another good one, Pescadores, so blow the dust off that gear and think about getting down here this summer for the action. Make sure to follow up on the reports so we can keep you hot and on top of the action here out of Puerto Escondido! Hasta! Ty Miller
Air Temp: 90. Water Temp: 72. Winds: None. Seastate: Flat.
LORETO, MEXICO: BAJA BIG FISH COMPANY, Loreto, May 19, 2001, Pam Bolles, Reservations Tel/Fax 011-52-113-50448. The weather has definately done a change. We're looking at highs in the low 90s and early morning lows in the low to mid 70s. The humidity is creeping up into the 40-50% range. Skies mostly clear. The winds have been prevailing mostly from the south. Calm in the mornings then picking up in the afternoons as is typical in summer. Calm morning seas that build to moderate swells when the afternoon winds pick up.
The marine park is still working out the details on charging a fee to use the park for activities such as fishing. They have posted signs throughout the area that say the cost to use the park will be 53 pesos per person per day, but so many people in town are against the fee that it has not been enforced heavily (yet). Please budget for this fee if you're planning on coming down this season, so it dosen't catch you "off guard".
Boats are still going out for yellowtail. Those fish that are being landed are ranging from the small 15-20 pounders to the larger 40-50 pounders. They're getting them in verious locations, the latest from Punta Pulpito and even north of there (San Nicholas and Bajo Seco).
Why go out for Yellowtail when you can get into Dorado? Yes, we're finally starting to see Dorado. The small sized schoolies are coming in from the east northeast of Punta Lobos about 6 miles out. Swimming amongst those schools are many Striped Marlin and Sailfish. There were many, many billfish spotted yesterday. There are huge schools of bonita and skipjack just outside of the islands. The season is just starting to unfold!
The Cabrilla have been on a good bite for almost a year. Apart from the very windy days in mid winter, the cabrilla bite has been hot for several months now and it continues. Sardina is the bait of choice for them. Many boats when going for yellowtail will also park over reefs and mounts to catch bottom fish. There are plenty to be had.
Now there is bait for sale every day right in front of the marina. Expect to pay $1 (U.S.) per mackerel or caballito, or about $15 (U.S.) for enough bait for two persons for a day's fishing. There are large schools of sardina right in and around the marina as well as just off the islands. Squid are also very plentiful offshore. The plentiful baitfish is a good sign of what the summer fishing will be like. These baitfish will only bring the larger predators closer within our range.
Light line fishing for cabrilla, jack crevalle, sierra mackerel, roosterfish, needlefish, pompano, barracuda, triggerfish--with spinning lures or cut bait--is very productive right now in several locations. The structure off the east breakwall is holding a lot of pint-sized Roosterfish. The Sierra Mackerel bite has slowed considerable although we're still picking up a few of them here and there. Barracuda will be caught more frequently. Cast a chrome swimming jig or lure out over the structure and reel it in. The Sierra will bite just before the sky lights up from 5:45-6:00 a.m. After the sierra bite in the morning dies off the other species seek out baitfish.roosterfish, jack crevalle, ladyfish, etc.
LORETO, MEXICO: ARTURO'S SPORT FISHING, Loreto, May 22, 2001, Arturo Susarrey, Reservations Tel 011-52-113-50766; Fax 011-52-113-50022. Very good weather, every day is warmer, very nice nights, not too hot, but days are hot, around 98. Water temperature: 70-75.
DORADO: Yesterday all the boats came back with some of them, the best caught was 3 pieces, with a weight between 30 to 35 pounds, North of Loreto "El Bajo del medio". There is not much kelp outside. Dorado's are coming in small groups, maybe water temperatures. Today have been the best dorado catch day, with 8 dorados per boat, the best weight is between 12 to 15 pounds.
YELLOWTAIL: For the better places PULPITO: Between 10 to 24 lbs. around 5 pieces the best caught. CARMEN: Punta Lobos y Perico only a few. YELLOWTAIL SEASON: These are the last days.
CABRILLA: They are catching this one in Carmen Island and Punta Pulpito and 3 pieces per boat average, size 4 to 18 pounds.
DOG SNAPPER: They are catching this one in San Basilio, north of Loreto, Punta Perico and Punta Lobos in Carmen Island, weight between 8 to 20 pounds. Bottom fish: Trigger fish, Pinto bass, yellow tail snapper and some sheep head.
NEWS FOR FLY FISHING GUYS: Bonita (skipjack), Barracuda and some Sierra Mack in Coronado and Carmen Island.
BAIT: we recommend buying it for $1.00 usd each this way you do not lose fishing time. But if you want to catch it there are at Coronado Island lighthouse at 6:00 or 6:30 a.m.
BAHIA DE LOS ANGELES (L.A. BAY) FISHING REPORTS
ALL ARTICLES, REPORTS AND FISHING INFORMATION FOR BAHIA DE LOS ANGELES
BAHIA DE LOS ANGELES, MEXICO: CAMP GECKO, Bahia de los Angeles, May 23, 2001, Abraham Vazquez, Tel 011-52-515-19454; Fax 011-52-665-03206 (goes to Guillermo's), satellite EMAIL direct to Camp Gecko at L.A. Bay. Hi gene, air temps have varied a lot during the week, we had 3 days of a hot spell at the beginning with temperatures of 97 as a hi and 85 as a low, after that it got more normal with 88 as a hi and 69 as a low, the humidity has been low, no major winds have blown, the seas have been very calm, the water is mostly green with very poor visibility and a temperature that varies from 63 to 71 F in different places both inside and outside of the bay, the fishing has changed a bit from last week.
Yellowtail: have started showing up now, not in big numbers, and very few are taken because of the large amounts of bait in the area around the islands, the size for the few has been 20 lb range, most of them have been taken from the area south of Smith island and north of Piojo is. on live mackerel a few more have been spotted in Punta Pescador, and the soldado reef, so it looks like there will be some YT for the tournament after all.
Cabrilla: they have gotten more active in the last week making up for the finicky YT. Red snapper: Some red snapper (huachinango ) showing up in most of the catches. Trigger fish : None present yet. Bait: there is much bait inside the bay, but most of this are sardines, which don't last long in the bait tanks so we've been making bait in the channel between horse head and gemelos, very close to the surface in the mornings.
This coming weekend will be the Guillermo's 8th annual yellowtail tournament, for more info call 011-52-66-503209 direct to Guillermo's restaurant.--Hasta pronto, Abraham V.
SAN FELIPE FISHING REPORTS
ALL ARTICLES, REPORTS AND FISHING INFORMATION FOR SAN FELIPE
SAN FELIPE, MEXICO: TONY REYES FISHING TOURS, 6-day Midriff Islands trip aboard the panga mothership, Jose Andres, Tony Reyes, Exclusive booking agent, The Longfin, 714-538-8010, trip ending May 18, 2001. Fourth trip of the year out of San Felipe. Water temperature 70 degrees, fishing fair to good. Fish count: 327 spotted bass; 169 cabrilla 8-14.5 pounds; 140 squid 20-45 pounds; 73 yellowtail 12-27 pounds; 30 red snapper 8-12 pounds; 9 sheephead 6-10 pounds; 4 broomtail grouper 6-11.5 pounds; 2 white seabass, 15-22.5 pounds; 1 pinto bass 15 pounds.
SAN FELIPE, MEXICO: READER REPORT FROM WAYNE NEFF, Gonzaga Bay, May 23, 2001. Hi Gene. Here's my fishing report for the week of May 14th through the 20th fishing out of Punto Bufeo. Inshore fishing below average due to water clarity. Green water. Temp 74 degrees.
Offshore at Enchanted Islands, water somewhat cleaner, fishing better. Water temp at Islands is 75 degrees. Yellowtail and sea bass at the Seamounts. Big sierra in open water at the Islands. Winds calm this time of year. Daytime temps in the 90s. Very dry. Fish like yo-yoing chrome spoons and lightweight chrome iron off of the bottom. Trolling brought in very few fish. Likely due to water clarity. Road is in excellent shape from Mex 1 side. Gas being sold at Catavina in cans. Mini-mart also has gas at Alfonsino's turnoff at Gonzaga Bay. Pemex at Gonzaga Bay is closed most of the time.
Local fisherman are actively gill netting the reef areas between Isla San Luis and Isla Spire. I counted three long nets. They are based out of Okie Landing. I personally witnessed a 30 lb. + totouva pulled up in the gillnet.--Wayne
SAN FELIPE, MEXICO: SEA OF CORTEZ SPORTFISHING, 6-day Midriff Islands trip aboard the panga mothership, Celia Angelina, Bob Castellon, Reservations 626-333-9012; Fax 626-336-1966; San Felipe 011-52-657-71778, trip ending May 17, 2001. Under ideal conditions again this week 14 anglers from Los Angeles led by Clarence Brown found excellent cabrilla, limits are the rule rather then the exception with yellowtail, black and white sea bass and giant squid. The largest fish caught were a 42 lb black sea bass and a 40 lb grouper. We also released 5 grouper under 25 lbs. The hot colors of the lures were hot pink and fire tiger with the purple also getting its fair share of fish.The water temp high was 64 the air in the 90s. Live bait is still extremely hard to make, but no problem as the giant squid were plentiful. Fish count--full limits of cabrilla to 23 lbs; 89 yellowtailto 23 lbs; 101 giant squid; 2 black sea bass to 42 lbs; 3 white sea bass to 18 lbs; and 256 misc. That's all for now. ---Bob of Sea of Cortez Sportfishing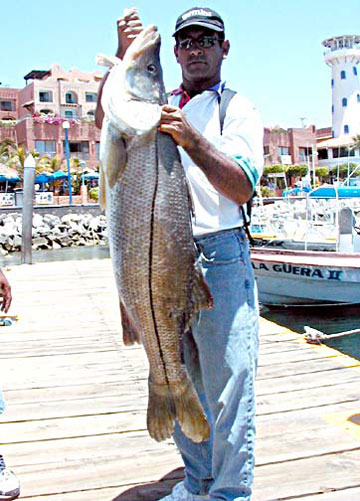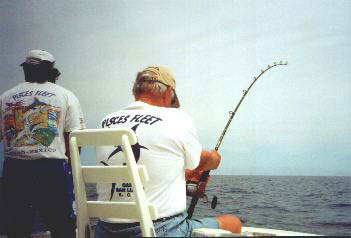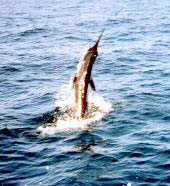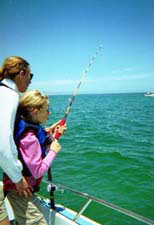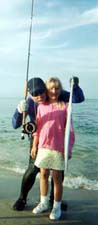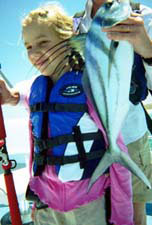 '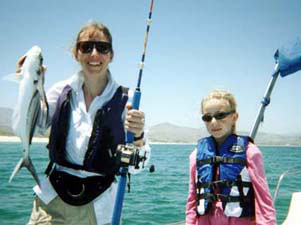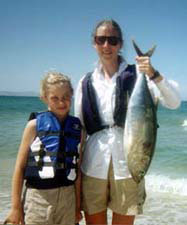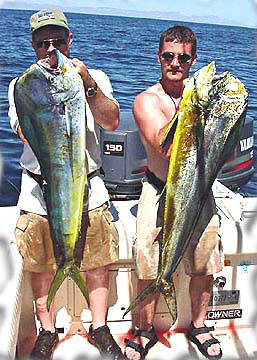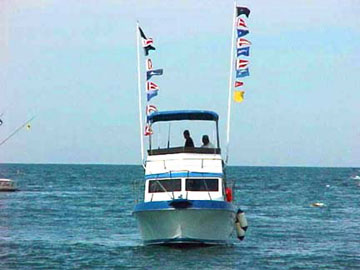 Baja coastal fishing reports and articles.
Ensenada fishing reports and articles.
Puerto Santo Tomas fishing reports and articles.
Erendira fishing reports and articles.
San Quintin fishing reports and articles.
Magdalena Bay fishing reports and articles.
Cabo San Lucas fishing reports and articles.
San Jose del Cabo (Los Cabos) fishing reports and articles.
East Cape fishing reports and articles.
La Paz fishing reports and articles.
Loreto fishing reports and articles.
Mulege fishing reports and articles.
Santa Rosalia fishing reports and articles.
Bahia de los Angeles (L.A. Bay) fishing reports and articles.
San Felipe fishing reports and articles.
Rocky Point (Puerto Penasco) fishing reports and articles.
San Carlos (Sonora) fishing reports and articles .
Mazatlan fishing reports and articles .
Puerto Vallarta fishing reports and articles.
Ixtapa Zihuatanejo fishing reports and articles.
Huatulco fishing reports and articles.
Cancun fishing reports and articles.
Mexico coastal fishing reports and articles.
Mexico Fishing Home Page < Mexico Fishing News Archives < Fishing Report