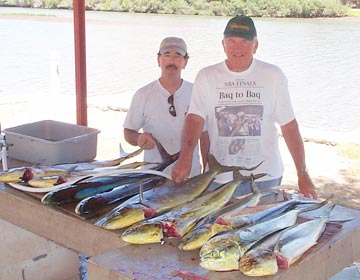 GOOD MULEGE DORADO--Marty Robison (right) and Gino Favagrossa with a nice mess of dorado caught on the troll at Mulege last week. Marty let Gino reel in all the fish and said Gino was one whipped puppy by the time they came home. Photo courtesy Rick Barber.
GOOD NUMBERS OF DORADO CAUGHT BY BOATS FISHING ABOUT 14 MILES OUT
May 27, 2005, Rick Barber, Mulege, Mexico Fishing Report:

My apologies to all who submitted stories during the past two weeks. My computer crashed. I will try to reconstruct this Mulege fishing report from memory but for those I forget, please forgive me.
A week ago, fishing was pretty good around Mulege. Many of the boats scored with large numbers of dorado and many of the guys were playing the "catch and release" game.

Dustin Brown and his partners ran into huge schools of dodo's out about 14 miles from Mulege harbor. On Saturday, they boated 3 and released 14 others, with one weighing 40 pounds on the Oasis scale.

Dustin and John Dinning went out on another day last week and boated 3 dorado (also mahi-mahi, dolphinfish) and one marlin. They went out about 15 miles to find the fish in 76 degree water.

Marty went out fishing quite a few times during the past two weeks and caught a lot of dorado. On at least two of the days, Marty took Gino Favagrossa, of Fresno, Calif., out and they did some serious scoring on dorado. One day they caught 10 with the largest weighing in at 24 pounds.

Monday was a great day for Dave and Mary Landgraf of Mulege. They were trolling just off the rocks around Punta Concepcion and brought home a nice ice chest of cabrilla and one pargo. The one fish Dave caught that wouldn't fit into the chest was a 64-pound grouper! Way to go Dave!

Local Mulege fishing guides Mateo and Alex have been taking home good fish counts for their customers. These guys like to troll until they find the fish and then throw live bait at the dodo's. Seems to work quite well and they always have full ice chests when they return to port. Two weeks ago, for example, Mateo took four fishermen out about 30 miles out on a more-or-less northerly course. They all limited out and had a great day fishing. I lost their names but I'll try to get them this week to give the foursome credit.

Fishing finally tapered off a bit during the full moon and associated high tides. Mulege had a change in the weather that helped put the fish off the feed and the water was also a bit lumpy so it didn't matter too much. Not many Mulege sportfishing boats could or did go out. Minus tides put a lot of the Mulege fishing fleet on the mud early in the mornings so they can't get out anyway. Hey, we all need time to sharpen hooks, right?

That's about all I can pull out of the memory cells for this week. I'll try to fill in the blanks next week and, hopefully, have a picture of Dave's grouper.

(See "Mexico Fishing News" online for current fishing reports, photos, weather, and water temperatures from Mulege and other major Mexican sportfishing areas. Vacation travel articles, fishing maps and seasonal calendars, and fishing related information for Mulege may be found at Mexfish.com's main Mulege page.