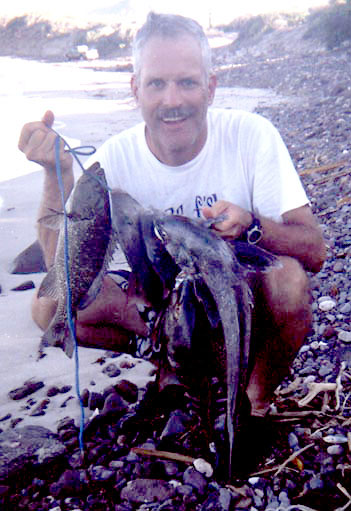 CORTEZ SIDE CORBINA--Pete Jenista fished the San Nicolas area south of Mulege with Jeff Rumble, and they found nonstop near shore action, including an unusual 24-inch California corbina. Photo courtesy Jeff Rumble.
GOOD INSHORE MIXED FISH SPECIES CAUGHT AT BAHIA SAN NICOLAS
Aug. 24, 2005, Jeff Rumble, San Nicolas, Mulege, Mexico Fishing Trip Report:
Pete Jenista and I headed for the San Nicolas/San Sebastian fishing area south of Mulege on Aug. 10 and returned on the 16th. We found water in the mid-80s just about everywhere we fished.

The difficulty we had was with wind. Those in a panga or a deeper V-hulled boat would have been fine, but we fish out of a 12.5 inflatable with a flat bottom. On several evenings the west wind was strong enough to chop up the water, and rather than give us several hours of "glassed out" conditions in between, it would switch right over to the standard south wind during the day with no real break to let us get outside.

That left us fishing mostly over the inshore reefs both from the boat and using light gear from shore. There, we discovered that the fish were hungry.

We caught pargo in good numbers in the 4-6 pound range. We caught numerous triggerfish. We caught good numbers of Chino Mero and several Flag Cabrilla in the 2-3 pound range.

When we did get offshore, the dorado were few and scattered. Small too. But Pete got a nice sailfish.

On one day we were able to tie up with a group of commercial pangeros who were fishing the bottom for huachinango. We didn't get any huachinango, but they pulled lots. We did get a nice yellow snapper and the biggest porgy that either of us has ever seen. While there, several small dorado came around to investigate the smell of squid in the water. Jeff free-lined a hunk of squid into a 14-pounder.

Night fishing off the beach produced more pargo and a variety of grunts.

Interestingly, there are California Corbina in this area in decent numbers and decent sizes. Pete caught one that was 24 inches long. But They spent a lot of time milling about over the shallow reefs and not a lot of time biting our offerings.

We've seen groups of these guys numbering 8-15 fish milling around in tight formation midday over the shallow shoreline reef just in front of where we camp. But they aren't willing to go after anything we've offered to them. This one hit around dusk at a different reef, right at the margin between reef and sand. Pete says it was just 10 feet or so from shore, and that he cast his spoon and let it sink to the bottom. The fish picked it off the sand.

By the time the week had ended, we'd caught 210 fish of 30 species in just 5 days of fishing. It may be a down year for dorado, but with the inshore stuff firing for light tackle anglers, it's not a down year for fishing at all.

And the roads were mostly good. The weather actually got chilly at night, giving us a break from our daytime sweating, and while we ran into a few bugs, they didn't seem to bother us a bit.

The shoreline and inshore fishing really was as good. Nothing over 6 pounds, but they came so fast that Neil Kelly of The Baja Catch would have called it "Golden."

(See "Mexico Fishing News" online for current fishing reports, photos, weather, and water temperatures from Mulege and other major Mexican sportfishing areas. Vacation travel articles, fishing maps and seasonal calendars, and fishing related information for Mulege may be found at Mexfish.com's main Mulege page.