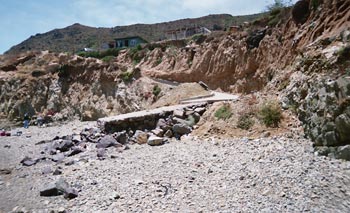 LONG, LONG REACH--Work on the state-sponsored launch ramp at Puerto Santo Tomas has been suspended, pending the fixing of some slight design glitches. Paul Montgomery says he took this photo at close to high tide. Photo courtesy Paul Montgomery.
NEW BAJA SMALL BOAT LAUNCH RAMP HAS SOME DESIGN PROBLEMS
July 6, 2005, Paul Montgomery, La Bocana (Santo Tomas), Mexico Fishing Trip Report:
My son-in-law Todd Snyder from Marion, Michigan, and I just returned from spending five days at Sergio Gomez's cabins in La Bocana, near Puerto Santo Tomas. We fished four consecutive days with Capt. Ramon and had excellent fishing for rockfish, lingcod and sheephead.

We fished from Friday, July 1st, through Monday, July 4th, and returned on Tuesday, July 5th. We fished an area between the small Baja Pacific coast beach at La Bocana and Punta China in 200 to 250 feet of water, and from 3 to 5 miles offshore.

We saw no sign of any surface fish despite trolling several hours each day with Rapalas and Yozuris. The conditions were very windy every day except Sunday, and the water was clear and a very cool 58 degrees. There were large schools of very small pinhead anchovies everywhere and most of the fish we caught were puking them up. We used cut squid on every day except the last when we ran out of bait and had to use Berkley Gulp minnows to catch a few fish to use for cut bait. The squid was definitely the best bait.

The "new" launch ramp at Puerto Santo Tomas is is almost comical. It is so far above the water level that I don't think it will ever be finished.

(See "Mexico Fishing News" online for current fishing reports, photos, weather, and water temperatures from Puerto Santo Tomas and other major Mexican sportfishing areas. Vacation travel articles, fishing maps and seasonal calendars, and fishing related information for Puerto Santo Tomas may be found at Mexfish.com's main Puerto Santo Tomas page.