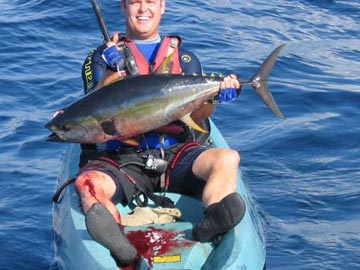 CORBETENA KAYAK ADVENTURE--Scenes from Jon Schwartz' kayak tuna run to Roca Corbetena off Puerto Vallarta. Photos courtesy Jon Schwartz.
KAYAK ANGLER LANDS TUNA OFF PUERTO VALLARTA
June 11, 2004, Jon Schwartz, offshore kayak fishing for tuna at Puerto Vallarta, Mexico:

I came here to Puerto Vallarta to fish El Banco and Corbetena. I did the latter today, tomorrow it's El Banco.

About Corbetena, Puerto Vallarta, it's an underwater island that goes from like 1500 feet to a very small rocky island above water, maybe 50 meters long. It is 35 miles out.
It was an epic day. It´s almost a 1.5-hour ride out or more, maybe. They dropped me off, followed me, and gave me bait when necessary. Yellowfin were all over the place, jumping, up to 100 pounds or more.

My biggest was 34 pounds at the Puerto Vallarta dock after I caught it at 9:30 and it bled and dried out for 7 hours on the panga. I hooked and fought and landed all on the yak. Limited out easily, also throwing surface jigs. I got the larger on on 40-pound P-line on a 12LT Penn International. Took me an hour to land.

I had one hit that was huge, was going to spool me on that same reel so I tightened down and it snapped the line.

As far as I know, this is the first yak fishing expedition here, which is exciting for me. Tomorrow we are going out to El Banco about 50 miles out of Puerto Vallarta, hoping for bigger ones. We saw some huge ones jumping today.

Puerto Vallarta, Second Day, June 12, 2004, Jon Schwartz:

Puerto Vallarta sea conditions are calm one day, choppier but great for anyone not in a kayak. The Bank, "El Banco," had greener water than usual today so we stayed at Corbetana. Could have got into a lot of fish but I wanted to see how big a tuna I could get straight from my yak, so it's all about chasing the tuna all over the place which is great if you are in a boat, infuriating in a kayak.

Water temps seem to be about 80 degrees in the top three feet, then upper 70's below that.

You know you have to motor 25 miles just to get out of Puerto Vallarta's bay into blue water, but once you do it's real hot. Sails, Blues and Blacks to over 300 pounds, and the big tuna, over 100, are here and growing in number.

I actually got up to trolling a skipjack on like 60-pound test with a 50 Wide TLD! Usually I trolled what they call "Goggle Eyes" which are like 7-inch macs with big eyes.

There were 150 pounders landed but not me. I got into a big, big pargo but the waves were smashing into the rock, which is in the middle of nowhere, and he starts dragging me into the rocks, like within 30 yards! I guess he led me to his cave. I had the drag down tight on a TLD-20 2-speed with 40-pound and he felt still very big.

When he dragged me to where he wanted to get, he made a furious dive and broke me off. I was concerned I was going to be swept up onto the cliff. It's a sheer cliff of rocks, looks like that picture of the lighthouse in the middle of the ocean with waves on it. The pics from yesterday don't show how choppy it was today.

Creepy 'cus it's in the middle of the ocean and today there were swells to the point where I couldn't see over them at times.

I am staying at The Flamingo Hotel, Puerto Vallarta. It's great here, it's the off season for touristas, not yet stormy season (soon). I fished yesterday with Kurt Hjort of Esperanza Sport Fishing, Puerto Vallarta. He loved the project. We kept in radio contact and he was telling me, "Break his will to live, that's right, go Jon!" He was stoked since as far as we know this is the first time anyone did this. I was going for a monster but the 34 pounder kicked my butt.

I ripped the gills out so it couldn't get away since when I gaffed it, it was beating all over the place on my yak. That's why in the pics you may see multiple gaff marks and a lot of blood. I bought a tee ball bat from a store the night before I left but I didn't take it onto the yak. I should have.

I saw big marlins landed today, about 300 pounds, big 100 pounders jumping, and like I said some guy got a 150 pounder right near us.

I had a guy named Tat Tatterson with Pacific Sportfishing rent me a yak in advance of the trip. It was a Cobra Tandem. I chose it as it is very stable in the big seas and I was prepared for the brutes. Tat accommodated the whole trip but I had my luck with Kurt the first day. His company is Esperanza Sport Fishing, telephone 011-52-322-297-1631, captnkurt@hotmail.com, mexonline.com/esperanza.htm. The tuna today were moving too fast. Yesterday they were moving but I could get to them, or Kurt would tow me to them, by me holding a rope like a water-skier, and I held on 'till I got into the thick of them.

But I hooked all fish, fought and gaffed them myself. I had no help other than transportation and them being available for bait. I wanted to keep it that way. Maybe we could have landed a really big one doing it the way I got the marlin last year but I wanted to do it the pure way. Actually the only pure way is leaving from the beach with no help but I can't get 35 miles out!

You know Puerto vallarta is in Jalisco. It's only a 10 dollar ride by taxi from the airport, and it's a real Mexican town, a very nice one, and I know since my wife is from Mexico (Michoacan) and she basically has refused to go anywhere to Baja with me but she approves of this place. I'm going to get a Ceasar salad with shrimp down the boardwalk.

(See "Mexico Fishing News" online for current fishing reports, photos, weather, and water temperatures from Puerto Vallarta and other major Mexican sportfishing areas. Vacation travel articles, fishing maps and seasonal calendars, and fishing related information for Puerto Vallarta may be found at Mexfish.com's main Puerto Vallarta page.