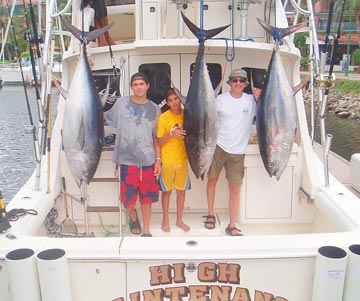 EL BANCO TUNA--Zev, Arie, and Moise Hendeles of Los Angeles fished at Puerto Vallarta's El Banco for four days and caught a total of eight tuna taped out between 120 and 320 pounds, on Master Baiters Sportfishing's High Maintenance. Photo courtesy Zev Hendeles.
SPORTFISHING BOAT HIGH MAINTENANCE OFFSHORE TRIPS
Puerto Vallarta, Mexico Fishing, Zev Hendeles, Sept. 3, 2004:
Just came back from fishing Puerto Vallarta for 4 days, fished with Master Baiters Sportfishing aboard the boat "High Maintenance." We caught 8 tuna from 120 to 320 pounds. 6 of the 8 fish were over 200 pounds, and 2 of the 6 were over 300 pounds. We also caught 2 marlin. All these fish were caught 50 miles out of Puerto Vallarta at El Banco. Puerto Vallarta fishing is pretty much wide open down there with 200 pound tuna jumping all over the place, the biggest problem is getting bait. This was my first time fishing in Puerto Vallarta, and it is by far and away the best place I have ever fished, and I have fished all over Baja California!

And as for Master Baiters, great Puerto Vallarta fishing captain and crew.

(See "Mexico Fishing News" online for current fishing reports, photos, weather, and water temperatures from Puerto Vallarta and other major Mexican sportfishing areas. Vacation travel articles, fishing maps and seasonal calendars, and fishing related information for Puerto Vallarta may be found at Mexfish.com's main Puerto Vallarta page.