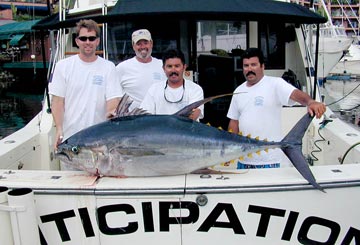 NICE TUNA RUN--Merle Erickson (left) of Chicago fished five days with Puerto Vallarta's Charter Dreams for tuna of 70, 80, 180, 190, 193, 265 and 306 pounds, one wahoo, and three dorado. Here's the 265 pounder, with (from second left), Capt. Ed Moore of the Anticipation, and deckhands Luis Gutierrez and Jorge Rodriguez. Photo courtesy Kim Moore.
OFFSHORE TRIPS ON THE SPORTFISHING CHARTER BOAT ANTICIPATION
Sept. 10, 2004, Merle Erickson, Puerto Vallarta, Mexico Fishing for a 300-Pound Plus Tuna on the Anticipation:

Here is a quick report on my recent trip to Puerto Vallarta.

Sept. 3, 2004. I fished on the Puerto Vallarta charter fishing boat "Anticipation" with Capt. Ed Moore of Charter Dreams. We made bait at Corbetena and arrived at El Banco around 9:30 a.m. We immediately were bit on a live caballito and I hooked up (after burning the skin on my thumb by "thumbing" it on the bite). It turned out to be a 40 pound wahoo. Baits went back out and another wahoo bite, but this one didn't hook up. After 15 minutes, we got a take down on a live skipjack, and I hooked the fish. After 35 minutes, we gaffed a 193 pound (taped) yellowfin. Baits went back in the water and within 20 minutes, we hooked up again (a double at first). I fought the second fish for 2 hours and 20 minutes before landing a 190 pound (taped) yellowfin. It was now about 2:00 p.m. and time to head for the Puerto Vallarta marina. I told Capt. Ed that I'd have liked to had more "fishing time" but we were "hooked up so much we didn't have time to fish."
Sept. 4th. I fished on the Puerto Vallarta charter fishing boat Yolaray with Capt. Manual. We fished at El Banco taking a 180 pound tuna on a live skipjack at about 9:00 a.m (45 minute fight). We could not make more "bait" (skipjack), so we slow trolled a couple caballito. I hooked up an 80 pound tuna and landed it in 30 minutes. We couldn't make more bait, which may have been in part related to the pod of Orcas that were swimming around El Banco. So we trolled west of El Banco through a couple large schools of tuna (from football size to 80 pounds). We hooked, landed and released and 80 pound tuna on a pink Williamson marlin lure. We caught three dorado to 20 pounds off a bird pile while trolling back toward the bay.

Sept. 5th. Back on Anticipation with Capt. Ed Moore today. My buddy Doug Hanna joined me today in Puerto Vallarta after flying in from Dallas the night before. We again make bait at Corbetena and fish at El Banco. Not a take down until about 11:45 a.m. when we get a knock down. Doug is up and grabs the Penn International 50 and lets the fish run for about 10 seconds, at which point he puts the reel in gear, waits for the line to come tight and strikes hard. The fish peels off 200 yards of line on its first run. Doug brings the fish boat side in one hour and 45 minutes at which point we drag it through the "Anticipation's" transom door. It is too fat to fit through the door, so we have to turn it on its belly to slide it through the door. Capt. Ed. Moore slaps Doug on the back and says "There's your 300 pounder." The fish tapes at 306 pounds. We troll the bank until 4:00 p.m. and then anchor for the night. The wind came up during the night and we have to move to Pt. Mita to get some sleep.

Sept. 6th. We fish Corbetena today after making bait there. We don't get a bite all day, although Capt. Ed was marking fish on the sounder all day long. That's fishing.

Sept. 7th. We make bait at Corbetena again and head to El Banco. We slow troll our skipjacks at El Banco losing one to a wahoo and another to lack of hardiness. We have only one good lively skipjack and we are unable to catch more bait. We decide to troll the one skipjack and a caballito while trying to catch more bait. At 11:40, we get a knock down on the skipjack. I grab the rod, let the fish run and set the hook. After 2 hours and 40 minutes, we gaff the big yellowfin and drag it into the boat. It tapes at 265 pounds and is my biggest tuna to date.

Summary: This is my second trip to Puerto Vallarta and first time fishing on Anticipation with Capt. Ed Moore of Charter Dreams. The Puerto Vallarta fishing trip was fantastic. We landed 7 tuna (70, 80, 180, 190, 193, 265 and 306 pounds), a wahoo, and 3 dorado in five days of fishing, with both Doug and myself getting personal bests on tuna (306 lbs. and 265 lbs. respectively).

Capt. Ed Moore is great fun to fish with and is an outstanding fisherman. He and his wife Kim own and operate Charter Dreams (www.charterdreams.com) in Puerto Vallarta and take great care of their clients. They are wonderfully nice people and run a class operation. I highly recommend them to anyone who is planning a trip to Puerto Vallarta. They can also set Puerto Vallarta anglers up on Yolaray, which remains an excellent boat upon which to fish.

Ed and Kim Moore are terrific people. I can't tell you how great they are to work with and fish with--simply first class people and first class fishing. What they tell you is accurate and complete.

On a broader scale, I hope that the Mexican government realizes sometime soon what an unbelievable resource it has in the fishery in Baja and off the Mainland. With proper management, I believe that these fisheries would be unmatched in the world.

All of our Puerto Vallarta fish were taken on standup tackle, using a Smitty Spyder Harness and Plate.

(See "Mexico Fishing News" online for current fishing reports, photos, weather, and water temperatures from Puerto Vallarta and other major Mexican sportfishing areas. Vacation travel articles, fishing maps and seasonal calendars, and fishing related information for Puerto Vallarta may be found at Mexfish.com's main Puerto Vallarta page.