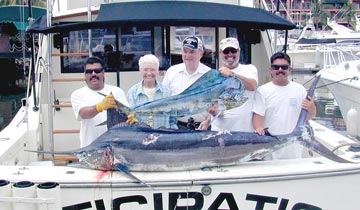 ISLAS TRES MARIETAS--Charter Dreams' boat Anticipation fished 6 miles off Puerto Vallarta's Islas Tres Marietas and caught this dorado and marlin with (from left) mate Luis Gutierrez, Vivian and Bob McGillen of Venice, Fla., Capt. Ed Moore and mate Jorge Rodriguez. Photo courtesy Kim Moore.
GOOD OFFSHORE FISHING AT EL BANCO FOR CHARTER DREAMS BOAT ANTICIPATION
Sept. 19, 2004, Kim Moore, Charter Dreams, Puerto Vallarta, Mexico Fishing Fleet Report:
Fishing in Puerto Vallarta continues to be excellent. Even though we were keeping watch on the two hurricanes moving up the coast all week, it didn't prevent us from going out or the fish from biting. As the hurricane was passing early in the week, we had seas up to 4-8 ft waves, but they were mostly easy "rollers" so it wasn't too bad. Later in the week, things calmed back down and seas were 2-4 ft.

El Banco is boiling with big tuna, wahoo and blue and black marlin. 70-300 lb. yellowfin keep hitting the docks.

The Puerto Vallarta fishing action at Corbetena was good as well, with marlin, sailfish and dorado coming in. About 6 miles off the Marietas Islands, on Wednesday, "Anticipation" picked up a 200 + lb. marlin and 2 dorado. Puerto Vallarta is enjoying partly cloudy days and late afternoon showers.

(See "Mexico Fishing News" online for current fishing reports, photos, weather, and water temperatures from Puerto Vallarta and other major Mexican sportfishing areas. Vacation travel articles, fishing maps and seasonal calendars, and fishing related information for Puerto Vallarta may be found at Mexfish.com's main Puerto Vallarta page.