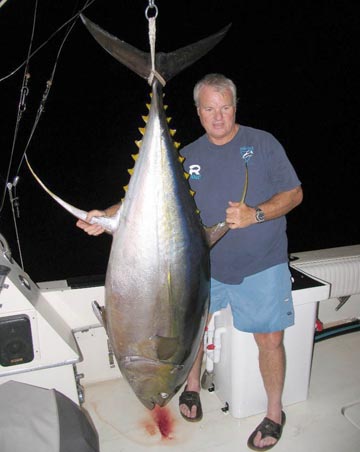 TINKNOCKER COW--Stan Vath and his 221-pound yellowfin tuna, caught at Puerto Vallarta on his boat Tinknocker. Photo courtesy Sandy Vath.
FISHING BOAT TINKNOCKER LANDS A 221-POUND TUNA
Nov. 10, 2004, Stan Vath, Tinknocker, Puerto Vallarta, Mexico Fishing Trip Report:

Nov. 7, 2004, Sunday: This morning we are checking out of Puerto Vallarta's Paradise Village Marina. I met Gina at the office and it went smoothly. We then headed to the fuel dock at Marina Vallarta and topped of all three tanks. We are finishing up with last minute shopping before we head out to make Caballitos this evening for the trip home. We made 300 or so Caballitos before heading over to Punta Mita to anchor for the night.
Nov. 8, 2004, Monday: Today we are having a kickback morning at Puerto Vallarta before checking out the zincs, running gear and bottom before we head across. We had to replace all the zincs and scrape the barnacles off the prop shafts. The overall bottom looked very good as we have been running a lot. We got out to Roca Corbetena about 1630 hrs. and made Skipjack immediately. We were trolling by 1700 hrs. There was a lot of bird action and 50 – 100 lb. yellowfin tuna jumping and chasing Skipjack all around us. We were the only boat left and at 1750 hrs. the starboard rigger went down. I grabbed the rod let it run and pulled the 16/0 circle hook into place. This fish did not take a huge run like most big tuna do. We were not positive it was a tuna until it was almost straight up and down. Then you could see a big tail beat. As I was gaining line the fish got tougher and tougher. When he got to deep color he went crazy. He would head straight out and break the surface then zip back under the boat doing figure eight's. I pushed the drag past strike and later measured it at 54 lbs. This pretty much stopped him but it was still a rodeo with the fish breaking the surface 2 more times and pinning me to the corner. I was cranking in low gear and pulling as hard as I could. I got his head up to the surface and close enough for the gaffs and 3 went into the big "COW" and we had him. It was only a 15-minute battle. We then pulled him through the transom door and TINKNOCKER had its first cow aboard. It weighed 221 lbs. on our IGFA Scalemaster scale. This fulfilled a dream and my long time friends Larry and Dennis Thompson, Bob Dawson and Don Burnside were an awesome crew to make this happen. Back to the anchorage at Punta Mita to spend the night. Water temperature is 86 degrees. 46 KM.

Nov. 9, 2004, Tuesday: We headed back out to Roca Corbetena at 1100 hrs. Bob caught a nice 45 lb. Wahoo on a Blk/Purple Marauder on the way there which was a nice way to start the day. We filled the tubes with Skipjack in just a couple stops and then did a drift fly lining baits. Bob put out a balloon with a Caballito and got ripped. 20 minutes later he had the fish to color and we gaffed his 192.6 yellowfin tuna and pulled it through the transom door. We then started trolling and Dennis got an 85.5 lb. yellowfin tuna on a Skipjack. We picked up 4 more YFT of the standard grade by dark and then headed back to the Punta Mita anchorage to spend the night. 43 KM.

(See "Mexico Fishing News" online for current fishing reports, photos, weather, and water temperatures from Puerto Vallarta and other major Mexican sportfishing areas. Vacation travel articles, fishing maps and seasonal calendars, and fishing related information for Puerto Vallarta may be found at Mexfish.com's main Puerto Vallarta page.