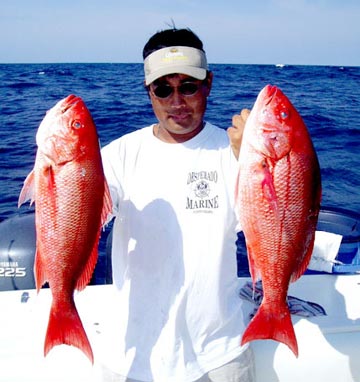 VALLARTA HUACHINANGO--Brad Murakami fished on the Prime Time with Puerto Vallarta's Capt. Josh Temple for a couple of nice Pacific Red Snapper or huachinango. Photo courtesy Josh Temple.
GAME FISH WARY AS COMMERCIAL BOATS HAMMER LOCAL WATERS
Jan. 15, 2005, Capt. Josh Temple, Prime Time Adventures, Puerto Vallarta, Mexico Fishing Report:

It's been a week of ups and down fishing at Puerto Vallarta. Temperatures have been great, slightly over 80 degrees, water conditions have fluctuated between green and blue, and the fish have showed, but so have the seiners, as there have been up to 14 of them working the Puerto Vallarta fishing grounds. This is good news for canned tuna lovers, but bad news for sportfishing fans.
The real test for fishermen comes when conditions turn BAD, and you know it's going to be tough out there, and heading offshore in the morning you're trying to keep that flickering spark of hope alive. Could it change overnight? Will today be the day it finally happens? You hope, but soon you can see them, lurking in the distance, the haunting silhouettes of net boats, and a bad omen for the day to come.

The beginning of the fishing week at Puerto Vallarta was tough to say the least. We managed to get a few fish each day, avoiding a total skunk, which helped to keep the hope alive, but it got worse from there and by midweek fishing at Puerto Vallarta we were not even getting bit. That is a very big hairy pill to swallow.

Our Puerto Vallarta cow town was in the midst of a full scale invasion. Nowhere was safe. Pangas ran for cover. Free divers found out just how long you could hold your breath as 100-ton seiners jackhammered the surface to a boiling froth 30 feet from your neoprened skull. You could see the madness in the eyes of the crews of the net boats. The hunt was on and they could smell the sweet lure of fresh meat.

It's amazing to watch really. It's a hard look at the reality of our little paradise. Who can blame them? Who can say they themselves haven't loved the thrill of the hunt? They CAN be a little more careful about it, but in that frenzied state who can be sure they even fully realize what is happening...

Oh yes...it's been interesting. And in the midst of all this here we are trying to trick a few fish.

Forget about the big baits. Even if you could find them, the fish at Puerto Vallarta won't touch them right now. It's been a kite and balloon fishing show at Puerto Vallarta with the smallest baits possible, including plastics, anything small and non-threatening. A moving boat means running fish right now, so it's drifting if you want to get bit, with engines off, and no unnecessary sound, and that means shutting down the sounders...EVERYTHING. These Puerto Vallarta fish are on DEF-CON 5 high alert. It's like stalking 12 pound Islamorada bonefish on a flat calm day with jet ski's racing over the flat. This is as technical as it gets.

The boys did an excellent job of stepping it up a level, even on the 2 consecutive fishing days we got skunked, and it's hard to keep up that level when you've just gone 18 hours without a bite. But it paid off, and when the seiners thinned out and the fish relaxed just slightly we capitalized on the opportunity and whacked some nice fish, and that felt really goddamn good.

The last few days fishing is getting back to normal and we have seen some spectacular reminders of what can happen out there. Yesterday we had a frothing churning yellowfin tuna foamer come up outside that was no BS a hectare wide and lasted for over 2 minutes...2 mins is a looooooong time and these fish were quality 40 to 80 pounders. We were in the midst of 80 to 200? pounders hooking solid 90 to 150-pound fish...not many...but enough...so we decided not to chase the foamer.

Joe, our guest, nailed two fish that day on top water plastic which was AWESOME to watch 90-pound fish absolutely hammering the lure right off the boat. H lost fish, but the bite was worth it.

Sometime around 3 yesterday afternoon Eric, who is a veteran Kona commercial and sport angler, spotted the fin of one of the largest marlin he or I had ever seen. He was flylining a bait and at first called sailfish not expecting a marlin. We turned and immediately saw the tail 50 yards away. The fish lazed just below the glassy 1-foot rollers and I could clearly tell it was a black marlin. Then the fish kicked slightly, just a faint twitch of the tail, and rose another foot. HOLY MOTHER OF...the tail...which I took to be most of the entire tail, doubled in size and as all 5 sets of eyes traveled in slow motion from left to right a massive dorsal fin broke the surface at least 10 feet away. I FREAKED. We had a 20-pound tuna Joe caught on top water on the way out that morning on ice, and as I scrambled for the 18/0 circles and rigging floss Trev and Brad cut balloons off and cleared lines. It was an all-out fire drill, but when we threw out that tuna and started slow trolling towards the fish I cannot describe the level of excitement on that boat. Can you imagine towing a huge bait in front of an unbelievably big marlin. It was one of the most exciting moments this season.

Well the fish sunk out and we didn't get her, but my god that's probably a good thing. Fish that size are almost too big...SCARY BIG...but I'll tell you one thing it makes a guy want to tow around bigger baits and really see what's out there.

Anyway, Puerto Vallarta fishing is slowly coming back, but we need the seiners to find some nice quality 20 to 40 pounders about 400 miles away. I wish them all the best with that. The conditions are just screaming big fish right now, but we need to come off high-alert before I think anything's going to break wide open. Which is fine. It makes you really appreciate the good times and learn to find meaning in the bad.

Today the guys are scrambling to change oil, pumps, clean, wax, and just generally try to catch up on the list of things going bad, and it's a long list, I assure you. Then it's out for 11 straight, and I am looking forward to the time to try some new things. I have a few ideas so we'll see how that goes.

Seasons are changing but we're adapting, and that's what it's all about.

(See "Mexico Fishing News" online for current fishing reports, photos, weather, and water temperatures from Puerto Vallarta and other major Mexican sportfishing areas. Vacation travel articles, fishing maps and seasonal calendars, and fishing related information for Puerto Vallarta may be found at Mexfish.com's main Puerto Vallarta page.