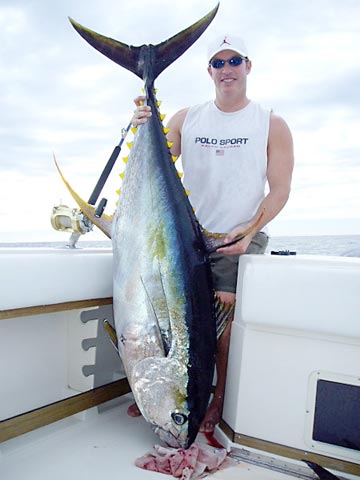 NICE VALLARTA TUNA--Steve Danziger fished on the Prime Time at Puerto Vallarta last week, released some yellowfin tuna well into the 150-pound range, and landed this one at 180.4 pounds. Photo courtesy Josh Temple.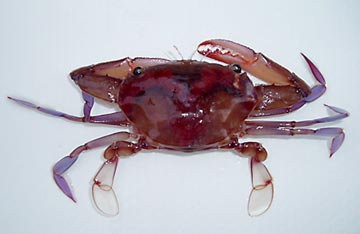 VALLARTA TUNA CRAB--Tuna were feeding on this species of pelagic red crab at Puerto Vallarta last week, but it is not the traditional "tuna crab," Pleuroncodes planipes. Photo courtesy Josh Temple.
OFFSHORE GAME FISH FEEDING ON MASSES OF PELAGIC RED CRABS
Jan. 23, 2005, Capt. Josh Temple, Prime Time Adventures, Puerto Vallarta, Mexico Fishing Report:

The fishing bite is still going strong at Puerto Vallarta!
With sea surface water temperatures (SST) in the low-80s and clean blue fishing water offshore carrying tons and tons of bait, there's no surprise that the yellowfin tuna bite down here just keeps getting better.

Sardines, flying fish, skipjack, and most importantly red crab are available in mass quantity to the tuna feeding on and around the Puerto Vallarta fishing high spots, and anglers savvy enough to determine what kind of bait the tuna are feeding on that day are scoring big time with some exceptional catches.

Steve Danziger and his fishing partner Jeff joined us on the Prime Time offshore for a little Puerto Vallarta balloon fishing and red crab drifting, and they discovered that elephants do indeed eat peanuts, as the boys caught and released tuna after tuna on tiny red crabs and other small live baits.

Choosing to release most of their fish, Steve and Jeff battled tuna up to 180 pounds releasing fish well into the 150-pound range. Steve Danziger wound up with the largest tuna of the week, just a hair over 180 pounds, and both the guys had a fantastic time with multiple hookups and releases. Way to go on the releases guys!

Fishing at Puerto Vallarta for dorado (mahi-mahi), sailfish, marlin, wahoo, and pargo is available right now but it's hard to focus on those species with 5 miles of frothing tuna working around the boat. Puerto Vallarta boats fishing closer to shore are scoring some great action on wahoo and dorado and there's still good numbers of sailfish around to keep things interesting.

(See "Mexico Fishing News" online for current fishing reports, photos, weather, and water temperatures from Puerto Vallarta and other major Mexican sportfishing areas. Vacation travel articles, fishing maps and seasonal calendars, and fishing related information for Puerto Vallarta may be found at Mexfish.com's main Puerto Vallarta page.