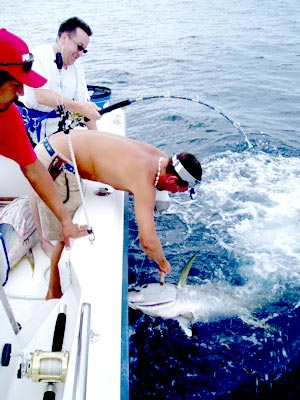 BIG TUNA RELEASE--A 150-pound class yellowfin tuna is released aboard the Prime Time at Puerto Vallarta. Photo courtesy Josh Temple.
BOATS FIND GOOD ACTION FISHING FOR TUNA OVER 100 POUNDS
Feb. 13, 2005, Capt. Josh Temple, Prime Time Adventures, Puerto Vallarta, Mexico Fishing Report:
Brad's headed for Baja and believe me he will be sorely missed for several reasons. One, no one can catch bait with such fervor, and two, our in-flight food service will never be the same. I'm not sure how Brad is going to fare fishing yellowtails and the like around the islands of Baja after what he's seen the last month and a half down here in cow town, but knowing Brad and his love for anything with fins I'm guessing he's going to find the same level of stoke in anything that bends a rod. Thanks for all your help, Brad! You are welcome back at Puerto Vallarta anytime!

So the dynamic Puerto Vallarta sportfishing trio is once again reduced to 2, and Trev and I are wondering if the unseasonably strong winds and rain squalls are a sign that we are not the only ones regretting Brad's departure.

Thankfully the fish gods have blessed us yet again and the unusual weather has brought a great bite on out at Puerto Vallarta's outer fishing banks. The tuna, it seems, know all too well that it's always wet at 30 feet and no matter what it's doing topside they still have to eat.

Trev and I spent a few days last week trying to catch up on all the things that need fixing, replacement, or throwing away on board, and although it helped there's never really an end in sight in the maintenance department.

With overcast skies and a slight drizzle at Puerto Vallarta, Trev and I enjoyed a nice dinner at the marina with the boat and headed out for some serious bait fishing for the week to come. As competitive as we are, we couldn't resist a little wager and in no time it was GAME ON with a full speed bite on some of the largest caballito we've seen all season.

The rules were simple, first one to 50 got the gold, and as Aussie rules prevailed it was no holds barred as Trev and I locked horns in the ultimate cabbie battle.

It was close right down to the wire, and coming around the final turn, Trev looked strong with a 47 count while I trailed by one with 46. Trev had pole position and made the next drop quickly as I struggled to get a tangled hook undone from a dock line, a serious handicap coming down to the wire. On the drop, Trev hooks up and it's a good one. I finally manage to rip the hook free and drop down, hooking up immediately. Trev yanks his rig from the water and he's got 3, all he needs to take the gold, but as he's de-hooking the baits, one flies off and lands between the bait tank and the transom. As he struggles to grasp the flipping cabbie, I yank my rig from the water and I've got 4!!!. I'm shaking as I race to get the baits into the tank before Trev can grasp his winning fish and get it into the well to secure the win! I count out loud...48!.....49!....trev's bent over the transom screaming...legs kicking in the air....50!!!!! YES!!! HAHAHAHAHAHAHAHAHA!!!!!! Too late Trev!!!!! The crowd roars and as Trev finally manages to get his nearly-winning bait into the well the whistle blows and it's a wrap. It was a battle for the books and one that we will all remember.

Well the bait work went well and thank the gods for that, because we would soon use every last bait we had on some of the best wide-open tuna fishing we've seen all season.

The last week and a half we've seen the Puerto Vallarta ying-yang, from total skunk one day because we couldn't get to where the fish were due to high winds and lumpy seas, to the absolute insane, and I mean INSANE, action on tunas from 100 to 180 pounds.

The action's been at the outer banks, and when we could get there, between the rain squalls and 30 knot winds, the fishing has been epic. Steve Danziger came back again on a whim, having just fished 2 weeks ago, and walked off the plane into wide-open, flat calm action.

Racing out to the outer banks in the dark is always fun, but when you can do it on absolute flat calm seas at 30 knots it's even better. The trip goes lightning fast and your kidneys still work when you get there.

Steve, Kevin, Trev and I were in high spirits when we arrived at the high spot on waters so calm you could literally see a fish fart. The tunas were lazily rolling everywhere and the birds couldn't decide which school to fly over as 5 miles of tuna and several thousand dolphin competed for the birds' attention.

We decided to work a pile of dolphin first, hoping for giants running under them, and somehow managed to lose the first 5 fish we hooked, not sure why. After that the skunk was off and we hammered fish after fish although smaller than the grade we were hoping for. Most of the fish were 30 to 60 pounds so we drove away back to the high spot in hopes of finding some bigger fish.

Since there was absolutely no wind we flew the baits out on the globos and it didn't take long.

Somewhere around noon we lost count at twenty and the grade on the fish jumped to 100 to 150. We had the place all to ourselves and literally anything you threw out there got hammered....dead bait, plastics, you name it. We had triples and quads going all day long if you wanted it. Mostly we fished one rod off the globo and if someone had caught their breath long enough a flat went out with a live or dead squid or a cabbie.

Fish after fish were released well into the 100 to 150 pound class and it was a blast not only this day but all week long when we could get there. We started using plastic flying fish and oh my god...there is little that compares to 150 pounders cartwheeling over themselves to eat a plastic flier...what a show....WOW.

A few dorado (mahi-mahi) have also started to show at Puerto Vallarta, and there's still a few sailfish around. No marlin seen or caught, but no one really cares with the caliber of tuna and the pace of fishing out there.

The Puerto Vallarta winds have been driving me nuts though, as there's little rhyme or reason as to when they blow or how strong. If it's rough and we don't feel like making the run out we're stuck with the spots closer in with smaller fish in the 60 pound class. Still a lot of fun but it's a little frustrating when you know what's out there beyond the horizon.

Trev and I did get out on the Puerto Vallarta panga with Lora one afternoon to take a shot at Trev's first roosterfish. We had trouble getting some big baits and only got two but that's all we needed as Trev and Lora each scored with roosters of 30 and 35 pounds respectively. Trev was stoked and plans on getting a nice replica of the fish to go along with his 300 pound tuna mount.

(See "Mexico Fishing News" online for current fishing reports, photos, weather, and water temperatures from Puerto Vallarta and other major Mexican sportfishing areas. Vacation travel articles, fishing maps and seasonal calendars, and fishing related information for Puerto Vallarta may be found at Mexfish.com's main Puerto Vallarta page.