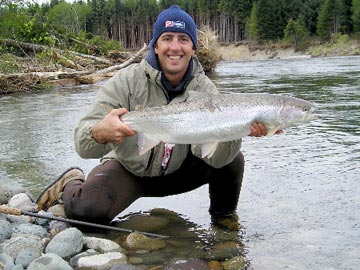 FAR FROM PUERTO VALLARTA--Josh Temple of the Puerto Vallarta charter boat Prime Time, with a Kitimat River steelhead, in his summer fishing grounds in British Columbia. Temple returns to Puerto Vallarta in August. Photo courtesy Josh Temple.
PUERTO VALLARTA'S CAPT. JOSH TEMPLE ALSO FISHES IN BRITISH COLUMBIA
May 6, 2005, Josh Temple, Prime Time Adventures, Puerto Vallarta, Mexico, to Prince Rupert, B.C., Canada, Trip Report:

We're here in Prince Rupert until the first of August and then back to Puerto Vallarta fishing on the Prime Time.
It's three weeks today since Shrek and I spun the dusty wheels of my big Dodge diesel from Puerto Vallarta towards the promise of giant salmon and halibut and the lure of the British Columbia coast, leaving behind a changed Mexico and countless adventures in our wake.

It has been three long weeks where anything could happen and basically did, run-ins with the law, uncomfortable reunions, and spectacular fishing, a time where we learned to appreciate the meaning of feral, the joys of life, and the anxious hopes that when we get back to some of our favorite waters the fish will still be there.

Well they were there, and in big numbers, and by our first afternoon back in British Columbia, Canada, we held fly rods high to the tune of screaming knuckle busters and leaping trout. I couldn't imagine as I tied my 5X tippet to a size 18 chronomid, with hands more recently conditioned to Bimini twists and 200 pound test, that such a thing would hold a fish. And I'll be the first to tell you that when a solid 5 pounder sipped that microscopic little midge, my heart skipped a beat and not until the line came tight did I let slip a sigh, and begin to play the fish.

Shrek and I laid siege to a host of lakes strewn about his home town of Ashcroft, B.C. Paying particular attention to those within 15 minutes of his parents' house and the large and extremely wary trout within. Oh, don't get me wrong. It took a while to get the kinks out, and I'll spare the details of what we must have looked like out there rolling around in a sparse 10-foot punt trying desperately to keep everything straight. Fly fishing is a far cry from the simplicity of live bait and pretty much the antithesis of fishing big tunas, where delicate presentation and wind knots are not part of the game.

Thankfully, the rust fell off and by the second day Shrek and I were a force to be reckoned with. By midmorning on the lake the critters were hatching and the trout were gorging. All around the lake the trout boiled and exploded after insects large and small. Somewhere before noon Shrek and I fell into the groove and nearly every cast yielded a strike. Some big fish were landed, more were lost, and just when we started to get cocky, Ben showed up.

Ben is Shrek's younger brother. He works at the mill, owns a home on the Thompson River, likes to get drunk, and loves to fish. Ben is as hard core as it gets for interior British Columbia trout anglers. He goes to work at 6 a.m. with a pontoon boat on the roof of his decrepit Toyota 4-runner and splashes that puppy precisely 17 minutes after the end of the day buzzer, a fact he is modestly proud of.

Enjoying this lifestyle, Ben has developed a keen awareness of trout behavior and therefore is no less than deadly at catching them. The minute he starts paddling out on his little blue pontoon boat, the mood on the lake noticeably changes. The sun dives behind the clouds and the birds go silent as a new sheriff paddles through town.

Ben doesn't bother to ask his older brother how he's done. No, he steadily paddles to the opposite side of the lake, swiftly ties on a fly, makes a beautiful 70-foot cast and hooks a trout, a nice one about 8 pounds.

That was just the beginning. At one point Shrek and I quit fishing in an effort to save some sort of face. After all, it was better to put the rods down and fake like we were interested in eating than sit there watching Ben hook fish after fish. The kid's got it. There's no doubt about that.

After a few more days of fishing with Ben I almost felt like I got it too, which I am sure means it must have looked like I NEARLY got it. Anyway, the moral of the story is that HUNDREDS of trout were landed, absolutely perfect wild rainbows to 15 pounds, and it was an awesome reminder of the days I used to spend chasing these fish around. It is an awesome fishery and one I am looking forward to introducing my kids to.

After Tour de Shrek through his home town, the reason for the fishing location, we headed north again for Williams Lake where unbeknownst to us a couple of private planes were waiting to whisk us off to a remote coastal outpost with access to a seldom fished steelhead stream where the trout grew like steelhead and the gargantuan steelhead ate the trout.

The float plane trip out was spectacular and I was completely stoked to find a 23 Grady White waiting for us when we arrived in Bella Coola for the 3 hour boat trip to the tiny coastal village of Namu. I won't go into the details of Namu itself, although I should.

Ascending a coastal steelhead river for the first time, way, way out in the wilderness, from a Grady White and a small Zodiac is about as good as it gets. We anchored the Grady in the estuary and tentatively entered the Koeye River from the Zodiac, cautious of the rocks, channels, and 23 foot tides. We no sooner beached the skiff than discovered fresh tracks from wolves, deer, and giant coastal grizzly bear. I offered to Shrek, who was still healing from the broken heel suffered the day we left Mexico, that he should go first.

We came up short on the steelhead that trip but again caught some truly giant trout, correctly described as more like steelhead, and promised to return again a little earlier in the season next time when we thought the steelhead would be better pursued.

Back on the road we headed for the world famous Skeena River watershed where record steelhead and salmon swim and our fleet of Grady's sit for the winter. As luck would have it my favorite uncle Keith now owned a house there and was anxious to go fishing. Uncle Keith is more of a dad to me than my own father was so I jump at every chance to hit the water with him. He is an exceptional person and an even better fishermen.

With conditions wreaking havoc on much of the system, we opted for a small coastal stream and the promise of fresh spring steelhead. Shrek and I met Keith early and headed off in the uncle's beat up old Chev, still missing the passenger side window which he had to smash out the week before when he locked his keys, and his waders, inside the truck early one morning before fishing.

We got to the river and it was game on from the beginning. Keith drew first blood with a nice 14 pound doe followed by a chrome bright 12 pounder by yours truly. Shrek was getting nervous, as Keith and I both drew two more fish each but made up for it when he landed two in a row from the same pool. At one point I crawled precariously out on a log jam and on my first cast to a slick on the opposite bank hooked a fish that left a massive boil when it took. Fighting a big steelhead from a twisting log wasn't the best position to be in, and it was no small miracle that I made it down and to the beach with the fish still on. Despite my best efforts, just as Shrek bent over to tail the fish it spit the barbless hook and took off for the depths of the pool in a shower of spray. It was a big one, over 20, maybe bigger.

Throughout the day Keith filled the action with stories of his adventures fishing and hunting with his best friend of over 40 years, Ron Tetreau. Ron spent his life dedicated to the pursuit of trophy steelhead and wild game and contributed immensely to the resource as head steelhead biologist for Ministry of Environment for more than 25 years.

It therefore comes with great sadness that Keith was to learn that the next day his best friend and fishing and hunting buddy would drown in a freak accident while guiding on his beloved Kalum River, a river he and Keith had just fished together just two days before. A grim reminder of the unpredictability of our game, and the consequences of playing.

With this in mind we departed on the final leg of our journey with one of our Grady Whites in tow, and looking in the rearview mirror we knew we weren't the only ones eager to go fishing. The big kings were waiting.

There's never a clear indication of just how a drawn-out road trip will end, particularly when 3 countries, thousands of miles, and untouched waters lay ahead. When the final kilometer clicked over and the wheels rolled to a halt we shut the truck off, stepped outside, and threw rocks into a vast and different Pacific. We weren't absolutely certain that we had reached the end, but we were home, safe, satisfied, and sound.

After a few days opening up the lodge and moving the rest of the boats between Terrace and Prince Rupert we hit the water with high hopes and a purpose in mind. We decided that with the untimely passing of a fellow guide and friend we should dedicate the day to Ron and Keith and the fellowship they shared.

We arrived at Eddy's Pass, a narrow channel between two islands guarding the entrance to the Skeena River estuary, and onramp for giant salmon migrating up the Skeena watershed, a prime area for hunting feeding kings.

As Shrek and our good friend and fellow guide Pierre deployed two baits I wondered aloud if it would be too much to ask for a double header on our first pass. As if I had read the script, two nice fish rocketed away toward the horizon. "THIS ONE'S FOR RON!" we screamed and I know damn well Ron was up there cheering us on. Pierre lost his, but Shrek scored the release, and before we knew it, the 2005 king season was well underway.

Next pass, Shrek tacked nice and tight to the spot, jackhammer goes the rod and my reel is screaming. It's a nice fish, about 25 pounds and we decide to release it as well.

Pierre's next and manages to score a beauty, about 30 pounds, which goes back too. After Pierre gets his release, we decide to move to a spot I found last year during silver season, too late for kings last year, but I vowed to try it as soon as I returned this summer…

Pierre set down the port rigger and Shrek took the starboard, and not 1 minute into our first pass at the new spot we've got a double header, but we lose them both! Back out go the baits and it's Pierre again, but he misses the hit and then misses again immediately after. When Pierre gets another bait down and it gets hammered immediately, Shrek's instinct takes over and he jumps the rod before Pierre can get there. The fish is running wild and Shrek gets the hooks in him but despite my protests and screaming "FOUL" he refuses to relinquish the rod to Pierre who clearly deserves the fish. Shrek claims AUSSIE RULES and although Pierre is cheering him on I still give him sh...t for pushing the limits of friendly etiquette.

It's obvious right away that it's a big fish, long sustained runs and bulldog head shakes. This is no joke. This is the first real one of the season.

After 45 minutes of grinding battle, Shrek steers the fish to the surface and there's no question we're home, 40 pounds of big king is a fantastic reminder of who you are and where you came from. Shrek/Pierre's fish set the new season record so far this year for Prince Rupert, not a bad first day and a fitting tribute.

Anyone who's fished with us knows whenever we open a beer we pour the first sip overboard to the fish gods and the boys who never made it home. I'm sure looking down on us after that fish Ron heard us when we raised our arms high and saluted him and Keith For us it was a homecoming, for others a passionate send off, but always a celebration of life, and friendship, and god's willing, some very nice fish.

(See "Mexico Fishing News" online for current fishing reports, photos, weather, and water temperatures from Puerto Vallarta and other major Mexican sportfishing areas. Vacation travel articles, fishing maps and seasonal calendars, and fishing related information for Puerto Vallarta may be found at Mexfish.com's main Puerto Vallarta page.