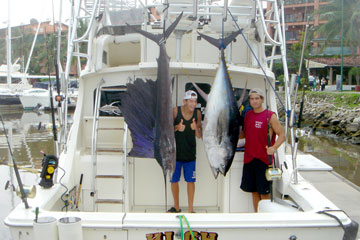 VALLARTA TUNA--Ari Hendeles (left) and Capt. Steve Torres of the Puerto Vallarta charter boat High Maintenance of Master Baiter's Sportfishing with a sailfish and tuna weighed at 238 pounds. Photo courtesy Zev Hendeles.
FISHING AT EL BANCO ABOARD THE CHARTER BOAT HIGH MAINTENANCE
July 29, 2005, Zev Hendeles, Puerto Vallarta, Mexico Fishing Trip Report:

I fished in Puerto Vallarta for 3 days, July, 25-26-27.
Fishing 50 miles out at El Banco, aboard the High Maintenance with Capt. Steve Torres of Master Baiter Sportfishing, fishing was on the slow side. Over a 3 day period we caught 3 tunas of 238, 225, and 228 and one sailfish. All fish were weighed on a certified scale.

The bite was consistently a morning bite. If you didn't hook up in the early morning you didn't get a strike.

The Bank over there seems ready to explode any day now. In the morning, you could see big tunas on the surface rolling around. It was just difficult to get a strike. In the afternoons it was dead at the bank. Bait was also easier made early in the morning. All the big tunas were caught slow trolling live skipjack, with a 200 pound fluorocarbon leader.

Puerto Vallarta water temps where in the low 80's and sea conditions were perfect, flat every single day, almost no swell. Air temps were very pleasant in the high 80's.

As far as any other species, a couple of marlin were caught that I know of at the Bank. I definitely didn't see any dorado or wahoo. But as far as tuna goes we were literarily were the only boat to catch fish and there must have been 5-10 boats out every day. I think it had to do with the fluorocarbon leaders. We were using 200 pound leaders while I think most other boats were using 400 pound fluorocarbon. But who knows?

Just as a side note, fishing with Master Baiter's, we have read in Western Outdoor News this past year about the bad reputation they have. I just want to relate our experience fishing with them. We were hesitant to fish with them because of the bad press, but we did anyway because we fished last year with them and had a great time. All I have to say is the captain and crew aboard the High Maintenance was by far the best and most professional crew I have ever fished with. I've never been on a boat were the crew wants to catch fish as badly as they do. While fishing at the bank, we were the only boat every day to catch a tuna. Every other boat that was out fishing there came home empty every day. For 2 days we rented an additional boat, that I won't mention the name, which came home empty every day, without a strike. Also we were slated to go out for a 12 hour trip. On our first day we left the docks at 4 a.m. and returned at 7 p.m. That goes to show you how they really want to put fish on the boat. No other boat I have ever been on would do that, and it was like that every day! We would fish with the no other operation besides them. I felt I had to relate the good experience that we had with them.

(See "Mexico Fishing News" online for current fishing reports, photos, weather, and water temperatures from Puerto Vallarta and other major Mexican sportfishing areas. Vacation travel articles, fishing maps and seasonal calendars, and fishing related information for Puerto Vallarta may be found at Mexfish.com's main Puerto Vallarta page.