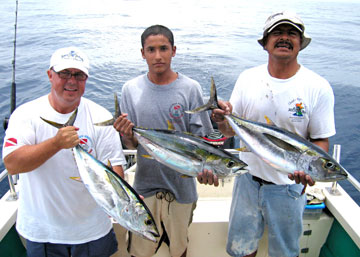 VALLARTA CONSOLATION TUNA--Dennis Champ (left) lost a cow-class yellowfin tuna after a 2-hour fight while fishing on the Puerto Vallarta charter boat Esperanza last week, but he still got plenty of footballs for dinner. Photo courtesy Kurt Hjort.
RAIN-MUDDIED FISHING WATERS RUN OUT TO ABOUT 8 MILES FROM SHORE
Sept. 4, 2005, Kurt Hjort, Esperanza Sportfishing, Puerto Vallarta, Mexico Fishing Report:

Fishing here in Puerto Vallarta has been great, with the majority of catches coming from Corbeteña and El Banco.
Dirty water has worked its way to about 8 miles outside the bay, virtually shutting down any action closer to Puerto Vallarta. Once you hit the color change though, things start to happen.

Larger dorado are starting to show off Puerto Vallarta and are around the 20-30 pound mark, and some sailfish are here, but not in force. Maybe one or two to show for a day's fishing but not all Puerto Vallarta sportfishing boats are hooking up. It's sort of spotty.

Tuna and marlin been getting most of the attention. The bite all week seems to be very early, or for those that stay out fishing later in the day.

Hookups of big yellowfin were reported all week long on various Puerto Vallarta charter fishing boats such as the Yolaray, Madonna, Prime Time, Dahmar, Barrabas, and many more.

Our continuing summer client, Dennis Champ, on Tuesday hooked and fought for almost two hours a very large tuna that left him wondering if he really wants to keep chasing his goal of landing a giant. That fish pulled the hooks, but over a vodka tonic that night, he decided it really is worth the pain. He will be back fishing at Puerto Vallarta next week after a trip to Kelowna B.C to check on his hockey team and then back to the fishing here in Vallarta.

The water in the Puerto Vallarta fishing area is in the 83-86 degree range and live bait has been the only challenge. Get it early and you will get bit. Get out late, and too much time gets spent trying to catch the skippies that haven't been really cooperative.

Closer in, the dirty water has not affected negatively the bite for small snappers, needlefish, and the occasional roosterfish, although on the ESPERANZA, we put in a very frustrating fishing day on Saturday looking for Mr. Gallo with a couple from England and ended up with squat. Nothing can humble a roosterfish specialist more than that, but hey, that's fishing! John and Elise Catchpole from London are here for 2 weeks and will see that roosterfish, but it will have to wait for next weeks report. They have enjoyed action on some small tuna in the 15-30 pound range and a few dorados also.

Puerto Vallarta fishing weather has seen our usual afternoon thunderstorms, but those are brief, so don't let the weather reports scare you off. The fishing is great!

These Puerto Vallarta tunas are getting to be NEW news to the rest of the world, but the locals have been catching them for many years. I have been here for 8 years now and it is the same every summer, big fish, and I have seen the aged photos of some very big fish that don't get weighed. These guys just aren't much on the hype; they just catch 'em, fillet 'em, and feed the whole town for a while. This is NOT a new fishery that will fizzle. It is proven year after year and I am glad to be part of it, leading our clients to their dreams. October will be very busy for us and is one of the best months for the monsters at Puerto Vallarta. We are looking forward to it.

(See "Mexico Fishing News" online for current fishing reports, photos, weather, and water temperatures from Puerto Vallarta and other major Mexican sportfishing areas. Vacation travel articles, fishing maps and seasonal calendars, and fishing related information for Puerto Vallarta may be found at Mexfish.com's main Puerto Vallarta page.