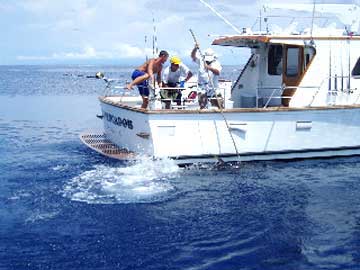 GAFFING 345 POUNDS--Josh Temple of the Puerto Vallarta charter boat Prime Time took this photo of a 346-pound yellowfin tuna being gaffed by Larry Lionetti's boat El Pescador at Roca Corbeteña. Eventually, both Temple and the Prime Time's deckhand Shrek swam over and four gaffs were put into the fish. Photo courtesy Larry Lionetti.
FISHING BOAT EL PESCADOR LANDS TUNA WEIGHING 347 POUNDS
Sept. 16, 2005, Larry Lionetti, Puerto Vallarta, Mexico 347-Pound Tuna Fishing Report:

Juan Pablo Moll and myself, captain Larry Lionetti on my boat El Pescador, had a charter client to fish out of Puerto Vallarta on Sept. 1, 2005.
Our charter did not show up, along with our deckhand, so we decided to fish anyway.

We headed out to El Banco 50 miles from Puerto Vallarta with the fleet, only to be disappointed by green water.

We pulled in our lines and jogged down hill to the famous Corbeteña about 14 miles.

As we were approaching, we heard Josh Temple on the Prime Time screaming with the good news that there was a large school of giant yellowfin tuna feeding on the surface and putting an aerial show on that would make O'Hare airport look like a slow day.

As we approached this awesome display, we shut down our big Detroits and generator and slid into the playing field without disturbing the feeding frenzy.

Juan and I both flipped a goggle eye on circle hooks attached to our heavy gear into the action and were hooked up in a blink.

I played my fish which was in the 150 pound category and Juan put his pole with fish in the holder and we doubled gaffed my fish aboard.

Juan continued to hang on for dear life as I needed air and water to get my heart rate back to normal. I took a moment to talk to Josh on the Prime Time and we concluded that Juan's fish was in a bigger class and we may need help. Josh positioned Prime Time 40 feet off our stern and we all watched in amazement in marble flat clear blue water this giant yellowfin coming to the surface in his death circle.

The circle was large, going under the El Pescador and then under Prime Time. Shrek, deckhand on the Prime Time, dove in and swam to the El Pescador to lend assistance clearing the line from the boat as the fish surfaced.

Once we gaffed the fish, Josh swam over to the El Pescador to make it a 4 gaff fish. The camaraderie and spirit is growing on our very special fishing grounds in Puerto Vallarta and we have new stories and memories with every trip. On the scale the fish was 347 at the dock!

(See "Mexico Fishing News" online for current fishing reports, photos, weather, and water temperatures from Puerto Vallarta and other major Mexican sportfishing areas. Vacation travel articles, fishing maps and seasonal calendars, and fishing related information for Puerto Vallarta may be found at Mexfish.com's main Puerto Vallarta page.