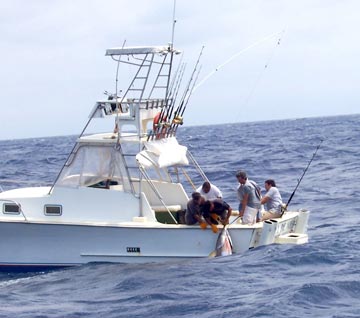 BIG FISH NUMBER TWO--Capt. Scott Osuna's Puerto Vallarta charter boat Arca de Noe of Marla's Sportfishing pulls in a 326-pound yellowfin tuna, after landing a 472-pound black marlin earlier in the day. Photo courtesy Danny Osuna.
MARLA'S SPORTFISHING ACQUIRES A CERTIFIED SCALE
Oct. 6, 2005, Danny Osuna, Marla's Sportfishing, Puerto Vallarta, Mexico Fishing Report:
Todd Fresser of Santa Cruz caught a 256.32 pound tuna while fishing out of Puerto Vallarta on the Marla 2. It's back to Cow Town in Puerto Vallarta fishing waters, where water conditions were rough in the morning today. It was blowing a north wind and we had 8 foot swells, but the water temperature was a perfect 86 to 87 degrees.

We had a rough ride going out to Roca Corbeteña. Finally, we got there and we made bait right away. It wasn't too comfortable to slow troll the skipjack, but we stayed with it. Around 2 o'clock we saw a dark cloud coming from the south which wasn't good. It was moving fast and the wind was changing directions.

We decided to stop fishing. We stopped the boat and started reeling all the lines to go back to Puerto Vallarta. But we pulled in 2 lines and we had one more bait to do. We never thought that a 256.32 pound tuna was down there eating our bait. We hooked the fish and we said we are in trouble. We have to break the line or have this storm kick our butt. Thanks to that P-Line, we caught this fish in 10 or 15 minutes. We had 45 pounds of drag plus we were handlining the fish to get it in quick or loose it. We ended up catching this big tuna, and we were very happy, but we didn't have a very comfortable ride home!

In other trips, Dennis Debilzan from Shasta Lake, Calif., caught a 300 pound class tuna with Capt. Alivin Osuna on the Marla 1, and Kevin Blankenship caught a 200 pound class tuna, also on the Marla 2.

I am very happy now because we have a new certified scale.

(See "Mexico Fishing News" online for current fishing reports, photos, weather, and water temperatures from Puerto Vallarta and other major Mexican sportfishing areas. Vacation travel articles, fishing maps and seasonal calendars, and fishing related information for Puerto Vallarta may be found at Mexfish.com's main Puerto Vallarta page.