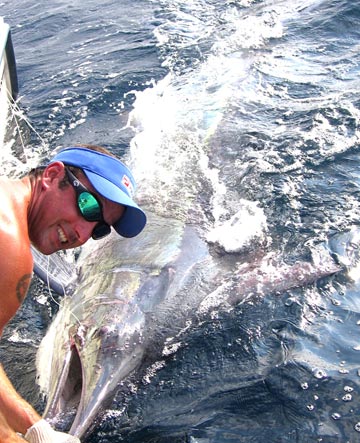 PRIME TIME BLACK MARLIN--Capt. Josh Temple of the charter boat Prime Time, leaders a 500-pound class black marlin during Saturday's fishing at Puerto Vallarta last week. Photo courtesy Josh Temple.
OFFSHORE SPORTFISHING ACTION ABOARD THE CHARTER BOAT PRIME TIME
Oct. 15, 2005, Josh Temple, Prime Time Adventures, Puerto Vallarta, Mexico Fishing Report:

Bill and Bill Jr. showed up from PCS Magazine yesterday afternoon just as we were pulling in with the Zernia party and a panga load of happy anglers and big fish. As Bill Jr. has chewed nearly every finger and toe nail off his body in anticipation for his 2 days of fishing, seeing us pull up with a few behemoths didn't help his chances for a good nights sleep.
I stepped aboard the Torture Chamber, and as I spun the boat off anchor and headed offshore on glassy seas, I couldn't help but feel that the gods had something special in store today.

Things started off normal...catching bait...getting hit right away...missing it...getting hit again...again we lost it.

With 3 baits out, I spun the boat around and headed back to the area where we hooked the previous 2 fish. The right rigger gets obliterated. Shrek dives for the rod as everyone else is near the helm and sets up on the fish. It's a weird hook set as the fish just stops. We know what that means...

The fish is figuring things out and shakes it's head twice...then...without warning...ZZZZZZ.

We finally clear the lines as spectra melts off the 50W and I leap the boat onto a plane after the fish.

We had to clip along at 6 to 9 knots to stay ahead of the fish.

Things go back and forth for over an hour.

The fish was still running...no circles...no deep dives...just fast direction changes and swift subsurface runs that had us scrambling to keep up with it.

When the fish finally swam close enough to the boat to let us get a look at it we were nearing 2 hours and it was 75 feet out...not down...upright and still running strong. I don't think anyone on board today will forget what that sonofabitch looked like kicking hard below the surface as the sun bounced off it's gigantic back and it's long curved allison fin cut a swath through the glassy surface.

What took place over the next hour should be documented in every big game fishing book under the section that details just how hard and deliberately some of these fish can pull.

The fish would swim parallel to the boat 75 feet away and literally just under the surface while Bill yarded him close enough for Shrek to take wraps. Then the fish would simultaneously spin on it's head and race off behind the motors. This happened over 2 dozen times and as hard as Bill was pulling with nearly 60 pounds of drag, you know damn well Shrek was pulling 80 plus on the leader and still we could not move the fish.

It seems hard to believe that 5 men and a 30 foot boat could not move a fish. For 3 hours that fish tortured us.

Somehow, as we watched this fish fight for it's freedom, above and beyond any struggle you could possibly consider average, something began to change in us. We stopped getting angry, stopped hating it when the fish ran away again.

This fish beat us man to man and deserved to win, and we knew what we had to do.

When Shrek took his final wrap and popped the fish off for the release I turned around and buried my head...literally...for a good minute...and I didn't hear anything but solemn respect and admiration for this great sport that we all love.

And then...after a while...we started laughing.

Yesterday, with the Zernia party we released 2 over 200. The day before Erick Good scored a 294.

(See "Mexico Fishing News" online for current fishing reports, photos, weather, and water temperatures from Puerto Vallarta and other major Mexican sportfishing areas. Vacation travel articles, fishing maps and seasonal calendars, and fishing related information for Puerto Vallarta may be found at Mexfish.com's main Puerto Vallarta page.