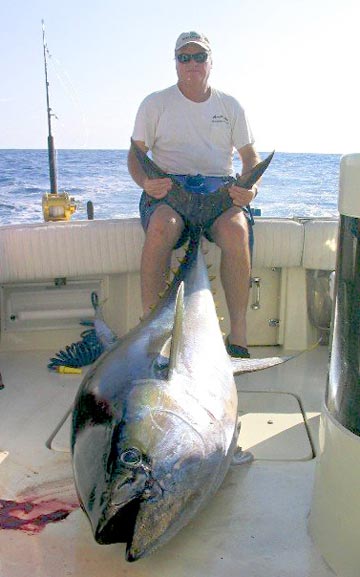 VALLARTA PERSONAL BEST--Stan Vath's 291-pound yellowfin tuna is his personal best so far, caught while fishing at Puerto Vallarta on his boat Tinknocker and weighed on a certified scale on Oct. 26, 2005. Photo courtesy Stan Vath.
SPORTFISHING BOAT TINKNOCKER CATCHES A 313-POUND TUNA
Oct. 29, 2005, Stan Vath, Tinknocker, Puerto Vallarta, Mexico Fishing Trip Report:

Here is a first hand report of the fishing going on currently at Puerto Vallarta.

We have been here at Puerto Vallarta since Sept. 20, 2005, and have only fished 12 full days through Oct. 26, 2005.

Puerto Vallarta fishing weather has been tough this year with the first 2 weeks pretty much unfishable because of wind and rough seas.
The first misconception about fishing at Puerto Vallarta is that you are guaranteed a "cow" yellowfin tuna the first day on the water. We are good friends with several local charter operations. They often get customers that expect results the first morning on the water. Realistically, one can expect a good shot at a Puerto Vallarta "cow" if you fish 3 to 4 long days.

After keeping Puerto Vallarta fishing records for 2 years, the average number of days on the water to land a 200 pound yellowfin tuna is 3-4, and 13-14 days to get a 300 pound yellowfin tuna.

We have been fortunate this season with a 313 pound yellowfin tuna caught by "Big Daddy" Don Burnside on Sept. 25, 2005, our first tuna this year. Talk about taking some pressure off.

It was after another week, on Oct. 3, 2005, when Bob Dawson got a 226 pound yellowfin tuna, and then a dry spell.

We were still catching 80 to 185 pound yellowfin tuna and releasing most, but the big boys were eluding us.

Dorado of 20-40 pounds are being caught at Puerto Vallarta, as well as an occasional wahoo and pargo.

On Oct. 26, 2005, the fleet was having one of the slowest days of the season. We caught and released a 35 pound sailfish and a 40 pound yellowfin tuna. Then in the afternoon I caught a 224 pound yellowfin tuna on the kite and a 291 pound yellowfin tuna, my personal best, on the downrigger in less than an hour-and-a-half for both fish. How do you figure?

We weigh our fish on a Scalemaster scale that is certified yearly. The "weight thing" is getting better down here at Puerto Vallarta, with a couple more certified scales around, but still has a ways to go.

I have been on a two-year hiatus from the San Diego long range trips and miss them a lot. But for now this Puerto Vallarta fishery really has me hooked. It's a lot more work but gratifying. We will be heading back to Channel Island Marina about November 15, 2005.

Tinknocker fishing log:

10/26/2005--Left Paradise Village Marina at 0420 hrs. and headed over to Marina Vallarta to get Caballitos. We then headed to out to Roca Corbetena and tried to catch Skipjack which was almost impossible today. We quit trying for Skippys about 1030 and started fishing the kite and fly lined Caballitos. This was the slowest morning of the season and only a 35 lb. Sailfish and 40 lb. YFT were caught and released early afternoon. Then about 1300 hrs I had a big blowout on the kite and and a nice fish going. I took my time as I had heavy gear and no other fish going anywhere. The fish came to color and gaffs went in to the 224 lb. YFT. I was just getting ready to take a rest as Don was out on the kite when the downrigger went off. This fish really stripped some line and was doing big blowouts on the surface way outside. It was really going nuts out there. I tried to give it to Don and he declined. 35 minutes later we had our fourth cow of the season on deck a 291 lb. YFT my personal best. Soon after Don had a boil on his kite bait but it was an 80 lb. class YFT which he released. A huge Tuna Seiner showed up and started cruising around and things went dead. We ran back to Punta Mita for the night.

10/27/2005--Got up this morning at 0400 hrs. and the bait was full speed. We stuffed the tanks. Got back to the Rock at 0745 hrs. and made Skippy's quickly. Trolled around and Don got a 350 lb. Blue Marlin which was released. The afternoon was hot and windless. 2 YFT were caught today and a Black Marlin for 12 boats. We headed in early and were back at PVM by 1900 hrs.

(See "Mexico Fishing News" online for current fishing reports, photos, weather, and water temperatures from Puerto Vallarta and other major Mexican sportfishing areas. Vacation travel articles, fishing maps and seasonal calendars, and fishing related information for Puerto Vallarta may be found at Mexfish.com's main Puerto Vallarta page.