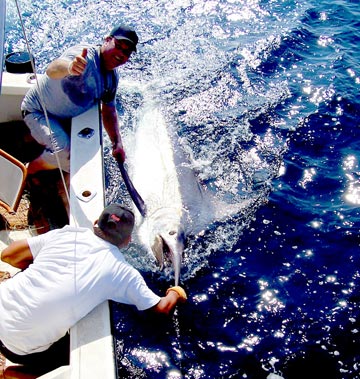 PUERTO VALLARTA BLACK--A 500-pound class black marlin comes aboard the Puerto Vallarta charter boat Marla 2 last week for angler Jerry Martin of Santa Cruz. The fish was hooked at Roca Corbeteña. Photo courtesy Danny Osuna.
ROCA CORBETENA YIELDS 286-POUND COW YELLOWFIN TUNA
Oct. 28, 2005, Danny Osuna, Marla's Sportfishing, Puerto Vallarta, Mexico Fishing Report:
Fishing out of Puerto Vallarta on Wednesday, Sergio Alpenia of Puerto Vallarta caught a 286-pound yellowfin tuna, after already landing a 240 pound yellowfin tuna on the Marla 2, while fishing at Roca Corbeteña. The water conditions were really flat and smooth, with a temperatures of 85 degrees. We were baiting these fish with blue runners, just like they were candies. We hooked this fish about 20 yards from the roca. We thought it was a big pargo, but after making a few strong runs, we knew we had a real fish on. Sergio battled this fish with all Braid standup harness, and in no longer than 35 minutes, he put the fish next to the boat ready to gaff.

On Thursday, Jerry Martin from Santa Cruz, Calif., and Alvino Osuna, deckhand, landed a nice 500-pound class black marlin on the Marla 2, fishing at Roca Corbeteña. Water temperature 85 degrees, nice weather, great water conditions. We had a lot of black marlin hitting bait in the last two days, hitting skippies like crazy. It was Jerry's first black marlin ever, and now he's ready for a cow.

(See "Mexico Fishing News" online for current fishing reports, photos, weather, and water temperatures from Puerto Vallarta and other major Mexican sportfishing areas. Vacation travel articles, fishing maps and seasonal calendars, and fishing related information for Puerto Vallarta may be found at Mexfish.com's main Puerto Vallarta page.